The Apple Watch took a big evolutionary step forward today with the introduction of the Apple Watch Series 3, the first Apple wearable to pack the direct internet connection needed to declare independence from a paired iPhone.
Apple also announced a version of the Series 3 Watch with no LTE connection on board.
The internet-connected version of the Watch connects to the internet using the on-board LTE radio. With that connection, Watch apps should become more informed and useful when the paired iPhone isn't nearby, constrained only by the small size of the display.
The new Watch follows the same general design scheme as its predecessors, but is marked off by a bold red top to its digital crown.
The design challenge Apple faced with the Series 3 was putting a power-hungry LTE radio and antenna inside the device, with a large enough battery to power them, while still keeping the Watch's slim figure.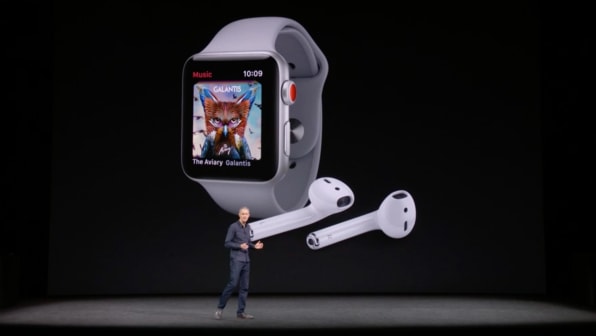 Apple pulled this off in part by building cellular antennas into the display, and using an electronic SIM instead of a physical card. The LTE Watch is only 0.25 mm thicker than previous watches, and is the same width. Like other Apple Watches the Series 3 comes in 42mm and 38mm sizes.
Beyond LTE, the new Watches have a new dual-core CPU that's 70% faster than the previous model, a more energy-efficient Bluetooth and Wi-Fi chip, and a barometric altimeter to determine elevation. As with before, the new Watches also contain a GPS radio for mapping and fitness functions, and are water resistant for swimming workouts.
The new Watch runs the watchOS 4 operating system. (Check out our overview for the major features.) The OS lets the new Watch create a direct Bluetooth connection with third-party health devices, makes loading music on the Watch easier, and features the Siri watch face that uses AI to give you helpful notifications throughout the day.
The Apple Watch, remember, was originally intended by its makers to help us keep our noses out of our phones and engaged in real life. Previous Watches did that by showing us glanceable notifications on the wrist that could often be ignored, rendering the reach into pocket or purse for the phone unnecessary. This new Watch may do the same thing, but by stealing functionality from the phone. We'll still see ignorable notifications, but we'll be more able to respond on the Watch instead of the phone.
The Apple Watch Series 3 comes a variety of materials, colors, and band styles. The basic aluminum version starts at $399 with cellular–available in nine countries and on all four U.S. carriers to start–or $329 without it. (Apple gave no word on how much cellular service will cost.) Preorders start on September 15, and the Watch will start shipping a week later on September 22.