As automakers and tech companies build self-driving, autonomous vehicles (AVs), they currently face a complex patchwork of state laws covering their work. Twenty states have legislation for AVs, and the companies pioneering these vehicles frequently complain that those rules are getting in the way of progress. 
Uber temporarily stopped testing AVs in California, for instance, after it was told it needed a special permit. And critics have often taken aim at New York's rules, passed in May 2017. They require companies to pay for expensive police escorts and to report testing-routes down to a fraction of a mile (among other provisions). 
These state rules could soon become irrelevant, however, as Congress takes up federal legislation that would preempt the states'. The House of Representatives just unanimously passed the "SELF DRIVE" Act, which dramatically ups the number of exemptions companies can win from National Highway and Traffic Safety Administration (NHTSA) safety standards.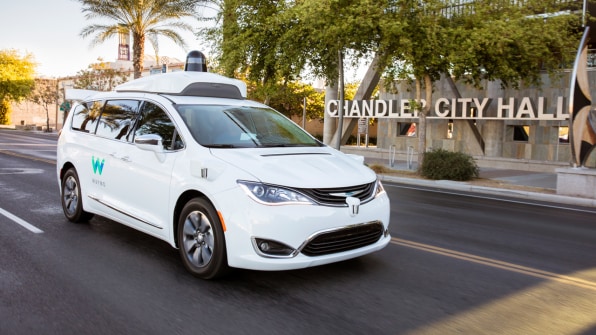 Until now, NHTSA offered only 2,500 exemptions a year, stopping companies from testing more futuristic models without human controls. Under the new legislation, that would rise to 100,000 exemptions within three years, meaning automakers could test more vehicles without pedals or steering wheels. Not unreasonably, current federal rules require cars to have human drivers.
Industry groups and analysts said the legislation if passed by the Senate and signed into law, would hasten the development of AVs.
"Self-driving vehicles offer an opportunity to significantly increase safety, improve transportation access for underserved communities, and transform how people, goods and services get from point A to B," says the Self-Driving Coalition for Safer Streets, which represents Volvo, Ford, Waymo, Lyft and Uber, in a statement.
"This will let the states go back to their traditional roles like registering vehicles and managing insurance," Greg Rogers, a policy analyst for the Eno Center for Transportation, says in an interview.
The Senate has been working on its own bipartisan legislation. According to Rogers, that text could also cover self-driving trucks, which are not included in the House version. The Teamsters and other union groups have been resisting trucks being included, as they attempt to keep jobs for their members. Daimler, Tesla, and Otto, a startup owned by Uber, are all developing self-driving cargo vehicles.
Studies have shown that AVs could have huge safety benefits, as more than 90% of car crashes are caused by human error. An ENO report from 2013 found that a penetration rate of just 10% would lead to 1,100 lives saved a year, 211,000 fewer crashes, and $5.5 billion in overall economic savings. At 50%, it predicts 9,600 fewer fatalities, 1.8 million fewer crashes, and $48.8 billion in annual savings.
Still, AVs still face massive challenges before they're running the highways. Three-quarters of consumers don't think AVs will be safe even after they're released, one study showed. And AVs are likely to be more expensive than current cars, perhaps by as much as $50,000. "They're going to be for the rich and the elite," Rogers says. The first AVs are expected to appear in the early-2020s, but Rogers doesn't expect them to become a mainstream choice for at least a decade after that.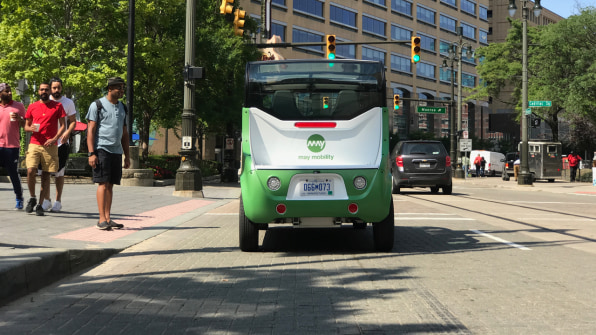 Ed Olson, CEO of May Mobility, an AV startup in Michigan, says he's optimistic about any upcoming legislation but says it needs to treat large manufacturers and startups equally. Bills introduced in several states, including Georgia, Maryland, Illinois, and Tennessee, have said only automakers–not tech upstarts–can operate self-driving networks. (These bills haven't necessarily become law because tech firms have objected). 
May Mobility is applying autonomous technology to six-seater shuttle buses. It's launching a pilot in downtown Detroit this October, which will see employees from Quicken Loans and Rock Ventures ferried between offices and parking lots in the central business district. Such deployments, on fixed routes, could be among the first AVs in service in the U.S.
"I would like to see legislation that allows testing and limited deployments. It needs to lay out what they expect [from companies like ours] in terms of the validation and safety perspective," Olson tells Fast Company.