Here's how statistics about solving society's problems can be misleading: According to a recent report from the USDA, the U.S. has "continued a downward trend" against food insecurity since the height of the recession in 2011, when roughly 15% of the households around country were unable at some point to "provide adequate, nutritious food" for themselves or others living there. Based on 2016 data, now 12% of Americans–15.6 million–people fall into that category.
But when those same numbers are parsed on a year-over-year basis, the future appears a little more bleak.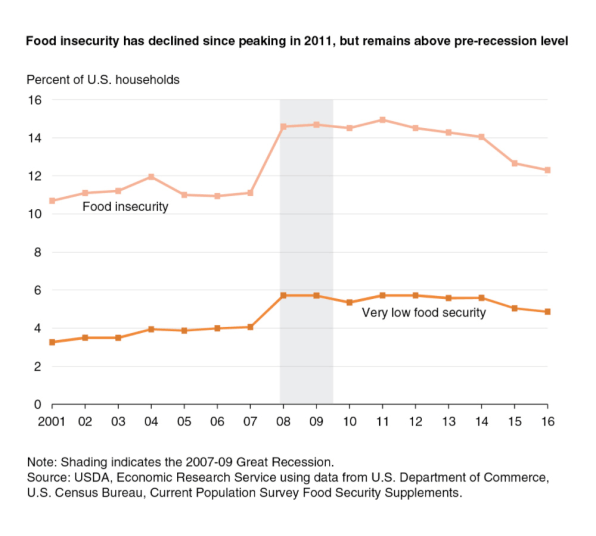 From 2015 to 2016 the national rate of food insecurity dropped only from 12.7% to 12.3%, not a statistically significant change. The progress against what's deemed "low food security"–meaning their "access to adequate food is limited by a lack of money and other resources"–shifted an even more insignificant amount, from 5% to 4.9%.
We still haven't returned to the pre-recession lows: 11%, and 4%, respectively. And there appear to be some glaring holes that have opened up in the federal food safety net: Only around 60% of food insecure households have accessed food stamps, supplemental nutrition, or food programs like SNAP, WIC, and the National School Lunch Program. Traditional aid is being overlooked in other forms, too. Among food-insecure households–which excludes those who are homeless or living with others and may not be captured by the survey–only 26.5% were taking advantage of food pantries and just 3.5% used soup kitchens.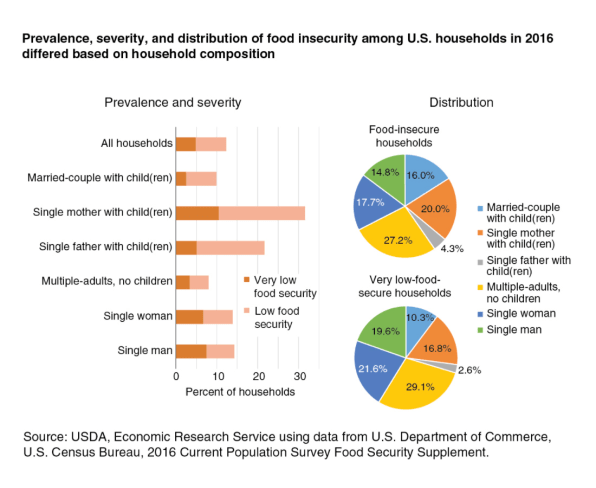 The majority of recipients of those programs live below the federal poverty line, which for a family made up of two adults and two children was $24,339 last year. People above the poverty line can be food insecure too, though, especially if they're struggling with recent unemployment. But many people still don't take advantage of existing aid programs. Reasons for that might include shame, lack of knowledge that the services are available, or their ability to physically access them during times of need.
For aid groups looking to address this problem, however, the challenge remains complex. Nationally, nonprofits are now trying everything from app-ordered free meal kits to soup kitchens that deliver because the working poor may have trouble getting to stores to shop or redeeming benefits in nutritional ways because they live in a food desert.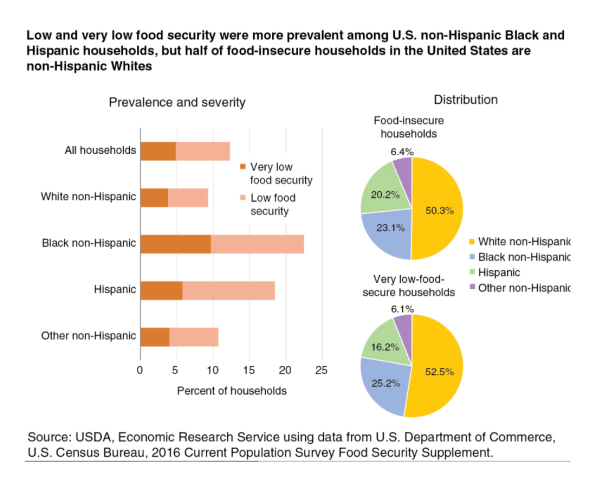 The report breaks down those affected by marital status, race, and whether or not they live in cities. Proportionally speaking, African Americans and Hispanics, and city dwellers are far more likely to be food insecure. (Here are more interactive charts about the problem.) While there's been a very slight decrease in insecurity among white households, it's offset by a proportionately larger rise among African Americans.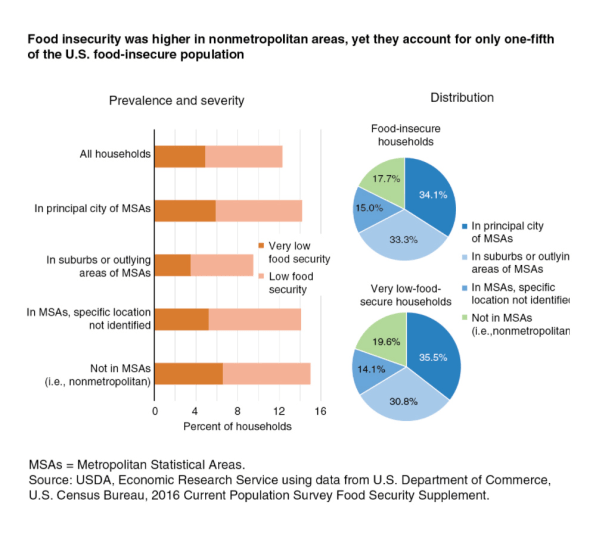 A recent report from Save The Children points out that hunger is often a symptom of larger societal issues of inequality. The countries that do the best at eliminating it are places where the federal government invests in contributing factors to poverty like better healthcare and education. For more immediate stopgaps, NationSwell recently published a list of ideas that include the formalization of more restaurant and community programs to redistribute food that in creative ways that might otherwise go to waste.