One day last year, about 30 fifth graders at Seldens Landing Elementary School in Virginia were issued tablets and asked to answer questions about cyber-bullying. They started with the statement: "Sticks and stones may break your bones, but words will never hurt you." Next, the kids had to take a poll: Is that really true or false?
As students punched in their answers, the tablets relayed the results in near real time, anonymously, to their teacher. There to assist was Alex Springer-Post, who runs the school's "discovery lab"–basically, she's the in-house tech expert for digitally enhanced lessons–who was shocked by the results: Turns out, 65% of kids marked 'True.' The saying might work for playground comebacks, but they're not true at all, especially in the age of cyber-bullying, where the taunting can go wide and feel unrelenting.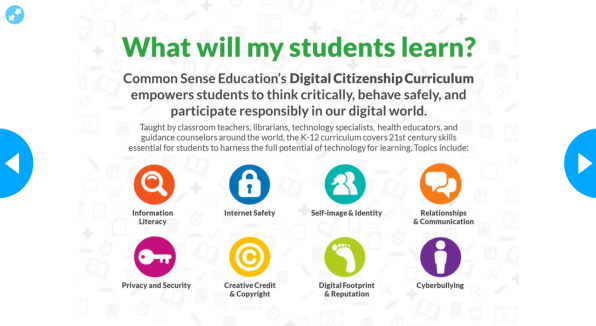 Next, the tablet offered examples of cyber-bullying on common apps that the kids might use like Messenger or SnapChat. Through the devices, Springer-Post surveyed who had seen that sort of abuse before and if they'd been individually exposed to it.
For Springer-Post, the lesson was so powerful because it allowed those being bullied to understand that they weren't alone, and those being bullies learn about the pain inflicted by their actions. "They can respond and they're letting us know without having to come and say it," she says. Students who might otherwise be afraid to speak out publicly had alerted teachers to a serious problem and helped them start to solve it.
That lesson is part of the "digital citizenship" curriculum created by Nearpod, a digital learning company with interactive lesson plans that is challenging traditional textbook companies for a share the estimated $10 billion educational material market. In some versions, which vary by grade level, there's inventive ways to teach kids how to defuse bullying, like a cartoon-panel screen with boxes for them to draw or write something a cyber-bully might say or do, followed by how they might respond to it, and then what a "positive outcome" might look like.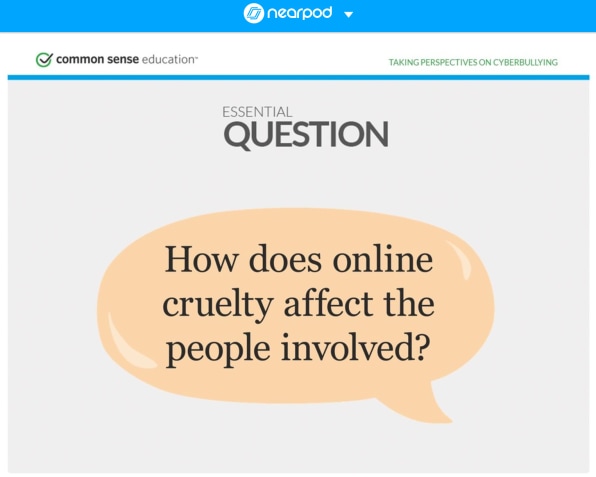 Nearpod, which launched in 2012, has created software-based, device-specific lesson plans with features that include built-in collaborative spaces for students to sharing ideas (versus the time-waster of going around the room in a circle), and various polls and quizzes for teachers (with different privacy settings) to quickly grasp class opinions or the overall understanding of what's being taught. Some lessons are augmented with videos, VR-experiences, or the expectation of doing more research on the fly because the device is connected to the web.
So far, Nearpod says it has been adopted by one-in-10 classrooms around the country, reaching roughly 5 to 6 million kids in both public and private schools. Part of the reason, according to founder CEO and cofounder Guido Kovalskys, is that the company has embraced the idea that school tech has reached its tipping point: About 50% of all school kids are estimated to have access to portable devices like laptops or tablets during school time, either through bring-your-own-device policies or school sharing and loan out programs, which pass out gear at the start of class and then collect it.
The popularity of devices in general have left many teachers worried about both keeping kids on task and ensuring their behavior online isn't hurting each other. That's where classes like Digital Citizenship come in. The company developed it in partnership with Common Sense Media, a nonprofit that advocates for the safe uses of technology around children.
Kovalskys says the digital teaching revolution came with a catch: "Wait a minute, all of these kids are having new technology 24/7 in their hands and teachers don't really know that that implies in terms of cyber-bullying and building your online identity," he says. So in addition to their traditional offerings in math, science, and writing, "we're trying to solve that gap."
Nearpod's digital citizenship programming rolled out in 2015 and includes programs for all grade levels from elementary through high school. It includes topics like internet safety, self-image and identity, relationships and communication, privacy and security, and digital footprint and reputation. While the cyber-bullying component of this course work was always important, Kovalskys notes that it's become "a lot more relevant" as connectivity continues to increase and America appears more virtually connected yet ideologically divided. (In some places, school bullying  increased when Trump was elected.)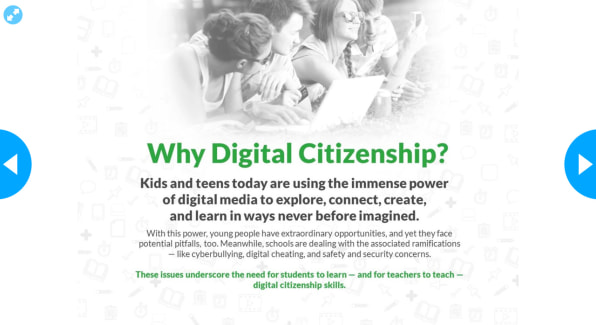 The citizenship program is currently Nearpod's best-selling class across all grade levels. At least 228,000 teachers downloaded it with over 10,000 hours of lesson time spent last year. Kovalskys realizes that the Nearpod platform is well-suited for such "human-centered, socially, emotionally learning" opportunities. The company recently launched an iCivics curriculum, along with rather heavy critical thinking exercises like "What Do Car Accidents And Cancer Have In Common."
The company is actually ahead of the curve in another way. Washington state recently passed a law mandating the incorporation of digital citizenship classes in its classrooms, which may boost demand. In March, the company reportedly raised $21 million in a series B round, bringing its total funding to roughly $30 million, and counts Salesforce's Marc Benioff as an angel investor.
Since its inception, the company has tried to generate grassroots support among teachers by offering free versions of classes, which teachers may use before upgrading to a subscription-based premium content model, which also allows more than the standard 30-kid limit per session and has additional storage for teachers. The company says it services over a million teachers but is coy about how exactly how many buy up.
"The business model is a classic [software as a service], platform but it's very unique to the industry that we are able to build this from the bottom up, meaning from the teachers up, in an industry that traditionally behaves kind of top down," he says. Nearpod isn't profitable yet. Kovalskys says revenues have risen 465% over the last three years, with most of that plowed back into growing the company.
At Seldens Landing, even the kindergartners are taking digital citizenship now, although Springer-Post tries not to act like that's unusual. "I call it a fancy pencil," she says about the tablets the kids work on. "I don't want the kids to see it as anything special. It's just how we're learning, how we're engaging."