In the game of life, more people are eschewing the corporate ladder for flexible work arrangements. But it seems the board is getting crowded lately, which is leading some gig workers–and the companies that support them–to try to separate themselves from the rabble.
More than 55 million Americans work as independent contractors or moonlighters, according to the Freelancers Union, a figure that's grown by 2 million over the last two years. While project-based work used to be most common among the recently laid off or those unable to nail down more permanent posts, it could soon be the main mode for a significant portion of the population. Short-term talent is in high demand. CareerBuilder's 2017 forecast indicated that more than half of employers were seeking contract workers, a 47% increase from last year. More people seem likely to embrace freelancing than have already, in order to meet that demand. Intuit estimates that by 2020, 43% of the U.S. workforce will be freelance.
As the ranks of the gig economy swell, marketplaces are popping up to sift out top talent from a river of portfolios. Reedsy, a platform for connecting book writers with editors, designers, and publicists, allows only the publishing world's elite to list their services on its site.
"The idea is to remain extremely selective," says cofounder Emmanuel Nataf. In exchange, Reedsy promises lucrative projects from experienced and committed book authors. "They also know they're part of an exclusive community, and they like that as well," adds Nataf. The company fields 300 applications a week from potential freelancers and accepts approximately five. Only 750 professionals work on the few hundred book projects that pass through Reedsy each month.
This degree of selectivity isn't limited to book publishing. "We hire freelancers who are in the top 1% of the software-engineering labor pool, by experience and skill level," Roger Dickey, founder of the tech marketplace Gigster, told Forbes last month after announcing a $20 million round of venture funding.
Getting Bigger But Staying Elite
That could prove a wise investment, just as long as platforms like these can scale. Justin Gignac, cofounder of Working Not Working, a site for advertising and tech industry freelancers, says his company has been profitable since the beginning (companies pay a monthly fee per person in order to get access to Working Not Working's talent pool). But he notes that marketplaces full of handpicked freelancers aren't easily built up.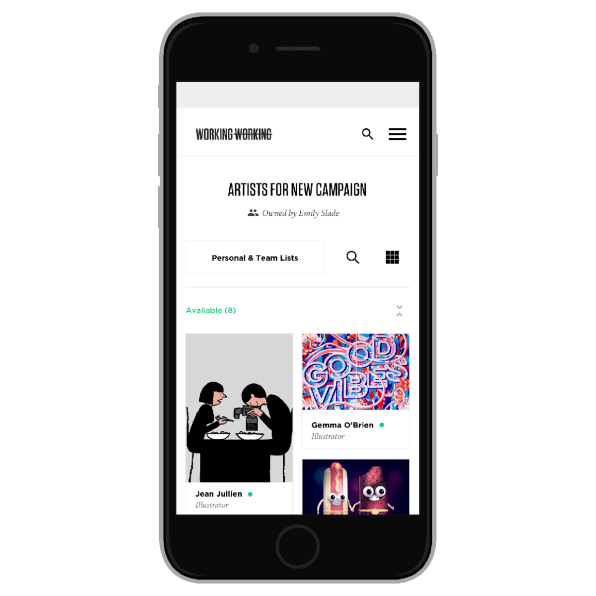 "Curation is the antithesis of growth," says Gignac, sipping at an iced coffee at a trendy coffee shop in New York's Chinatown neighborhood. He and Adam Tompkins built the site back in 2011 as a way for the ad world's legions of freelance copy writers, art directors, and designers to signal their availability to recruiters. The company is based off a cheeky animation Gignac used to have on his portfolio site: A flickering neon sign that indicated whether he was working, available, or available soon.
Early on, the platform was invite-only, though now anyone can apply. Nonetheless, only 10%–15% of applicants make it onto Working Not Working as members. "It was a club, and then it became a slightly bigger club," says Gignac. The platform's member base has grown from 2,500 in 2014 to about 9,000, but Gignac recently allowed those who are either waiting for their portfolios to be reviewed by Working Not Working's 200-person panel of judges, or who have already been rejected, to list themselves on the site as "contenders."
Talent managers can then search for candidates among both the select pool of members as well as the contenders. But while the site's roughly 20,000 not-quite-members stay on the platform hoping to have their profiles glimpsed by top recruiters, Gignac says they're occasionally irritated about not making the cut. "It's a little weird, too, because at some point, 80%–90% of our community are going to be contenders," he says. "So how do we do that without them all feeling like they have a scarlet letter?"
Deciding Who Makes The Cut
There are also major questions about who gets to be among the chosen. "You have to curate a community that remains diverse," Nataf says, his sentence punctuated by a quick rise of his bushy black brows. "Otherwise you end up with the same content." By which he means he doesn't want Reedsy to be comprised entirely of editors suited for Danielle Steele-esque best-sellers. The goal is to cater to a variety of authors producing quality work on a range of subjects.
Such platforms aim to be meritocratic, placing the premium on the portfolio rather than the person creating it. But while that might offer a respite from workplaces where many women, people of color, and LGBTQ workers have felt underserved or unwelcome, there are still opportunities for discrimination. And if a freelancers feels she's being overlooked by an elite platform or passed over for the best projects, there's no human resources department for her to complain to. Indeed, freelancers may not want to risk their client relationships by speaking up; even the most talented gig workers don't always have the luxury to work only for the people and companies they like.
As more workers go freelance, the competition for higher-level access is bound to intensify, including within the most democratic-seeming marketplaces. Even those that are open to all comers, like Hired and Upwork, have their own invite-only options where employers can debut job openings to a select few. For freelancers who've ditched the corporate world in search of greater autonomy, this new environment may prove uncomfortably similar–or worse. With platforms potentially determining a freelancer's comparative worth, some may find they have less control over their earning power than they like. Since contract workers have to pay for their own health insurance and retirement savings, that could put some in even more vulnerable positions than they'd have in corporate jobs.
Gignac is already thinking about some of these issues. He's planning to eventually offer Working Not Working's members access to a health care plan with group-negotiated rates and possibly a 401(k). Gignac hopes that with scale, the marketplace will be able to start providing its members with more than just the opportunity to meet recruiters. Others are thinking about portable benefits, too. The Freelancer's Union already offers access to health and retirement packages, and Senator Mark Warner has crafted a bill that would test models for delivering benefits untethered to the workplace.
With time, efforts like these could make flexible more comfortable both for top-shelf freelancers and for everyone else.