Inside a drone delivery center in Rwanda–the first in the world to make medical deliveries at a national scale–staff answered an emergency call in July. A hospital needed blood for a 24-year-old woman who had just given birth by caesarian section. The hospital had transfused her with two units of blood. But she bled out of those units in 10 minutes.
"In that case, that mom is likely to lose her life–not just in the developing world, but even in the U.S. that mom is in a really difficult, dangerous position," says Keller Rinaudo, CEO of Zipline, the startup that developed and runs the drone network for the Rwandan government, which supplies it with blood and other medical necessities to deliver to its far-flung clinics. "But in this case, the doctors called Zipline, started placing emergency orders, and Zipline basically instantly did delivery after delivery."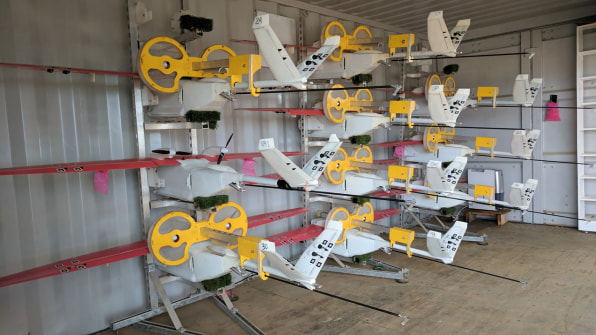 The drones delivered seven units of red blood cells, four units of plasma, and two units of platelets–together, more blood than was in the woman's body. After it was transfused into her, she stabilized.
Since Zipline launched its network in Rwanda in October 2016, it has made 1,400 commercial deliveries of 2,600 units of blood; 25% of the time, those are emergency, lifesaving deliveries, as in the case of the 24-year-old mother. The system–which launched well before companies in other countries have been able to begin mass deliveries of less vital cargo, like packages or pizza–has proven that it works well enough that the company now plans to launch an even larger health delivery system with the Tanzanian government in 2018.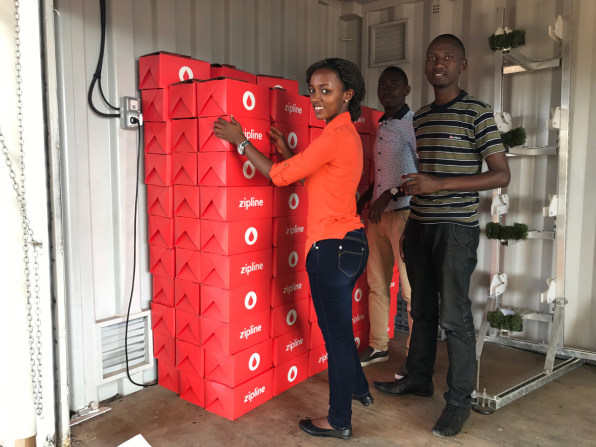 "This kind of approach–instant delivery in medicine–absolutely directly saves lives," says Rinaudo. "And it can operate in a cost-effective, reliable way, and people can rely on it with their lives."
The core technology itself, a small autonomous plane called Zip, was developed to fly through any type of weather. "Two days ago, we were flying through a hurricane," he says. When a doctor or nurse at a clinic or hospital requests blood via text message or a call, the order is packed on the drone, which flies at 62 miles an hour and can carry a little over three pounds of cargo. The delivery is dropped gently by parachute outside the health center, and health workers get a text message notification to go outside and pick it up.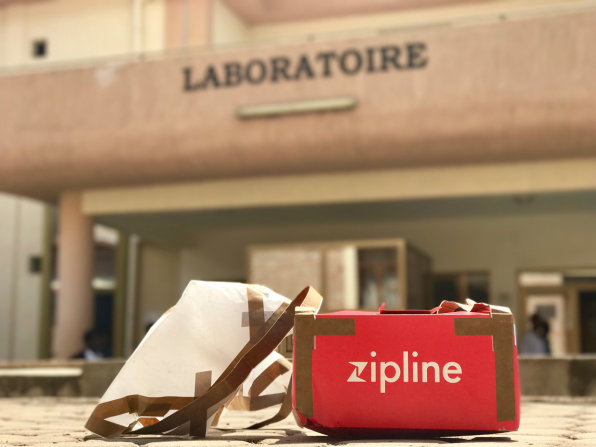 In Rwanda, the company's 15 drones can make up to 200 deliveries in a day, serving 12 clinics (though it will soon scale up to 21). In Tanzania, which has a land area roughly 35 times larger than Rwanda, drones will make as many as 2,000 flights a day from four distribution centers serving more than 1,000 health centers and 10 million people. The network will be the largest autonomous delivery system in operation anywhere in the world.
Zipline sees it as an opportunity to prove the next phase for its platform. "We've always had skeptics," Rinaudo says. "Initially, the skeptics said, 'Well, you'll never going to build a plane that will fly.' We built and had a plane flying, and they said, 'Well, it will never work reliably.' We were doing 100 flights a day. Then they said, 'Well, no one will ever pay for it,' and we signed a contract with Rwanda . . . now we're operating at scale in a really smooth and reliable way. The next challenge is 'okay, but this won't work in a big country.' That's kind of why Tanzania is important: It's disproving that next inevitable layer of skepticism."
As the system was set up in Rwanda, the biggest challenges for the team came not from the technology but from everything else. "The technology is just the beginning and is not the hardest thing," he says. The company had to find the land and build its distribution center and finish developing its product and software, but it also had to deal with regulatory issues and integrate with a complex healthcare system, and training health workers how to use it. The team also had to talk with local communities, helping people understand that the planes were saving lives, and not spying on them.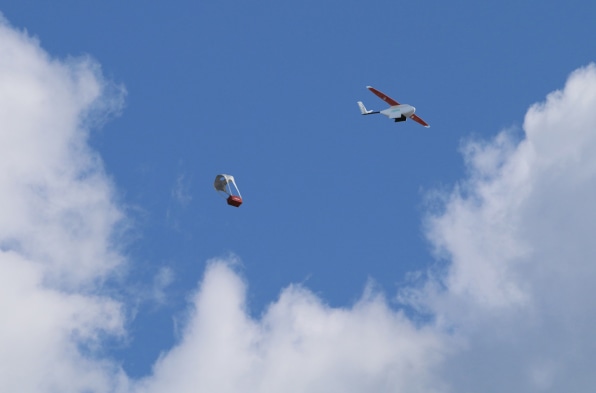 One of the successes of the system is that the company employs Rwandan engineers and other staff. "They're young, ambitious, fast learners, incredibly driven, and they have been able to do what some of the largest technology companies in the world haven't been able to figure out, which is operate this technology at national scale," Rinaudo says. As the planes take off and land at the distribution center, Rwandan kids sit nearby and watch. "That's pretty powerful–to show what their careers could be, and the fact that these Rwandan engineers are leading the world."
In Tanzania, the system will go a step further and deliver other medical supplies, such as anti-malarial drugs, HIV medicine, emergency vaccines, or insulin for diabetics to clinics that often now run out of stock. "By delivering those kinds of products on demand, we can essentially solve the problem of stock-outs, which has been considered basically intractable in global public health for like 50 or 60 years…it is possible that Tanzania will be the first country in the world to achieve 100% in-stock rates at all health facilities and hospitals," he says.
That could happen, he says, despite the country's limited infrastructure and resources. "So many people think that the paradigm for technology is that advanced technology, like robotics and artificial intelligence, gets designed by and for rich white people and then it trickles down to places like Africa," says Rinaudo. "And this is totally turning that paradigm on its head. Rwanda and Tanzania are leading the world in terms of showing how you can use robotics to save lives in a really direct ways."
Zipline plans to eventually bring similar systems to remote parts of the U.S. and other countries. "These problems we're solving, like access to blood products and rural health–they're not East Africa problems or developing world problems," he says. "Rural health care is a huge challenge in the U.S. right now. Over the years, life expectancies improved dramatically in cities, and in many rural places it actually decreased…Rural health care is a challenge everywhere."