This story reflects the views of this author, but not necessarily the editorial position of Fast Company.
---
Divisions are roiling America. Walls–both real and imagined–are being erected as Nazis and bigots flagrantly march on our streets, leadership lacks at the top, and unease permeates the country. Is this the America that we want?
The racist violence and bigotry exhibited in Charlottesville, Virginia, this past weekend was an assault on all of us. Whether it travels under the name of the alt-right, white nationalism, anti-Semitism, Islamophobia, or homophobia, this racialized hatred saps America of its strength and robs society of its safety and freedom. It undermines the America that abolished slavery, ended segregation, and fights for the freedom of the oppressed.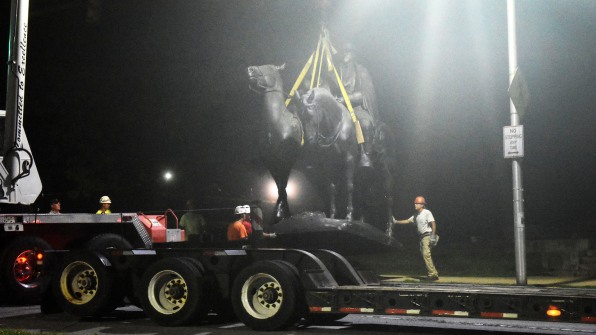 Throughout our history, America has sinned in many ways, but as Martin Luther King once said, "The arc of the moral universe is long, but it bends toward justice." I still believe that this is our shared path forward in this country–and city leaders nationwide share this sentiment. In the wake of the Charlottesville tragedy, mayors and other local leaders across this nation have come together with one unified voice, standing against hate and working to create a better tomorrow.
With white nationalists planning more demonstrations and hundreds of Confederate monuments still saturating our country's shared civic space, it is time for cities to take a stand. While we must reflect on how to best respect the right to free speech, it must be known–and known loudly–that hate and racist violence on our city streets is unacceptable.
This is a time where those in positions of power, from city hall to the White House, must bring people together and denounce hate, not mincing words or conflating the intentions of "all sides." Leaders that should be revered for taking a stand–like the mayors of Charlottesville, New Orleans, Lexington, and more–are seeking to reflect the shared inclusive values of today's America by tearing down these landmarks that memorialize slavery and segregation.
Charlottesville Mayor Michael Signer did just that when he listened to his constituents who didn't want prejudice enshrined in bronze in their community. He pointed to Americans' will to defeat bigotry in a recent NPR interview, saying, "We have overcome so many threats to our democracy and our country. We overcame McCarthyism and Jim Crow laws and segregation. And we did it through what we have–through the norms and the principles that make up the kind of beating heart of democracy. I know that we're going to overcome . . . this new surge of bigotry that now has come up."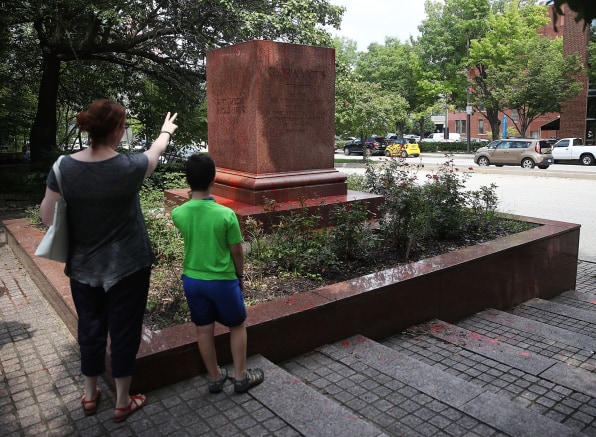 The history of all our people needs to be included in who we are as a nation. Whitewashing history doesn't make it so. Our local leaders know this, and are responsive to the people who elect them, reflecting community values. Mayors listen to their constituents, through community conversations and input–making sure all voices are heard.
After just such a process in New Orleans, Mayor Mitch Landrieu made this clear in a recent speech about the removal of Confederate monuments in his city saying, "These statues are not just stone and metal. They are not just innocent remembrances of a benign history. These monuments purposefully celebrate a fictional, sanitized Confederacy; ignoring the death, ignoring the enslavement, and the terror that it actually stood for."
But city leaders know that it is not an easy path. True leadership often means doing the hard thing, and confronting hate. As Mayor Landrieu told his community, "I knew that taking down the monuments was going to be tough, but you elected me to do the right thing, not the easy thing, and this is what that looks like."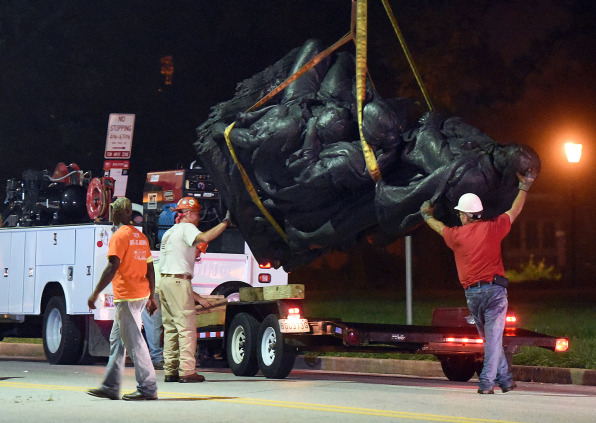 Overcoming adversity is something cities know only too well. Other mayors all across the country are leading efforts to remove public revelries to racism. From Mayor Catherine Pugh in Baltimore to Mayor Jim Gray in Lexington and Mayor Jim Strickland in Memphis, mayors are fighting for inclusiveness and denouncing the white nationalists who seek to stain their streets with hatred.
But some cities face another roadblock in the removal of Confederate statues with recalcitrant state lawmakers that preempt local governments from controlling their own parks and public spaces. A number of states, including North Carolina, Tennessee, and Alabama, have passed regressive laws that directly prevent cities from removing Confederate monuments. These state legislatures cite a desire to preserve history and heritage through preemptive laws, despite calls from city leaders and citizens who want control of their public spaces.
It is increasingly clear that many Americans don't want the rights of "men who were" to be seen as more important than those of the "men (and women) who are." It will be up to city leaders to stand up for what's best for their communities and to defend our inclusive, diverse, free society. As President George W. Bush said at the opening of the National Museum of African American History and Culture, "A great nation does not hide its history. It faces its flaws and corrects them."