There have been several times when Tina Fey sat at SNL's "Weekend Update" desk and became the right person to say the right thing at the right political moment. Last night was not one of them.
At the tail end of a soul-testing week in which the president himself unambiguously threw his lot in with white supremacists, viewers of SNL's "Weekend Update" were probably expecting a strong response. When University of Virginia alum Tina Fey appeared, those viewers probably got their hopes up further. What they found instead was an exhibition of pre-November 2016 idealism, layered in with post-election despair like, well, like a sheetcake.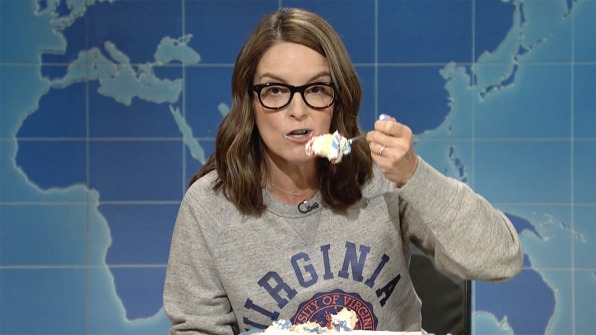 If you haven't seen the clip yet, in it Tina Fey introduces a response to the far-right rallies still somehow scheduled for this weekend–a response she calls "sheetcaking." Instead of going to protest these rallies, she suggests buying the aforementioned bar mitzvah confection from a black- or Jewish-owned business, and then wolfing it down while screaming. You know, like Martin Luther King would have wanted.
It's a funny sight gag, and there are some excellent lines in it–including one in which Fey rightfully calls Paul Ryan a pussy–but what is she really advocating here? Let's un-sheet this cake.
The bit is essentially a callback to the "when they go low, we go high" mentality that proved woefully ineffective in thwarting a white supremacist-aligned presidential candidate. Are there literal Nazis and Klansmen storming your streets? Don't sink to their level with direct confrontation, the sketch suggests–just support local businesses and self-medicate instead. This kind of sentiment may have seemed funny and rang true when the threat was hypothetical; now that it's staring us in the face and mowing us down with cars, it's anything but. Fey even took to giving Trump the nickname "Donny John," as if all the Drumpf talk and Cheeto Jesus tweets had any impact whatsoever on the president's perception.
While the appearance got a mostly positive reaction, a visible backlash was brewing all night on Twitter as well.
Tina Fey's solution for the political unrest in the US is — literally — "eat cake."

— Eoin Higgins (@EoinHiggins_) August 18, 2017
Tina Fey adapts "don't show up" as an anti-fascism strategy from her years of doing the same for people of color, queer people, lower-clas—

— Avery Edison (@aedison) August 18, 2017
https://twitter.com/zackfox/status/898382713882763265
leftists: we must organize a mass movement of solidarity to defeat the literal nazis/KKK marching in our streets

liberals, led by tina fey: pic.twitter.com/Xs1VgXUzDp

— Lana Del Raytheon (@LanaDelRaytheon) August 18, 2017
God I'm so over Tina Fey and white feminism shit like this

— Sophia Benoit (@1followernodad) August 18, 2017
Tina Fey here folks, umm instead of trying to fight the gestapo U should try netflix, chill & make some gazpacho!!

— Christian (@nopoweradeinusa) August 18, 2017
tina fey: eating cake and not paying attention is actually a form of activism!

white feminism: YASSSS QUEEN!!

— jack wagner (@jackdwagner) August 18, 2017
Humor is subjective, and for some viewers seeing Tina Fey inhale an entire sheetcake may have delivered the cathartic laugh they needed after a tough week. Many other people, however, would have preferred if Fey had found a funny way to activate those viewers instead, or at least not told them to stay home and carboload.