Chances are good that you've noticed an influx of cooking videos flooding your Facebook and Instagram feeds. Those overhead, hyper-lapsed tutorials that give you the crash-iest of courses on how to cook a dish have become an inescapable trend. For example, BuzzFeed's Tasty, the undeniable leader in this space, has generated about 34 billion views across multiple platforms in its two-year existence, according to social video analytics company Tubular Labs.
As popular as these videos may be, the one thing they lack for David Ma is artistry.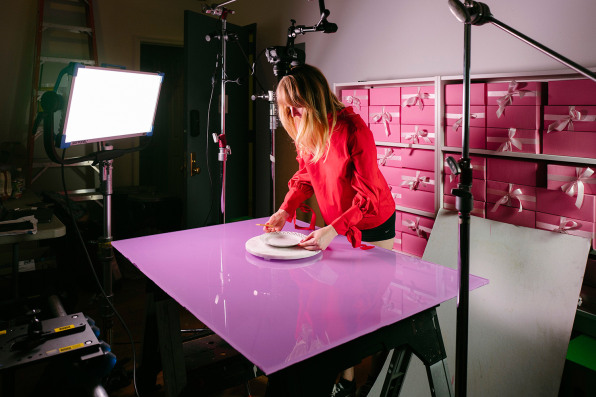 "That's not to knock these videos–I think that they are very hypnotic. You look at those videos and you just want to share them with your friends," Ma says. "They serve a very functional purpose, but a little bit of the art gets lost in there."
For five years, Ma worked as a creative in agencies including Droga5 and TBWA\Chiat\Day but broke away to focus on commercial directing. Being the foodie that he is–with a popular, food-centric Instagram to back up his cred–it was only a matter of time before his agency skills in thinking conceptually would collide with food in a major way. While scrolling through Instagram one night, Ma came across one of those food tutorials and thought to himself, "What would this look like if Michael Bay shot it?"
"Whenever I shoot food, I'm always looking to come at it from an unexpected angle or to shoot something differently than what is being done," Ma says. "And I just thought to myself, what would Michael Bay do with a recipe video and how would he amp that up to Bayhem?"
But Ma didn't stop with Michael Bay. He soon found himself pondering how a number of filmmakers known for their iconic aesthetics would tackle making pancakes, spaghetti, and s'mores. Ma pulled an all-nighter sketching storyboards that have evolved into "Food Films," a stylized tutorial series featuring treatments à la Bay, Quentin Tarantino, Alfonso Cuarón, and Wes Anderson.
Over the course of two and a half days in a Brooklyn studio, Ma and his team of friends and friends of friends worked to execute his vision that one of his mentors helped to bring into focus.
"When I made the switch to directing, [my mentor] always told me to make the kind of work that I want to get paid to do one day. And ultimately, I want to continue making videos that feel cinematic and that feel interesting," Ma says.
Part of creating that cinematic feel meant employing a heavy dose of movie magic, particularly for "Pancakes."
"It really challenged my prop master to figure out a way to bring these things to life without it feeling fake–and we didn't have a big visual production budget," Ma says of his self-funded project. "We kept a lot of the effects practically in-camera and that involved getting creative with building a latex trampoline that would launch things in the air for us to shoot at 2,000 frames per second and then reversing the footage so it looked like it was floating. Or ripping off the speaker lining of a subwoofer, pouring maple syrup into it, and playing dubstep so that we can capture these streams of syrup coming up into the air."
Ma is already in the process of storyboarding season two of "Food Films" with a few brands and editorial outlets that have expressed interest in collaborating. However, whether or not "Food Films" reaches the viral load of a company like Tasty, Ma feels like he's already accomplished what he set out to do.
"The ultimate goal of Food Films was to get people to look at stuff from a different way," Ma says. "I think that when you show the intricacies of a marshmallow, you kind of appreciate that marshmallow–when you treat it like one of Wes Anderson's characters it makes people look at it differently."