When she's not soaking up the sun or otherwise trying to have some fun, Sheryl Crow can reliably be found in one place: at home in Nashville, where she spends her days in the studio writing new songs and by night, unwinding at home with her two kids. But compared to the house the multi-Grammy-winning, lifelong musician was raised in, Crow's place is a world apart: It's way quieter.
"I grew up when music was a real social experience and also with parents who played music in the house all the time. I can vividly remember Mom and Dad having people over and dancing in the living room," Crow says. "That has sort of died."
For many of us, the quiet isolation of home life is heightened by our addiction to connected gadgets. Crow's kids, aged 7 and 10, aren't yet old enough to get sucked into the mindless distraction of smartphone screens, but Crow knows that in a few years, they'll likely feel the lure of the blue light of screens. So she's hoping to preempt it.
The fear of an antisocial, tech-dependent generation is a common (and undoubtedly valid) one, but it also happens to be a talking point for a new product that Crow is promoting. U.K.-based startup Electric Jukebox—in which the singer-songwriter and a few other celebrities are investors—is making its U.S. debut with the ROXI, a music streaming box that connects to your TV. In addition to a Spotify-style, all-you-can-stream library of music that you can search using your voice, the ROXI offers on-screen music trivia games and, thanks to a remote that doubles as a microphone, karaoke.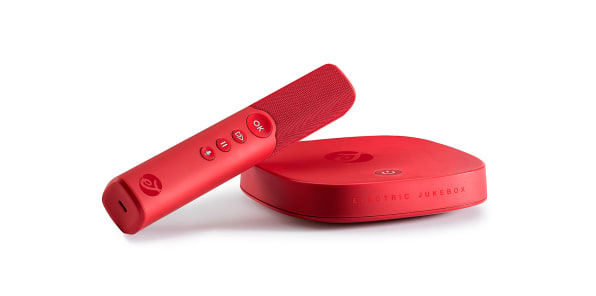 "In its sneaky way, this makes music more social again," Crow says. "It takes everybody off their phones and puts them into a participatory experience. My kids are going to totally dig it."
The ROXI also comes with a Sound Machine feature that streams meditation-friendly sounds and slumber-inducing white noise, as well as a selection of playlists curated by Electric Jukebox investors like Crow, Robbie Williams, and Stephen Fry. But let's be real: It's the karaoke screen that's going get most people excited.
Crow says that if anything, she's afraid she'll have trouble prying her kids away from the ROXI, especially when it's in karaoke mode. "But that's great," she says. "I'll be able to subliminally introduce them to the music that I feel are the important references."
For U.S. consumers already committed to a service like Spotify or Apple Music, the ROXI may be a tough sell. At $52 per year (the first year is included in the $200 price of the device itself), Electric Jukebox's streaming service is cheaper than some existing music subscriptions, but it only works on the television–a nonstarter for anybody looking to stream music from their phones or in the car. Instead of going after entrenched music subscribers, the company is hoping to entice U.S. households by marketing the somewhat odd gadget with a family-friendly appeal and a dead simple, plug-and-play ease of use in the hopes of turning uncharted demographics like baby boomers onto the concept of streaming music. If they succeed, then sure, it's easy to imagine families (not to mention twenty-something roommates) throwing impromptu karaoke parties and playing music trivia games.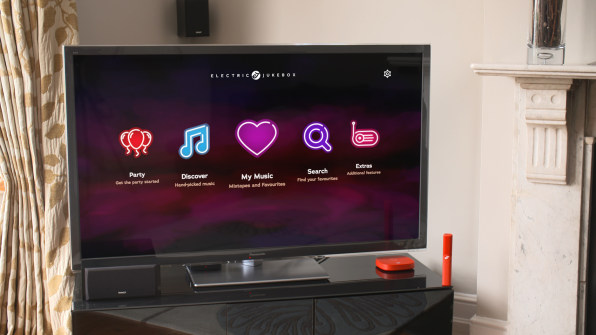 The idea that playing more music will bring families closer together is more than just hype from a startup's marketing department. There's some science behind it. Last year, a study commissioned by Sonos in collaboration with Apple Music and neuroscientist Daniel Levitin found that playing music out loud at home made people more intimate and affection, less irritable, more inspired, and even more enthusiastic about doing household chores.
On the flip side, the science behind what our phones are doing to the brains of the next generation is still rolling in, but the early research doesn't look promising. For this product launch, Electric Jukebox commissioned its own independent research with an outside firm, which showed that 72% of parents are concerned that their kids are missing out on precious time spent with family because they're glued to personal devices (for an average of 39.5 hours per week, according to the same survey).
"Even though technology is meant to keep us connected, I feel like it's created a vast disconnect," Crow says. "When I'm performing, I see people who are incapable of just being in a room and having a collective experience because they're either on their phone or they're filming it and then they're going to Instagram it or whatever it is that they do."
For artists like Crow, the sea of glowing phones they see from the stage isn't likely to subside anytime soon. But at least she can get some relief at home. For now.