Three figures pretty much sum up Silicon Valley's workplace diversity problem: 2% of the overall tech workforce is African American, 3% is Latino, and only 24% overall are women, according to a recent survey from Atlassian, an industry software firm.
But SVAcademy, a new kind of accelerated job training and apprenticeship program for tech sales and business development positions, which publicly launched this week, is trying to change that, and their early results look pretty promising. It's not quite apples-to-apples, but in an initial pilot this summer involving 31 students, 40% were African- American, Latino, or LGBTQ. All of the graduates came from lower-income or immigrant families with many located in states far beyond the Valley.
More importantly, so far, 90% of the 41 have been hired by top Valley firms. (The few who haven't continue to go on interviews.) That's because instead of just offering a certification of proficiency for a set of tasks, SVA has partnered directly with companies like Salesforce, Box, Thanx, Entelo, Talend, Zuora, and LinkedIn to ensure job placements. SVA shares data about how potential candidates performed throughout the program; these companies can use that to decide who makes the best hire.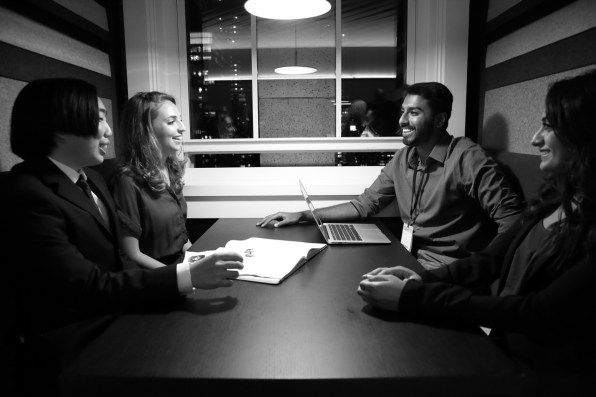 "We believe strongly that we cannot only make a lot of impact, but we can also demonstrate to the employers that there is a competitive advantage," says co-founder and CEO Rahim Fazal about the program. "It makes strategic business sense for them to be tapping into nontraditional hiring specifically in the part of the organization that is the profit center and growth engine of the company."
SVA is currently accepting applications for the next round of classes in September. While the company won't disclose financials, it raised capital from Bloomberg LP and Precursor Ventures, with the goal of placing 1 million graduates in jobs over the next 10 years. "No one has really focused on this. It is a huge opportunity, not just in tech but in all new economy industries," adds Fazal.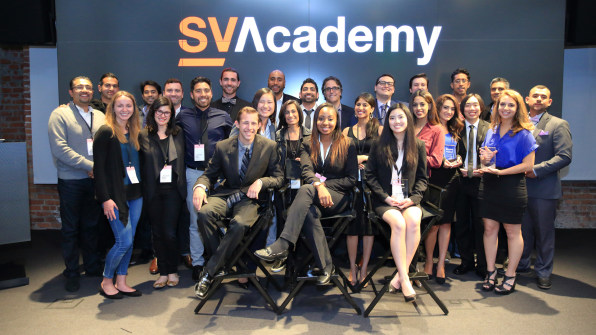 The venture itself was inspired by Fazal's untraditional career path. As Muslim immigrant who grew up in subsidized housing, he didn't see college as a real possibility, and so skipped it to focus on building what has become a string of successful tech ventures. In 2012, he sold Involver, which developed an ad management platform used by Facebook, to Oracle for an undisclosed amount. The company's other cofounder is Joel Scott, a former vice president at Hewlett-Packard, who has plenty of experience hiring and training software as a service sales reps.
SVA is tuition free–partner companies agree to cover the educational cost of the employees it hires–and open to anyone with or without a college degree. The application process is competitive: So far, fewer than 5% of the 1,000 people who have applied have been admitted. At the same time, though, SVA's selection process works far differently than other places.
"The most important signal that is overlooked by recruiting systems that we feel is a really good predictor of success–not just in sales, but in business leadership–is resilience and grit," he says. "Some of the things that we look for that you will not find on a LinkedIn profile. For example, did the applicant have to take a full course load in school while also having to work a part-time or full-time job to support themselves and their families?"
Special consideration is awarded for those who have slogged through jobs rife with high traffic and potential conflict, like the food, retail, or hospitality industry.
That three-month internship is really a 250-hour laptop-based boot camp, which breaks down to about 20 hours of study per week and designed to be done at intervals because untraditional candidates may have other jobs or family commitments. The curriculum covers three categories: social and emotional learning (to develop customer empathy and deal with rejection), sales methodologies and software (basic nuts and bolts training), and live team exercises to put those skills into practice.
Some of the lessons are web-based and self-directed, with students trying ways to develop new skill sets and then writing about the results. One assignment for building self-confidence asks respondents to complete and journal about a series of tasks ranging from "Do something embarrassing or silly, and enjoy it" to "Accept full responsibility for a mistake and identify what you'll do different next time." Another involves keeping a multi-day listening journal of some sort. (The company is vague about exactly who or what is involved, but listening more than talking is basically sales 101.)
A third lesson about time management is designed around candidates first filling out a timetable of how they currently spend their day, and then using a few happiness and results-driven principles to reorganize things. Then there's actual technical training like queue management exercises where students can practice how to transfer notes and attachments about one potential lead to other team members in real time, while video chatting inside a portal for internal workflow.
After they're hired, SVA links each candidate up with a mentor at partner companies like Google, Salesforce, Oracle, and LinkedIn, as well as connection to others who have gone through the program and might be able to provide each other with support.
Scott, SVA's other cofounder, sees the program as a way to bet beyond the "great intentions" syndrome inside places that might otherwise pay these values lip service without a plan of action. "There's a big gap between desire and actually doing it, and it is a heavy lift to actually change the system because of the way the system has already been set up," he says.