Until recently, recruiters and hiring managers have had to rely on gut instinct to determine whether or not a candidate will make a good fit on a prospective employer's team. Now a company called SquarePeg is throwing them a lifeline.
Launching out of beta this month, SquarePeg is putting some data behind the hard-to-articulate notion of "fit." The company's goal is to replace interviewers' intuition with assessments that size up candidates' personality attributes as well as their skill sets. After all, there's a risk to trying to do that subjectively and failing. If an employee leaves after discovering they aren't a great fit within the existing staff, the costs of replacing them, according to the Society for Human Resource Management, can amount to 50%–60% of the person's annual salary.
The standard hiring process–job-board postings, resumes, interviews, and the like–leaves plenty of room for imperfect guesstimates and biases, which often land people in the wrong roles. SquarePeg tries to correct for much this through a series of brief assessments created by a psychologist. According to founder and CEO Claire McTaggart, "A lot of that data is much more predictive of what makes someone thrive in a job."
Gathering The Data, Then Finding Fits
Over the last year, SquarePeg has beta tested iterations of its assessments on thousands of participants, in order to make sure they're reliable and valid from an academic perspective. Participating companies and job seekers answer questions about their preferences working alone and on teams, their attention to detail, their big-picture thinking, and their comfort innovating versus sticking with proven methods.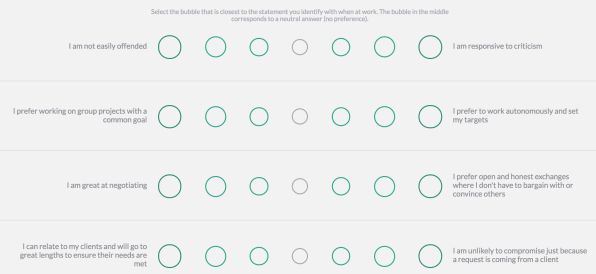 Afterward, SquarePeg delivers a top traits report (see mine below) and goes to work as a matchmaker. "It will identify from our database who are the candidates and companies who should be talking to each other," McTaggart explains.
While my personal results aren't all that surprising for a reporter, there are candidates who may not know that they're better suited for positions they haven't even considered. For example, says McTaggart, if a management consultant has certain traits that would make them thrive at a communications firm, SquarePeg will point that out. These "highly personalized, curated recommendations," she adds, can help job seekers avoid having to hunt around for open positions by keyword.

SquarePeg is designed to cut back on the heavy lifting for employers, too. Instead of posting a job and getting thousands of resumes, then trying to winnow them down and give assessments to a select few, SquarePeg's algorithm takes care of the sourcing and screening by finding data-based matches.
That's thanks to having the hiring manager of the company taking two assessments: one to measure fit across skills, experience, compensation incentives, and work environment. The second is to identify the "ideal" personality profile based on what they see as necessary traits in a potential hire.
McTaggart underscores that "it's not just psychometric testing," which existing competitors like Pymetrics and Good&Co also offer. There's also the Headstart app, part of the current Y Combinator cohort, which  aims to use machine learning to help employers find the best candidates based on their personality, behaviors, strengths, and motivations.
"We have a whole range of hundreds of data points on why this [person] might be good fit," says McTaggart, including candidates' own priorities–like training and development or flexible work options–as well as hiring managers' judgement calls on what the ideal candidate is like.
Of course, the talent pool is limited by those agree to take SquarePeg's assessments in the first place. Says McTaggart, "We receive candidates from a lot of different channels," who are both actively looking for work or passively interested in a potential career change. These folks tend to be generalists; for the moment SquarePeg isn't matching anyone in more technical roles. But the company is working to expand its reach, sourcing candidates through university alumni networks (including those at historically black institutions) and by bringing both large enterprises and small startups on board.
Hiring The Whole Person
But machine learning is only as smart as the data it's fed, which means there's still the potential for bias. As Rob Walker, vice president of decision management and analytics for Pegasystems, sees it, "Testing for bias cannot be done at the data level."
Excluding gender from the data isn't going to prevent AI from acquiring misogynistic tendencies, he points out. "In many cases, AI can trivially infer gender" even in data sets where it isn't explicitly noted. "You can substitute gender for race, sexual orientation, and many other traits and behaviors," Walker explains. "Therefore, not unlike testing bias in humans, we'll need to analyze AI's actual behavior, not the underlying data."
For her part, McTaggart maintains that collecting all the data from any match surfaces a different kind of diversity–that of personality types. A lot of introverts get cut during the first round of interviews, she notes, but perhaps they'd thrive in certain workplaces even when they don't impress a hiring manager with their people skills during an interview.
For example, she says, "We ask jobseekers about flexible work hours or work-from-home," those types of workers–who wouldn't necessarily need to thrive in an office environment–might fall out of contention in traditional recruitment channels. The more SquarePeg can surface people like this, the better its algorithm gets at finding good fits for them.
It's promising to think that workers will be one day be considered more holistically as individuals, rather than based on their resumes' keywords or LinkedIn results, and it's encouraging to know that companies like SquarePeg are working toward that. But there's still a long way to go.