If there's one thing Detroit natives take pride in, it's their city's legacy of making stuff. And if there's another thing, it's Detroit's revival after decades of post-industrial decline. Mark Wallace seems equally excited about both.
Three years ago, Wallace founded Detroit Wallace Guitars, a small company that makes professional grade, vintage-style guitars out of reclaimed wood salvaged from dilapidated, historically significant buildings across the Motor City. Most recently, Wallace unveiled a line of guitars made from the remains of Detroit's Brewster Wheeler Recreation Center, where boxer Joe Lewis once trained and Diana Ross and other members of The Supremes hung out as kids.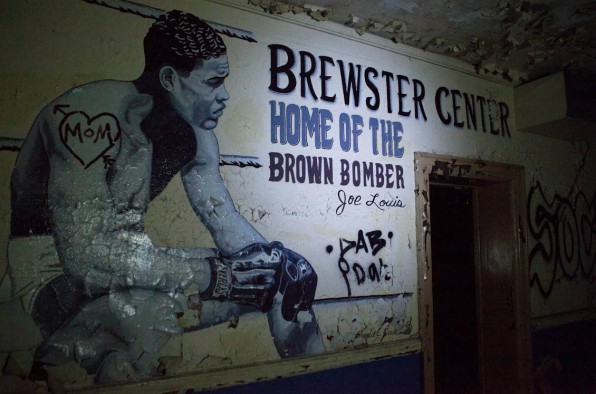 "It was one of the first housing projects in the U.S.," says Wallace of the now-demolished residential buildings at Brewster-Wheeler. The adjacent rec center, which is now being renovated, was filled with old benches made of maple wood that was perfect for the body of a guitar. "Now we're making guitars from benches that Diana Ross probably sat on," he says.
The guitars, which start at $2,600, aren't built for amateur garage bands and beginners. In fact, Wallace says, some of them wind up adorning the walls of local bankers and art collectors. The rest, of course, go to serious musicians.
"I've got a guy who's played with Bruce Springsteen named Stewart Francke," Wallace says. "He has a '58 Rickenbacker, a Telecaster. He says he only wants to play on our guitar."
---
Related: How Fender Is Reinventing Online Guitar Lessons For The Age Of Distraction
---
In Detroit, there's no shortage of spare wood lying around. After years of working in real estate and learning woodworking to help rehab his own properties, Wallace had become fairly well-versed in the types of wood that could be found in local buildings. About a decade into his real estate career, he came across a nonprofit that worked with homeless people and taught them how to properly salvage materials from the blighted, often crumbling buildings that have proliferated since Detroit's decline as a major manufacturing hub. After seeing some of the samples that were coming out of houses and historical buildings, Wallace began to think about how the materials could be repurposed in a meaningful way. For Wallace, himself a guitarist who played in local punk and bluegrass bands, his brainstorming led him to another of Detroit's great legacies: Music.
After building a few guitars for what he considered a personal side project, Wallace posted photos on Facebook and, much to his surprise, immediately started fielding requests from people who wanted their own playable piece of Detroit. Before long, he and a team of about half a dozen were churning out guitars from a small shop, sourcing supplies from the same local wood-salvaging nonprofit.
In total, Wallace's team has built approximately 80 guitars made from wood that came from such historical buildings as the Cadillac Stamping Plant, Detroit Firehouse, and the David Whitney Building, a skyscraper built downtown in 1914. The instruments come with straps made from reclaimed leather from old car seats. Early reviews in professional guitar magazines have been positive enough to keep demand steady, and Wallace says his supply chain and manufacturing processes are ready to scale up if need be. "We could double or triple production," he says.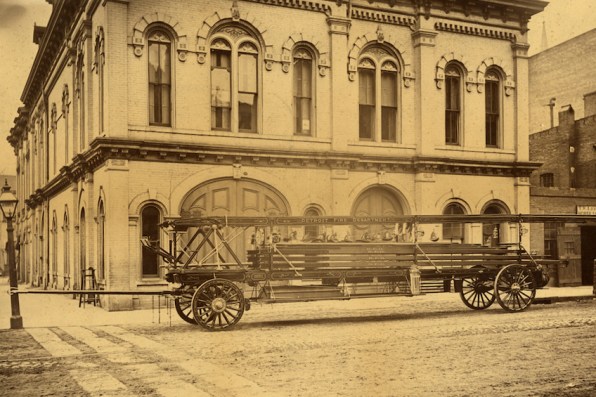 Detroit Wallace Guitars is one of countless companies springing up from the ruins of post-industrial Detroit. The city, which has famously seen one of the country's worst and most dramatic declines in population and industry since 1950, is now going through a renaissance of sorts as artists flock to its dirt-cheap rents and tech startups take advantage of the area's affordability, talent, and maker culture. Today, there are more than 35 venture capital-backed startups in Detroit, a 50% increase from just three years ago.
"Throughout the economic struggle, Detroit has continued to produce people who teach each other how to make things," Wallace says.
Much of the guitars' appeal comes from the sense of history found in the fine grain of the wood used to build their bodies and necks. That makes them special for Detroit residents, but doesn't help the brand scale much beyond Michigan, where most of current customers reside. In the future, Wallace hopes to take the concept to other cities.
Wallace confesses "an irrational love" for New Orleans and senses the city's housing stock could be rich with materials. San Francisco, while hardly on the decline, is also on the short list of places he's considering. These cities will come with their own local stories, historic structures, and unique raw materials. And while few U.S. cities are undergoing changes quite as dramatic as Detroit's, many of them are experiencing some kind of revitalization of their own at the moment.
"I don't think that this company is going to change the world or structurally improve the city, but I love Detroit," Wallace says. "And people are fascinated by it."