If you look at the tags inside your clothing, you'll often see "rayon" or "viscose." An increasingly popular fabric–production has doubled in the past decade–these man-made cellulosic fibers are versatile, with a beautiful drape, and a soft and silky feel. They're also often marketed as more eco-friendly, since they're made from plant materials instead of plastics like polyester or nylon.
But rayon, viscose, and modal have a dark secret: They're often made from old-growth trees from endangered rainforests.
"Most people know the link between forests and paper, but they don't know the link between forest ecosystems and the clothing they have in their wardrobes," says Nicole Rycroft, founder and executive director of the Vancouver-based nonprofit Canopy, which works with businesses who source trees as a raw material to come up with solutions that protect old-growth forests. An Ashoka fellow, Rycroft has turned her organization's gaze over the past five years from the paper industry to the fashion industry.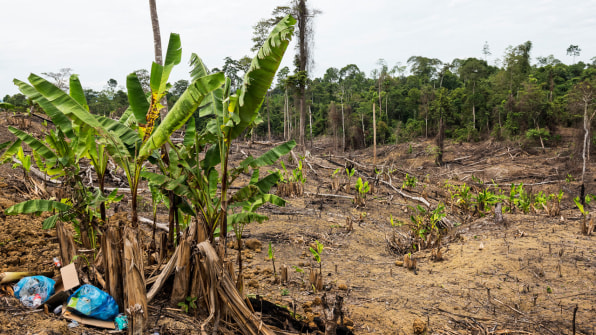 "To be honest, even we were surprised when we found out about the link," she says. "All of the brands have been shocked. Some of them weren't even aware that rayon actually came from forests." The big brands who did know, assumed that it was coming from sustainable, second-growth forests, which turned out to be far from true.
Here's how trees are turned into fashion: A dissolving pulp mill situated near a forest or tree plantation takes a tree, adds chemicals, and produces what's called dissolving pulp. The pulp goes to the viscose producer, who makes it into a staple fiber, which is then sent to a dyer or spinner. Next it's made into a textile, which is sold to fashion brands. It finally lands as a ruffled blouse or sheath dress in your favorite store.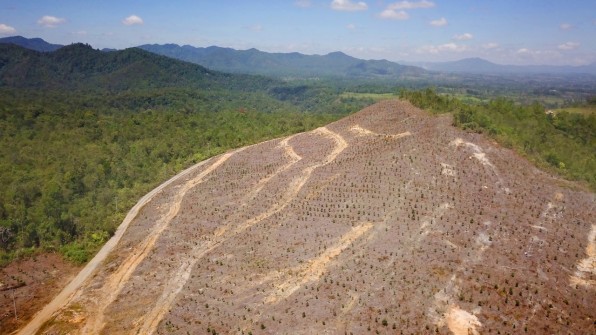 "Viscose is a very chemically intensive, nasty, toxic process," Rycroft says. "It's also very inefficient. You lose about 60% of the tree through that chemical breakdown."
Dissolving pulp mills are located all over the world, in Austria, Sweden, South Africa, China, India, even Minnesota. But the most controversial mills source their trees from Canada's boreal forest, Indonesia's rainforest, and the Amazon. "We have these carbon-rich forests being converted, and as a result climate change is being exacerbated and we're losing critical habitat for vulnerable species," Rycroft says. "It is the palm oil of the fashion world."
One particularly controversial pulp mill in Northern Sumatra is located in the middle of a forest that is home to sun bears and tigers, plus communities of native farmers. Up until Canopy got involved, the mill was (with the blessing of the government) logging this ecologically valuable forest and converting it to eucalyptus plantations. One farmer who tried to protect his land by standing in the way of bulldozers was thrown in jail for three months.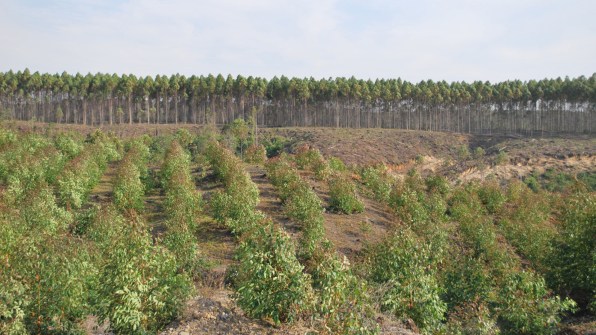 The viscose rayon industry is slated to double again in capacity over the next decade, meaning more dissolving pulp mills will be built to handle the growing demand. Fortunately, this might be a rare opportunity to stop an environmental disaster before it becomes entrenched as business-as-usual.
Canopy takes a three-prong approach to this mission. They engage with corporate fashion brands, whose buyers can pressure rayon viscose suppliers. Every six months, Canopy updates their ranking of rayon producers according to environmental performance, so brands can go into contract negotiations armed with information on sustainability practices. Canopy also engages with rayon viscose suppliers, who can put pressure on dissolving pulp mills. And they engage the pulp mills themselves, using pressure from up the supply chain to essentially give them no choice but to comply, or lose almost all their customers.
So far, Canopy has won commitments to go rainforest-free from 105 fashion brands representing $130 billion in annual revenue, or 5% of the $2.4 trillion global fashion market. In the spring they announced a rainforest-free commitment from VF Corp, with yearly sales of over $12 billion, and whose brands include Nautica, the North Face, Wrangler, Timberland, and Vans. They recently announced a commitment from Gap Inc., which owns Banana Republic and Old Navy, to be old-growth-tree-free by 2020.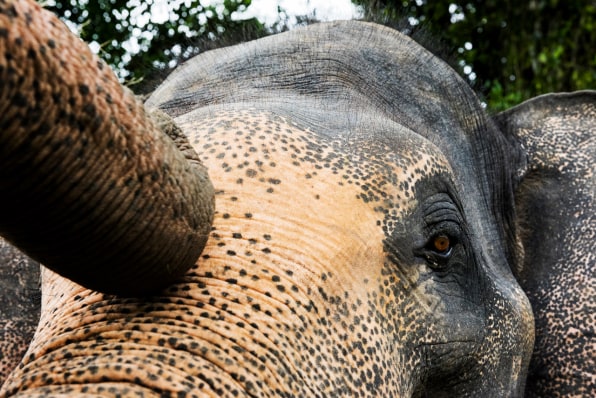 Canopy also has commitments from 10 rayon suppliers, representing 75% of the global market. "There are very few dissolving pulp mills that are going to want to rule out the ability to supply to 75% of their customers," Rycroft says. Most of these rayon suppliers have also committed to drawing on non-tree sources, such as recycled fabrics or agricultural waste. The two largest global suppliers of rayon, Lenzing and Aditya Brila, have also gone through the auditing process put together by Canopy and The Rainforest Alliance, which means 25% of the global rayon viscose market has been certified as at low risk for sourcing from endangered forests.
That mill in Northern Sumatra? Because of pressure from Canopy and rayon producers, it has put in place a zero-deforestation commitment, and has agreed give back 12,800 acres of forest to the local communities. The mill will work with the government to find land to source from that is not old-growth or inhabited by a native community.
Fashion companies aren't moving on this issue because of consumer pressure–most consumers have no idea that fabric can even be made from trees. The brands that have signed on either see it as crucial to their broader sustainability initiatives, or are looking ahead to the point when governments implement cap-and-trade or carbon taxes to comply with the Paris climate accords. They're also wary of bad press as consumers become more aware. It's about risk mitigation.
"The supply chain is transforming in real time," Rycroft says. "I think that's one of the encouraging things about the fashion industry around sustainability. With a clear strategy, with clear tools, with very clear metrics and outcomes, it's a powerful example of the impact that collective action can really have."
---
Alden Wicker is a freelance journalist covering sustainability and fashion.