In the mid-'90s, Lonely Planet was one of the first travel brands to hit the web. Its site, which offers suggestions on what to do, where to eat, and how to travel, embraced the digital age head on, earning itself a place in the hearts of travelers everywhere.
Now it hopes that you'll want to create some of that awesome travel content yourself. Today it's launching Trips, a platform where anyone can post feature-rich accounts of their latest travel adventure, be it a trip around the world or a walk around the neighborhood. It's sort of a Medium-meets-Instagram approach to travel reporting, where travelers can upload images and videos from their journey, write some text (or not), and then publish a pretty polished-looking post on the platform for anyone to see.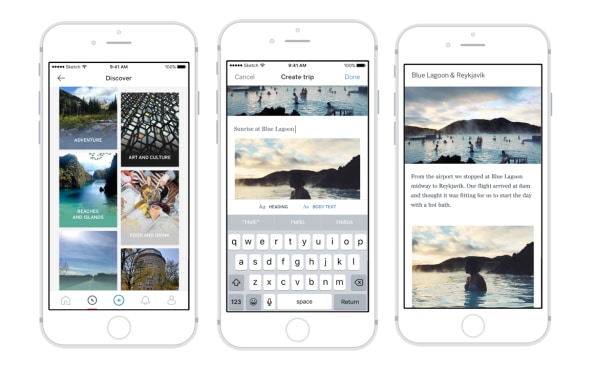 In a way, it's a nod back to the company's beginnings as a guidebook publisher. Lonely Planet launched over 40 years ago, focusing on physical books to help people plan their travels. Years later, it was not only one of the first travel-guide sites on the web, but one of the first third-party apps on the iPhone.
"[Lonely Planet] is a company that has for a long time been at the forefront of whatever new platforms were out there," says CEO Daniel Houghton. He says guidebooks are still a huge part of the company's business–and, of course, something it's really proud of–but the brand is also always willing to try new things as well.
"We sell more books every year than we did the year before," he tells Fast Company.
In 2016, Lonely Planet launched Guides, an app that brings guidebook-like content, with information on what to do and where to stay when you travel, to smartphones. The app was downloaded more than a million times over the course of the year. Trips is the first time, outside of its forums, where Lonely Planet has allowed its users to create their own content.
"[Trips] is kind of part two of our mobile strategy," says Houghton. What you create is pretty much up to you, and it exists just within the Trips platform, not in Guides or any of Lonely Planet's other products.
"It's really travel inspiration, and helping people decide where they want to go just to learn about the world," Houghton says. He sees people using the product to create professional-looking accounts of their trips that they then share with friends and family. Think of it like the turbocharged version of dumping all your vacation photos on Facebook.
"Some of the stories we've seen are really editorial and incredible narratives, and then some of them are more of just a ton of images with a map," Houghton says. Flipping through some of the stories posted by beta users, you'll find those that are just a few amateur-looking pictures, but there are just as many others that rival what you might find in a glossy travel magazine. Creating your own post can be done in just a few seconds if you're only posting photos, or it could be a process you spend days on.
At launch, Trips is only available on the iPhone, but the plan is to bring it to Android soon. The company is taking a page from Instagram and only showing you content from people you've chosen to follow on the platform. A separate Lonely Planet-curated section displays highlights from those you don't. Finished posts can be viewed in the app, but can also be shared with friends via SMS, or posted on social media. And friends and family can view those posts how they were originally created to be seen without having the app.
Unlike Instagram, there are no built-in filters or photo editing tools. You can't even put two photos side by side on a page (the default is for them to be full-sized). If you want to do any editing, you'll have to do it before you bring your pics or video into the app.
However, the platform is built to make your content–even if it's just a few blurry pics taken on your iPhone–look like it was done by a pro.
"We're really excited, because we've never had an opportunity for our community or our fans to jump in and share," Houghton says. The hope is that, through sharing, users' posts will inspire even more travels.