Around two years ago, Jessica McClard noticed three Little Free Libraries–tiny, community-organized book-giveaway hutches–pop up in her middle-class neighborhood in Fayetteville, Arkansas. At the time, she was reading The Tipping Point by Malcolm Gladwell, and on her long runs through her neighborhood and past the communal book hutches, she began to mull over the Little Free Libraries as a concept, and what caused it to "tip" into a global phenomenon–as of November 2016, 50,000 tiny libraries have been registered in 70 countries around the world.
It wasn't the fact that the Little Free Libraries dealt in books, McClard tells Fast Company. People in her neighborhood had plenty to read. "So if it wasn't about books, that meant it could probably be used in a different way," she says.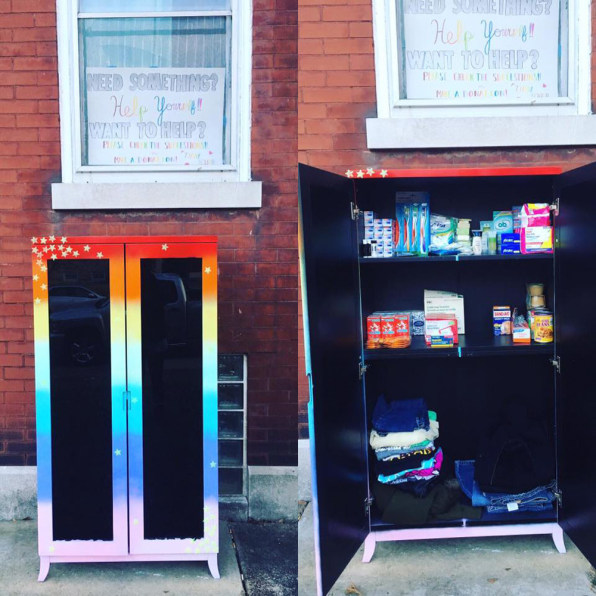 The different way that McClard envisioned was food donations. In May 2016, she installed the first Little Free Pantry in Fayetteville, and like its inspiration, the movement is beginning to take off: Hundreds of Little Free Pantries, stocked with nonperishable food items and toiletries now exist in cities from Auckland, New Zealand, to Waxahachie, Texas.
But the two Little Free enterprises differ in key ways. To build a recognized Little Free Library, people have to register through the LFL website and pay a $45 fee that covers the licensing of the name and adding the new library to the organization's interactive map. LFL also recommends that library founders visit their website to purchase a book exchange-box kit, which provides, not unlike an Ikea shipment, pre-drilled pieces and step-by-step instructions; those kits range from a couple hundred dollars to $2,500. McClard, however, chose not to license the "Little Free Pantry" name; establishing one is free, as is following the recommended design guidelines she includes on the LFP website.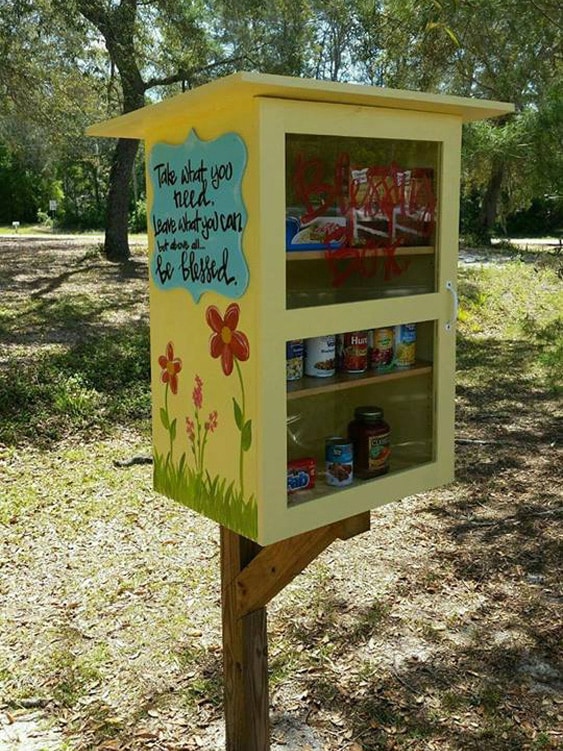 There's a difference, also, in the intent and purpose of the two mini donation models. It could be said that Little Free Libraries are boosting access to books and reading materials in underserved neighborhoods, but they're often–as McClard saw–kitschy novelties in comfortable, already bookish neighborhoods. The thrill of exchanging books has long been a signifier of middle-class security: Think about the proliferation of book clubs and author events in boutique Main Street shops.
A free can of beans in a donation box, however, represents a real need. And that's where Little Free Pantries succeed, but also highlight the necessity to do much more to address hunger on a national scale than just giving occasional cans.
The difficulty in setting up a community-based model to mitigate hunger and food insecurity became clear to McClard from the moment she set up the first Little Free Pantry over a year ago. "Early on, I thought it would be ideal to locate near the lower-income apartment complex close to where I live," McClard says. "I thought the population density meant more people could benefit from it." But after floating the idea by some of the building residents, they pointed out to her that while they might use what they find in the box, there was no one close by who would be likely to keep it stocked. She switched paths to her plan B–locating it at her church in the midst of a mixed-income, mixed-use neighborhood. That proved to be the strategy she now recommends all new LFPs adopt. Setting up a pantry near a grocery store, in a place that also gets a lot of foot traffic, ensures the pantries will stay stocked. The busiest ones empty out within 45 minutes, McClard says.
Now, McClard says, "supply can never keep up with demand." Little Free Pantries are designed to help those people who may not qualify for food assistance benefits, yet still can't afford many of the basic necessities found in the pantries. That they should empty out so quickly by targeting this audience is unsurprising: The USDA reported that as of 2014, 14% of American households, representing 48 million people, are food-insecure. With food assistance tightening now that the country is out of the recession that drove up hunger levels in the first place, the percentage of households struggling to put together consistent meals will likely rise. The Trump administration is looking to cut $190 billion from the Supplemental Nutrition Assistance Program (SNAP) over the next 10 years.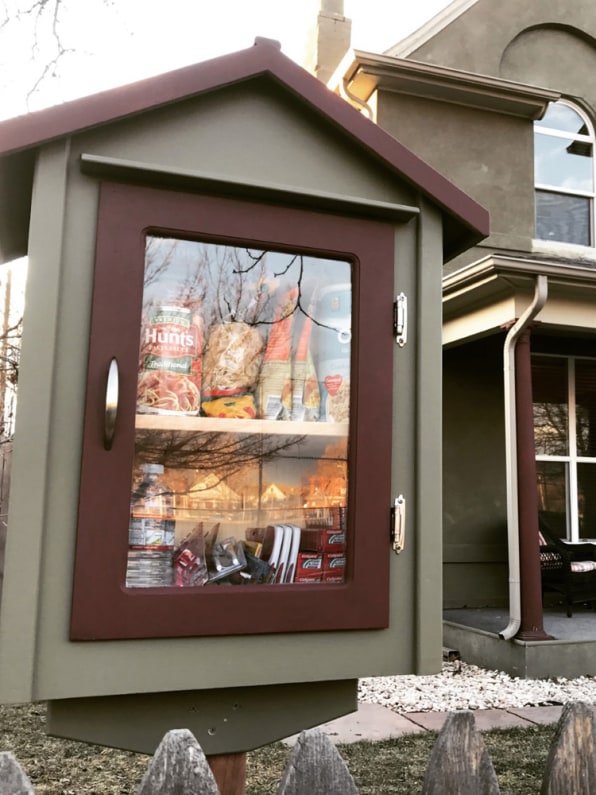 Little Free Pantries, McClard says, are a partial safety net for those who fall through the fraying national programs. But they can't possibly fill the gap created by further cuts to SNAP, nor should those leaving their items in their local pantry feel that by doing so, they're making a difference in the hunger crisis. Saying that is not meant to discourage people from supplying or availing themselves of the pantries, but rather to point out that supporting LFPs should be one element of participating in food access and equity efforts; others include implementing food-waste diversion programs at the community level (there are a handful of apps that collect leftovers from restaurants and stores and deliver to hunger-relief nonprofits), continuing to support local pantries so that they can reach a wider range of people, and advocating for those politicians who support expanding food assistance programs at the federal, state, and local levels.
And Little Free Pantries' growth illustrates this perfectly. As the organization has grown over the past year, it caught the attention of Tyson Foods, a Springdale, Arkansas-based multinational corporation helmed by John Tyson, an energetic born-again Christian. Through the company's Meals That Matter Heroes program–part of a larger effort to invest $50 million by 2020 to fight hunger by recognizing people who are taking innovative, community-based approaches–Tyson awarded McClard $40,000 to implement a web-based interactive map (not unlike the Little Free Libraries map) to better direct people to new and the roughly 1,000 existing pantries.
The map, McClard says, will allow the stewards of each pantry to post updates on items in need, and eventually enable them to collect donation shipments. But what does it say that in 2016, Tyson, the company supporting people like McClard, also donated a non-insubstantial amount of money (around $100,000) to the same Republican party now threatening to further constrict the food assistance extended to America's poorest people?
Despite the fact that its net actions increase hunger rather than help it, its money is certainly better spent on McClard and her work through the Little Free Pantries–they're a powerful communal gesture, even if they're fundamentally incapable of mitigating hunger. That cause, of course, should be the responsibility of the government, but instead, we've left it to nonprofits and individuals to identify the extent of the need and then struggle to meet it.