In rural Polk County, Nebraska, Jim Carlson's fifth-generation farm happens to be directly in the proposed path of the Keystone XL pipeline. Now, roughly a month before a key state hearing over permits that would be needed to build the pipeline, Carlson is part of a group planning to install solar panels on his farm in the same spot where the pipeline would go.
The installation is part of Solar XL, an advocacy campaign currently crowdfunding solar installations along the route of the pipeline in Nebraska.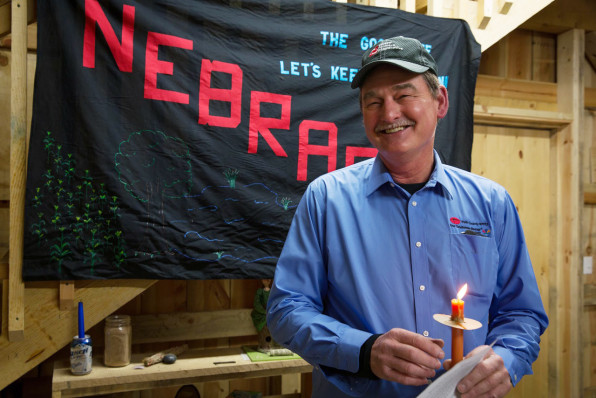 "We really want to be part of the solution in showing with strong visuals that we actually have energy sources here in our state that protect property rights and water, and we don't need this pipeline," says Jane Kleeb, founder of Bold Nebraska, an anti-pipeline group that is running the campaign along with the nonprofits 350.org, Indigenous Environmental Network, CREDO, and Oil Change International.
In March, the Trump administration issued a permit for TransCanada, the company behind the pipeline, to build the part of the pipeline that crosses the U.S.-Canada border, reversing Obama's rejection of the permit in November 2015. The pipeline, which also crosses through Montana and South Dakota before linking up with an existing pipeline in Steele City, Nebraska, also has approvals in the other two states.
In Nebraska, most landowners in Keystone's proposed path have already signed contracts with TransCanada; the company started making those deals in 2009. "Before there was any public education about this pipeline or what tar sands even is, TransCanada was using bullying techniques, essentially going to landowners saying if you don't sign this today, then we're taking your land through eminent domain and you don't get any money, which is, of course, a lie on both accounts," says Kleeb. But a group of 90 farmers and ranchers resisted, and have been fighting the project for eight years. They are now part of a last stand against the pipeline, which is intended to carry 830,000 barrels of oil a day from Canadian tar sands to refineries in Texas.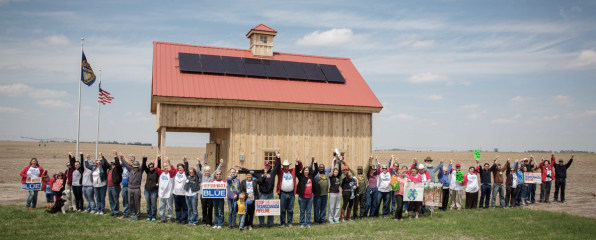 Before Keystone, Nebraska didn't have a state process for approving pipelines, and advocates worked to create a new requirement for public hearings and legal proceedings. After several hearings, another will take place on July 26. In August, a panel of five public service commissioners will hear arguments from everyone involved, with a final decision on whether to issue permits due in November. The panel will also consider whether to require TransCanada to use another pipeline that already exists in the state, rather than building on new land.
Farmers and ranchers objecting to the pipeline say that it risks a spill that would contaminate water supplies–including the Ogallala Aquifer, one of the world's largest sources of groundwater.
The solar installations will send power to Nebraska's public utility. "We are tying these systems back into the Nebraska grid," says Kleeb. "It's a very true statement that these three small solar projects will provide more energy for the state of Nebraska than the Keystone pipeline ever will since the Keystone pipeline doesn't provide energy to Nebraska."
The installations are also an attempt to make a point about job creation. Though Trump cited jobs as a reason for green-lighting Keystone, the project would primarily create temporary jobs, and only around 50 permanent positions. The solar and wind power industries, by contrast, are among the fastest-growing sources of new jobs.
Kleeb is optimistic that the permits could be denied. "I think everybody has always counted us out," she says. "They look at us as a conservative red state who would be traditionally giving the green light to big oil. But we're an ag state. We have a very different way of looking at land and water and a different way of looking at politics. I feel good about our chances. We stopped it this far, right? It's been rejected twice before with Nebraska really being at the heart of that resistance. So we feel good about our chances."