If and when the robots finally take over, Spotify will be ready. The streaming music leader just hired Francios Pachet, a French professor and artificial intelligence researcher focused, among other things, on teaching computers to create their own music. But why?
Officially, Pachet will head up Spotify's new Creator Technology Research Lab in Paris. The lab "will focus on making tools to help artists in their creative process," according to a blog post from Spotify. The blurb doesn't go into any more detail than that, but a rundown of Pachet's previous work invites a few educated guesses.
Until recently, Pachet led Sony's Computer Science Laboratory in Paris, which he helped found 20 years ago. In that capacity, he worked on a range of music intelligence technologies, including a project called Flow Machines that aims to teach computers how to understand musical style and composition.
The end result is a system that can auto-generate music in a given style and serve as a sort of creative companion for artists. Earlier this year, the Flow Machines team released "Daddy's Car," a Beatles-inspired song that it claimed was the "first structured A.I. pop song." (French composer Benoît Carré arranged and produced the songs, and wrote the lyrics.)
Over the last two years, the field of AI-assisted music has witnessed a dramatic growth in ability and output. Projects like Google's Magenta and IBM's Watson have taken their own crack at feeding musical rules and knowledge into machines in order to teach them how to mimic human creativity. The results don't quite stand alone as anything you'd want to listen to on your commute, but like Pachet's work, both companies say their efforts are less about replacing artists and more about supplementing the creative process with automation.
Spotify is no stranger to advanced AI. Its 2013 acquisition of the Echo Nest brought some of the brightest minds in acoustic analysis and machine learning to the company, which wasted no time flexing this expertise to build music curation features like Release Radar, Discover Weekly, and Daily Mix, among a slew of other features. But while Spotify has invested heavily in AI for purposes of music discovery and distribution, this is the first time the company has turned to machines for help with the creation side of the music equation.
---
Related: How Google's Music-Making AI Learns From Human Minds At Festivals
---
So what is Spotify up to? A spokesman for the company, not surprisingly, declined to go into detail. But the company's blog post refers to Pachet's previous work "assisting artists in music composition" and strongly suggests a foray into new territory for Spotify's growing creator services department: the development of creative tools for songwriters and artists. Until now, that team has focused on things like arming artists with listener analytics data, helping musicians target fans with concert tickets, and simply teaching artists and managers how to make the most of Spotify as a platform for connecting with fans. The idea of Spotify developing its own semi-robotic GarageBand software is a fairly radical—and to some, perhaps terrifying—departure from what it's been working on thus far.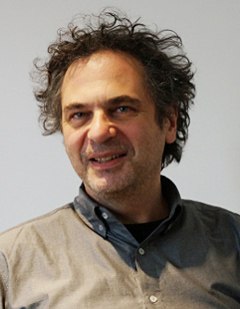 There's been some speculation in the music industry press that Pachet's hiring may be the first step toward Spotify positioning itself to auto-generate music for its own playlists to boost its streaming hours without having to pay out royalties to human songwriters, as it normally does. This somewhat cynical theory follows a recent controversy in which Spotify was accused of commissioning tracks from so-called "fake artists" (i.e., ones that don't appear to have an online or offline presence outside of Spotify, but who collectively rack up hundreds of millions of streams) to pad its most popular playlists with low-royalty music. Spotify recently denied it has any role in publishing music by non-existent artists, but a number of curiously unfamiliar artists continue to earn millions of spins.
Tim Ingham at Music Business Worldwide, who blogged about the phenomenon last week, suggested Spotify's AI move made the "fake artists" term even more appropriate, as debate over the term continued in comment sections. "We'd suggest that debate just kicked up a notch, wouldn't you?" he wrote.
It's a little hard to imagine Spotify so blatantly building a pipeline of computer-generated music solely for its own financial benefit. At the same time, the idea of one day regularly hearing AI-created songs on Spotify playlists isn't all that outlandish. It wouldn't be difficult for a computer to come up with perfectly listenable, relaxing ambient electronic music, for example. Even Brian Eno, widely considered the godfather of ambient music, has experimented with the concept of "generative music" that effectively never ends.
By that point, though, one would hope that the core business model of music streaming will have been fine-tuned by a combination of continued scale, smart negotiations, and perhaps new revenue streams—and that such technology-fueled trickery wouldn't be necessary. Not to mention the uproar it would easily generate among artists, record labels, fans, and competing streaming services. (This week, Spotify finally inked a new licensing deal with Sony Music, making Warner the last of the big three record labels with which Spotify has yet to come to an agreement.)
---
Related: Spotify's Plan To Win Over Anxious Artists–And Win The Streaming War
---
More realistically, Spotify may hope to gain future leverage in negotiations with labels and rights holders by doing something it's already started to do: becoming as indispensable as possible to artists and the music industry. In time, the company may even morph into a sort of pseudo-label in its own right by signing deals with artists directly. That's just a theory, of course, albeit a somewhat popular one.
In the meantime, the robot composers will have quite a bit of learning to do.