We've been tracking our steps, runs, sleep and more on apps for a while now. The Nike Plus iPod was announced in 2006. Its app launched in 2010. Fitbit was founded in 2007. Beyond the running and exercise tracking, there's a plethora of sleep apps, yoga apps, nutrition apps, and more, all aimed at helping us use data to fine tune our daily lives.
Now Adidas has launched its own new app platform designed for women, aimed at consolidating all those different app types into one. The "All Day" app serves up daily ideas, techniques, and inspiration from leading experts across four areas of athletic performance: movement, nutrition, mindset, and rest.
Adidas' All Day marketing strategy lead Meg Burich says the brand looked at the fitness and tracking app space, as well as the targets Adidas had identified in the women's market, which had become a bigger focus for the brand than ever before. After researching future fitness trends, and looking at how they could use those insights to add value and answer some of the fitness needs women have right now.
"In the app space we noticed a few things," says Burich. "We had just come out of the 10,000 steps trend, which got a lot of people into the app space, but while that approach was enlightening for people, then what? They had calibrated their day, figured out what was a good day, what was a bad day, then stopped wearing their devices and engaging in the long run. So we asked ourselves what we could do to help people stay engaged with a healthy routine."
The brand also looked at the specific trends within the female fitness market, and as people are starting to use technology to manage their whole health, through exercising, eating right, appreciating the value of sleep and meditation, Adidas wanted to find a way to create an experience that could address all of it. "That was key," says Burich. "We wanted to create an experience that would stay with you and add value over time, and could marry all these four pillars of performance in one place."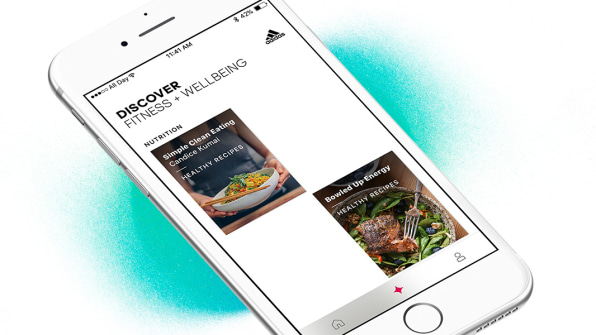 Beyond performance tracking, All Day revolves around content, with exercises, recipes and more. Adidas found that while many of us research on our own, gathering information on what's new, what we should try, how we can optimize our life and fitness performance, there are also many contradicting studies and advice out there. Burich says they saw that as an opportunity to marry the science behind this stuff with influencers engaging on a social level to bring people new things to try that are grounded in science but is still really engaging.
"The content in there right now we're calling 'discoveries,' which are short, couple week challenges to hopefully introduce you to something new that's grounded in science but has a layer of fun, engaging inspiration too," says Burich. "That whole area is a place we're just at the start of, but gives us a big opportunity to really dig into what the Adidas brand can make available and accessible to more people."
New "discoveries" will be featured each month, with 12 available at launch, including eating tips from Candice Kumai, workout sessions from yoga teacher Adriene Mishler and celebrity trainer Stephen Cheuk, as well as a custom music mix designed to help you sleep from DJ Nina Las Vegas.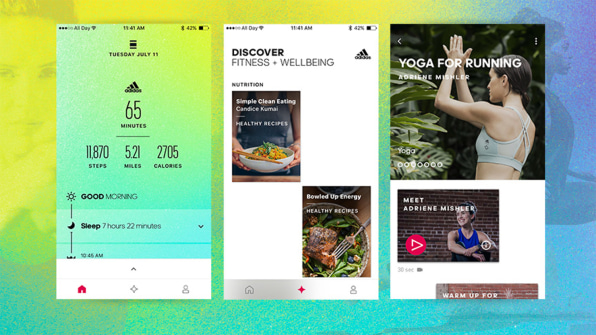 All Day is a textbook example of utility marketing. Adidas creates a tool it hopes people will enjoy using, creating overall affinity for the brand, with the need for athletic gear an obvious byproduct. "I think it's all about the relationship with the brand, and trying to make that authentic and meaningful, to make it an ongoing conversation," says Burich. "Out of that comes sales, but that's the outcome when our focus is on that relationship and serving up things that are valuable and inspiring, and help people be more active."
In terms of marketing All Day itself, the brand will be holding community events in major cities around the world, as well as promoting the app across its own social channels, as well as those of influencer partners, and content partners like Wanderlust.
Burich says there is also plenty of opportunity to use the data from the app to optimize it as people use it. "We hope to use it to really better understand behavior, and drive behavior science behind this experience, to see what types of content is resonating," she says. "There's just so much we can learn and quickly react to."