Which means that many workers looking to advance their career have to look outside their companies to find a mentor. LinkedIn thinks it may have found a solution to this problem based on observing its users' activity.
Hari Srinivasan, director of product management at LinkedIn, says that people naturally start talking to others within their companies to get career advice. However, he points out, "As people spend less and less time at a company, it's hard to find people you need to talk to." Internal analysis of user actions revealed that 89% of senior leaders on LinkedIn would be interested in giving advice. Among those seeking advice, exploring career options was one of the top issues they wanted to discuss with a mentor.
Today, LinkedIn is testing out a new free service for members that will match them with other professionals who can give them that much needed career advice. "Think of it as a new form of mentorship that's virtual, lightweight, and that fits today's changing workplace," says Suzi Owens, group manager of Consumer Products, Corporate Communications  at LinkedIn.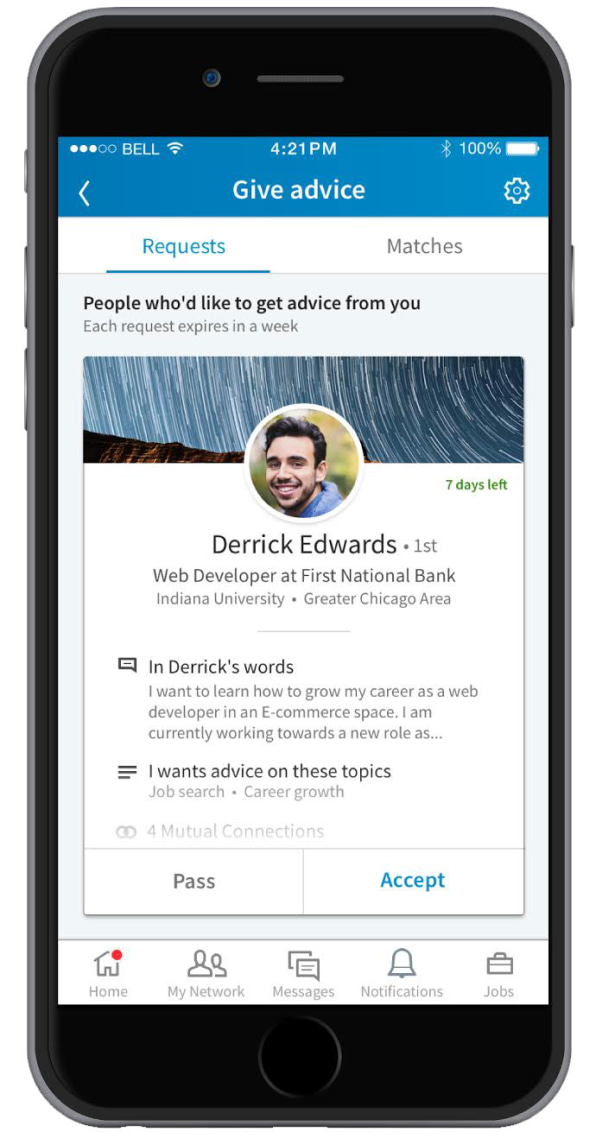 The way it works is fairly straightforward. There will be a dedicated spot on your profile called "your dashboard," which is private and can be accessed on desktop or mobile. This will display the "career advice hub" where you can sign up to be a mentor or a mentee.
The first screen is a basic overview of the function and its value for both those giving and getting advice. From there, you are instructed to provide specifics on who you'd like to talk to with parameters such as region, industry, school, etc. The next screen gives you an option to refine preferences by type of advice such as entrepreneurship, job search, career growth, etc.
As soon as the preferences are entered, LinkedIn's matching algorithm will immediately send recommendations for matches. If you have multiple requests out, you can swipe to see all the matches. If you select someone who is a match they will get a message immediately notifying them of your interest to connect. Once both parties agree, they can start talking either on LinkedIn's platform or take the conversation offline, if they prefer.
Srinivasan says that the tool is designed to keep members engaged with new recommendations sent weekly. Owens also points out that you are able to connect with anyone who is a match to "extend beyond your own network to tap into experienced leaders in our community."
On the surface, it sounds like a tremendous opportunity to use an algorithm to tap the expertise of some 500 million LinkedIn members. However, Srinivasan acknowledged that one of the potential stumbling blocks was that members needed to be mindful of expectations. One of the reasons mentorships fail is because the mentee isn't always able to articulate what they need or asks too much of a mentor. He says LinkedIn is working on ways to make the conversation flow more smoothly so both sides get what they need.
"It's intimidating once you get matched to have to start the conversation," he explains, so they're building in ways to see where people overlap or see what they have in common. He also says they are working on content with tips to help people understand how to give and get good advice.
The feature will not be rolled out widely at first. Owens says "a small subset" of members will get it and didn't offer further specifics. She did say that they will continue to work on the offerings during the test and that all members will be able to access this service by the end of the summer.
Owens underscores that it's not meant to be a replacement for long-term mentorship. It's meant to tackle those "quick question" requests such as whether you are taking the right approach in different scenarios. Although that evokes the need for speed, Srinivasan says it's "the quality of advice that will determine success when you are able to have this kind of experience."
Those looking for instant advice a la chatbot may be disappointed depending on how rapidly their match responds. This new service, like any good mentorship relationship, will take some time.