Electric cars make up a tiny fraction–less than 1%–of total car sales in the U.S. But those sales grew 37% in 2016, and they're growing even faster in China, where consumers may buy 3 million electric cars a year by 2020 and 7 million a year by 2025. Now one major car manufacturer is betting that the future is electric: Beginning in 2019, each new model that Volvo releases will have an electric motor.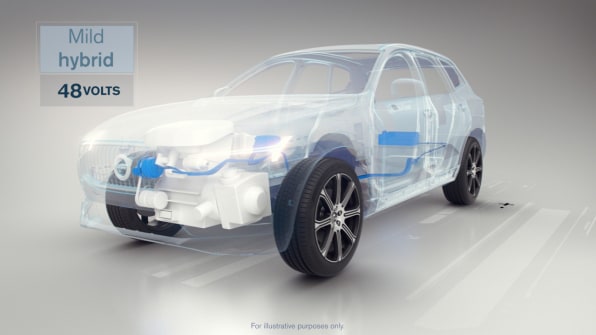 "This announcement marks the end of the solely combustion engine-powered car," Volvo CEO Håkan Samuelsson said in a press release announcing the shift away from polluting vehicles.
The company won't immediately stop selling the diesel and gas-powered cars that it already makes. If a new model is released at the end of 2018, for example, it will likely follow the standard industry production cycle of seven years. But Volvo will stop developing new conventional cars, and eventually, as the old models are retired, its fleet will no longer have traditional options.
Between 2019 and 2021, Volvo will launch five 100% electric cars–three Volvo models and two under Polestar, its premium brand. The rest of its new models will be either hybrid plug-ins or hybrids that generate power from braking.
The company is moving towards electrification more quickly than it initially thought was possible. In 2015, when Volvo first announced a plan for electrification, the company's senior vice president of research and development said that the Volvo would focus on hybrids and that it would take time for fully electric cars to be viable.
But battery costs have plunged, falling almost 80% between 2010 and 2016, and are likely to fall further. Charging infrastructure is spreading. New regulations, like an EU law that limits CO2 emissions for cars, and France's newly announced phase-out of internal combustion engines by 2040, mean that traditional technology has to change. And customer demand is increasing.
"We're looking at the trends, and we're looking at what our customers are saying to us, and that's the reason why we've gone the way that we have," Jim Nichols, technology and product communication manager for Volvo Car USA, tells Fast Company.
Demand is particularly strong in China, which is one of Volvo's major markets (Volvo is also now owned by a Chinese parent company). Chinese consumers accounted for nearly half of all global electric car sales in 2016. While that made up about 2% of total car sales in the country, the government wants to get to 11% by 2020 and 20% by 2025. Buyers get perks like tax breaks and access to special lanes. The country is also installing 100,000 charging stations in 2017, in addition to the 150,000 already in place; by comparison, the U.S. has around 40,000 outlets at 16,000 stations.
Volvo expects to sell a large percentage of hybrid cars to consumers who aren't ready to go 100% electric. "The way that we kind of look at it is that while this marks the beginning of the end of the pure internal combustion engine, there are still multiple options that will be available for customers," Nichols says. In total, the company plans to sell 1 million electrified cars by 2025.
The company is the first major manufacturer to announce a commitment to move completely to electrified cars. Even Volkswagen, which plans to introduce around 30 all-electric vehicles by 2025, still plans to continue developing conventional vehicles. General Motors, which launched the budget, long-range Chevy Bolt in 2016, expects that demand for conventional cars will continue. "Conventional vehicles, as you look around the globe, they're going to have a role for a long, long time," Pam Fletcher, executive chief engineer of autonomous and electrified vehicles at Chevrolet, told Fast Company in a conversation in January 2017.
Automakers also have sunk costs in traditional car development. But Volvo, which has developed a platform that supports electrification across all its vehicles, says that it can make the shift more easily than some others. "It's also a benefit of being a small automaker that we're able to be very nimble or able to make these changes very, very quickly and bring them to market," says Nichols.
In addition to making urban air cleaner and reducing carbon pollution, electric vehicles could also soon be cheaper than conventional cars for consumers. One study estimates that they could be less expensive to own–over the total life of the car–by 2022.