Your ears are welcome–because they'll be thanking you after this session.
Track 1. Kendrick Lamar – ELEMENT.
Earlier this week Kendrick Lamar aka K Dot unleashed the "ELEMENT." music video, for the single off his April release DAMN. The third video from that album, it was directed by Jonas Lindstroem and Kendrick Lamar, with photographer Gordon Parks imagery as references. There is a moment in the video where Lindstroem and Lamar recreate the album cover, flashing a huge "DAMN." hovering over a craned neck Kendrick. The three-minute-and-30-second visual journey leaves you saying, "Damn Dot."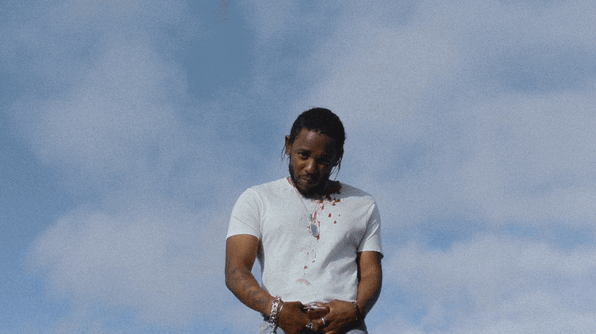 Track 2. Gallant & Andra Day – In The Room: Cruisin'
The young vocal soul god Gallant has been releasing a series of videos and songs dubbed "In The Room." The tracks vary from covers to takes on his own music, and the videos work as live recordings of each session… yes, in one take. Episode 1 of "The The Room" debuted in January 2016, but today he's graced us with Episode 5 featuring another amazing soul singer, Andra Day. The duo covers the Smokey Robinson track "Cruisin'" and it is so lovely. To quote the song itself "Music is played for love."
Track 3. Tyler, the Creator – Who Dat Boy
Aside from this being a comeback from 2015 song for Tyler, The Creator, the music video is high-production value that needs its kudos breakdown. "Who Dat Boy" starts vertically a la iPhone portrait aspect, closing in on Tyler working at table with a young Leonardo DiCaprio poster hanging overhead. After an explosion, the colors used and the suburban neighborhood automatically bring Tim Burton to mind. There's a shot for shot duplicate of Stanley Kubrick's 2001: Space Odyssey Hal that is really just a door viewer. Behind the door, Tyler adapts the Hype Williams-style fisheye to introduce A$AP Rocky. Tyler even goes John Woo on us to throw a Face/Off reference in the mix. In the last moments, we see a police chase ensue but the footage cuts and goes to a bright flowery field of multiple Tylers, and the song shifts into a Frank Ocean-led melody of Tyler's second new song of the day "911/Lonely." Like I said… Aside from being a great song, this is a great video, let us give thanks to The Creator.
Track 4. Calvin Harris, Frank Ocean, Migos – Slide
Calvin Harris, the DJ Khaled of Calvin Harris's World, today released his production/collaboration album. The album is Funk Wav Bounces Vol.1, which right away makes you curious as to when we'll see a Volume 2! The standout song is the certified platinum track "Slide," featuring Frank Ocean and Migos.
Track 5. Denzel Curry, Lil Ugly Mane – Zeltron 6 Billion
Denzel Curry's new EP 13 has dropped today. You might have heard of him from the 2016 XXL freshman class cyphers, where Curry has one of the best verses, IMO. Another moment of fame associated with Curry is the his song "Ultimate," a meme punchline song, especially on the late app Vine. "Zeltron 6 Billion" off 13 is a must-hear track. And for all you Trekkies out there, Zeltron is a near-Human species, with colored skin in the Star Wars universe.
Track 6. Kacy Hill – Cruel
Kacy Hill's new album Like A Woman is released off Kanye West's label G.O.O.D (Getting Out Our Dreams) Music. The entire record is very nice, with soothing vocals, and production sounds that rattle the speakers. The track "Cruel" stands out for a couple of reasons. First being that it's one of the best tracks on the record. Secondly, it stands out because of the name of the song. GOOD Music has been promising an album entitled Cruel Winter since the 2012 release of Cruel Summer I'm sure there was a couple of Google alerts that went out because Cruel + GOOD music were fresh results. Oh soooo cruel.
Track 7. St. Vincent – New York
My G!, St.Vincent has graced us with a new jam, the first song since her self-titled 2015 record. The album art could have featured at least one pair of Timbs, fam. Nah but, real talk, the lyrics are mad nice.
Where you're the only motherfucker in the city
Who can handle me
Send those lines out to your boo thing.
Track 8. Clams Casino, Ghostemane – Kali Yuga
Clams Casino, you know, the producer from your favorite Lil B song, "I'm God" released part 4 of his entirely instrumental mixtape. One of the best tracks that stood out for me was "Kali Yuga", which was used on an actual song featuring Ghostemane. The version with vocals gives the song a vibe of early 90s west coast rap. The instrumental sounds like modern day trap tracks. Both versions of the song are worth a listen.
Bonus Track. Jay Z – 4:44
Today, June/30/2017, Jay Z responded to Beyoncé's "Lemonade" (April/23/2016) with his album, 4:44. We're left questioning, "Why immortalize all of these feelings, situations, and apologies in the form of music?" But as my coworker Diana Budds points out, "this is for the kids."
That idea that Jay Z is planting conversations for the future is explicit on the last track "Legacy," that opens with Blue Ivy asking "Daddy, what's a will?" This album doubles as something to leave behind for future generations. These records offers insight for their children to get to know their parents in a human way, outside of Mom and Dad. For whatever reason these two albums exist, you cannot deny the quality of this album. The track "4:44" gave me chills upon first listen. I highly recommend the entire album and the title track. Please note, The 4:44 is only available on Tidal, and cannot be a part of the Spotify playlist.
Take the playlist with you!
Take That, Take That – Diddy