I have an Alexa Echo in my kitchen, but I've found it to be of limited use because it's non-visual–it can hear and make sounds, but it can't see and display images.
Amazon's new Echo Show device (see our full review here) gives the Alexa brain both audio and visual senses. The device, which goes on sale for $230 Wednesday, does pretty much everything an Echo does, skills-wise—but for $50 more adds a camera and a 7-inch display.
While Amazon envisions the Show being used in your bedroom and living room, make no mistake: it's optimized for your kitchen counter, where that 7-inch display is likely to be a crucial assistant in helping prepare meals and stock your fridge and cupboards.
"Say you use your voice to set a timer; now you can see how much time is left," says GlobalData analyst Avi Greengart. "You might ask Alexa how many cups are in a gallon; now you can reference it (on the screen) a few seconds later, after you've forgotten the answer."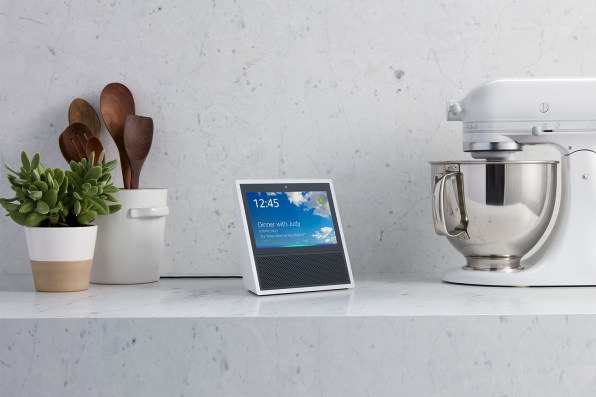 Many of us have turned to online videos to learn how to make new things in the kitchen, and the Show will be perfect for that, especially if there's a skill that lets you back up or pause the video using voice commands. Right now the Show is mainly a front end for Amazon's Prime video, but the video selection will grow as third parties create new skills.
Many people have a TV in the kitchen because they like to watch the news while they cook. The Show might eventually make the TV unnecessary, Greengart points out. Echo owners are used to requesting news briefings, based on news outlets they select in the Alexa app. Those flash briefings might now become video playlists instead of just audio clips.
Amazon is set to release new developer tools to video doorbell companies so that the image caught by the front door cam can display on the Show in the kitchen.
The Show will work well for family communications that are better seen than heard—things like notes, to-do lists, shopping lists, or the family "chore wheel."
Although this isn't available yet, the Show's screen might be easier to use than voice for controlling connected home devices, too, Greengart says. That's because the verbal commands for controlling Alexa-connected devices can get to be a mouthful, like "Alexa, turn on light number 7B in the living room north wall." It might be simpler to just tap a button on the Show's screen.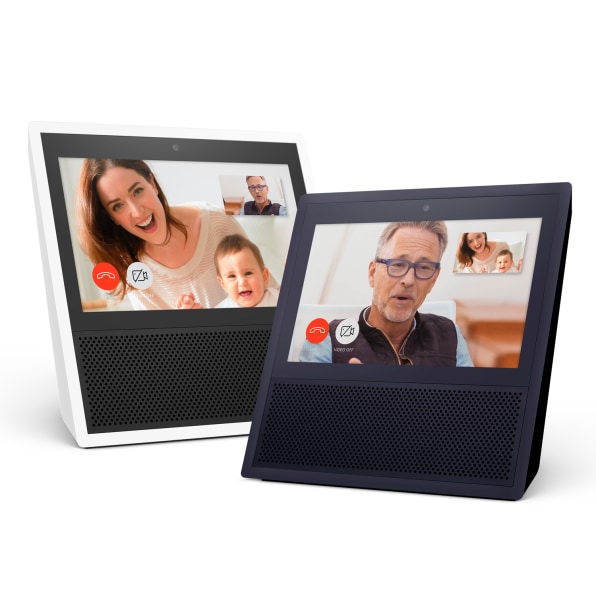 The Show's camera both detects people in the room (and wakes up) and is used for video chat with people on cellphones using the Alexa app. It can also be used as a sort of home intercom system, Amazon says, communicating with other Echos and Echo Shows around the house.
The kitchen is crucial—it's where people tend to spend a lot of time and make plenty of purchasing decisions. Greengart says PC makers and others have for years tried to win a spot on the kitchen counter with various kinds of devices, without much success. Those devices had screens but didn't have the Echo's and Echo Show's capability of hearing and understanding a voice command from across the room. That may set the Show apart.
Providing a kitchen counter device might be a good role for Amazon, Greengart points out, as opposed to one of the big platform players like Microsoft, Google, or Apple. Each of those companies is competing to get consumers to adopt their productivity services (calendar, email, etc.), so each may be less inclined to integrate of the other. Amazon, on the other hand, isn't a platform play in that sense, so it might be more inclined to integrate with all of them.
There's still a lot of things the Show can't do. Right now the visual presentation of skills that have long been audio-only is limited. But expect Amazon and third-party developers to enhance the aesthetic quality and usefulness of the visual content.
And, of course, Amazon will make sure the Show offers many ways of purchasing products from Amazon.com. The Show, for example, is perfectly positioned as the front part of a system that lets consumers order groceries as needed at the kitchen counter to have it later delivered to the front door.