They say you never know what happens behind closed doors.
But one new show helps you eavesdrop.
Half voyeuristic, half educational, Where Should We Begin is a new podcast that lets you in on couples' intimate therapy sessions. Launched in late May, it invites listeners to listen in on individuals struggling with infidelity, sexlessness, impotence, parenthood, and plenty more relationship dilemmas.
"Many couples are often isolated on lonely islands—they don't know if what they're experiencing is normal, unique, shared, manageable," says host Esther Perel, a renowned Belgian psychotherapist .
Each week, the relationship guru shares a 45-minute segment of a 3-hour therapy session, featuring a wide range of couples—some are wealthy, some are poor, some young, others grandparents. Through various voices, Perel hopes to offer up a "mirror" to those suffering the same issues at home.
Audible, a subsidiary of Amazon, does not share metrics, but a rep confirms that Where Should We Begin is one of the fastest growing of its podcast catalog, currently topping their best seller list. It debuted at number 3  on the iTunes chart.
In one episode, Perel talks with a lesbian couple in which one partner bemoans that the other's fixation with their children leaves little room for her. In another, a husband and wife attempt to forge through the stages of anger following an affair.
In one heartbreaking episode, a married couple reports they are "sexually mismatched." The college sweethearts are both survivors of childhood sexual abuse and former members of Evangelical Christianity. There was no sex prior to their wedding, and now, years later, the wife admittedly states she's not—and never was—attracted to her husband.
These are all people who wrote in essays for a chance to be treated by Perel. All names have been changed, but, "we don't change the voices and we don't script one word," she confirms.
"We look for diversity of story, of issues, of class, of background, of nationality, of language—to cover a broad spectrum of human experience," she says. Some will stay together, some will separate. She doesn't promise everyone's problems are fixable.
Jesse Baker, vice president of original content development at Audible and an executive producer of Where Should We Begin, originally assumed listeners would be drawn to the voyeuristic element of the show. But fans say the appeal lies in the listeners' connection not only with the faceless characters, but Perel as well.
"It might start off [as a voyeuristic experience] but 10 minutes in, you're thinking 'Esther is talking to me. I do that, my partner does that, my relationship with my mom is just like that.'"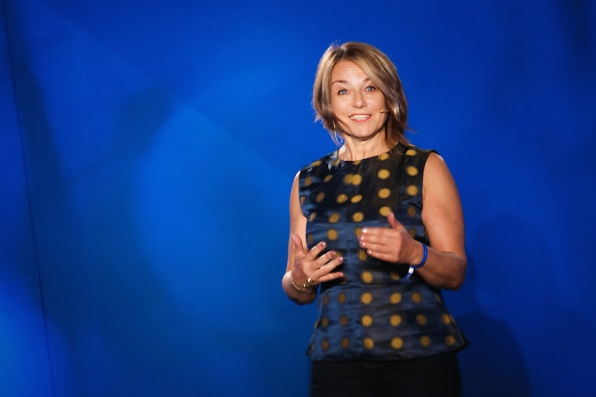 Building A Reputation As A Modern Relationship Guru
The daughter of Holocaust survivors, Perel says both trauma and the response to it—"living life with a vengeance"—were woven into her mentality from a young age. Through her parents she learned the stark difference between "not being dead" and "being alive."
For the first two decades of her career, Perel, who speaks nine languages, worked with refugee families and mixed couples (intercultural, interracial, inter-religious). She has always, to some degree, worked with individuals who are stressed, confused, navigating the new, or negotiating their status quo.
Perel brings that mind-set to sex and love, particularly how emotional wounds (not just of war, but of one's childhood, an affair) impair the human spirit, but also jump-start new paths to self-identity.
It's why her specific work on affairs amassed millions of fans, both men and women alike. (Her TED talk titled "The Secret To Desire In A Long-Term Relationship" boasts nearly 10 million views, while "Rethinking Infidelity" has over 7.6 million views.) She understands crisis management, yet comes at it from a humorous, thoughtful perspective. She investigates the why, without sacrificing the warmth.
Her first book, Mating in Captivity, released in 2007, examined the paradoxical relationship between domesticity and sexual desire. It quickly became a bestseller and now has 25 translations. She's since spoken at dozens of Fortune 500 companies, been dubbed invaluable by Gwyneth Paltrow, served as a consulting producer for the Showtime drama The Affair, and launched her own educational platform for therapists called Sessions With Esther.
There are also plans to plans on expand into more topics with TED, including the subject of relationships at work and, "the plight of men, masculinity, and the rethinking of manhood."
Finding The Underserved In An Oversaturated Market
There is no lack of relationship content on the market. Numerous podcasts tackle modern love issues, though the majority rely on the call-in format, in which hosts answer listeners' questions.
There's Dear Sugar, in which columnist Steve Almond and acclaimed Wild author Cheryl Strayed read fans' questions and answer in a sympathetic, insightful manner. In Anna Faris Is Unqualified, the star of the CBS show Mom brings on celebrity guests like Lisa Kudrow and Sharon Stone to discuss relationship issues with a heavy does of banter. Dan Savage's Sage Lovecast takes a more humorous, sometimes crass approach to love, sex, and taboo topics.
Then, of course, there's The New York Times' Modern Love podcast. The critically acclaimed show, based on the paper's weekly column, features notable personalities like Angela Bassett and Kathryn Hahn reading poignant essays from the paper's library.
Each show has its own voice and unique approach to solving love dilemmas, but Perel offers something uniquely different: Intimacy. The ability to listen in on a couple's seamless, vulnerable conversation in which they bare all with a professional vastly differs from reading a fan's two-line question, or asking a celebrity to lend their voice to an edited newspaper column. There are tears, strained accusations, breakthroughs.
Perel also distinguishes herself by providing refreshing a cultural, historical, and nearly philosophical frame of how and why couples feel tormented in an age of endless choices. Perel asks her patients to redefine every label they use: their needs, their roles, even their gender. She asks them to experiment with their identities and how they use language to both separate and connect themselves.
A big part of what makes Perel so popular is that she gets how our emotional requirements far differ from our ancestors. She explains that society asks one's partner to satisfy our need for stability, commitment, security, and predictability yet simultaneously surprise us and fill us with awe, mystery, imagination, and novelty.
"We ask from one person what we once asked an entire village to provide," she says. "People don't know how to date, or how to commit, or how to leave—all the stages and nuances are up for grabs," she says.
Perel explains that past decades provided codified systems, via culture or religion, that detailed how to handle relationships, what our responsibility was, and what meaning we gave to them.
"None of that is available today—everything has to be redefined," she says. "It is an entire cultural system of relationships that is filled with uncertainty and hence with self-doubt. There's a lot more freedom, but a lot more uncertainty."
We are left by ourselves to figure it out, and with that, "there is a hunger for conversations about relationships—the full spectrum of them," she stresses. "And the truth is not what you parade on Facebook. The truth is a different story."
That she's grown a following, Perel says, speaks to a category she finds wholly underserved.
Reaching Across Demographics
Perel's audience runs the gamut, from millennial party-goers to retired grandparents. At Summit Series, 
a pricey conference for entrepreneurs, "creatives," and tech folks, she's been known to draw hundreds of hungover attendees to early morning sessions. On her YouTube page, middle-aged parents and 20-year-olds alike share their favorite quotes from her speeches (a favorite: "In desire, we want a bridge to cross–or in other words, fire needs air, desire needs space.")
Perel keenly reaches out various groups, adopting her message with cultural references to appeal to demographics at hand. They often repeat the same sentiment: I felt like she was speaking to me.
She's just as likely to speak at conferences for Nike or Johnson & Johnson as she is to appear at youth-driven events like Daybreaker, described as a sober, early morning dance party. That means her content is as much on audio books is it is on YouTube, Instagram, and Twitter.
I recently saw Esther talk at the Goop conference, held in June. I sat amongst athleisure-clad, affluent women eager to learn how to finally master their sex life.
"This country, in particular, when it comes to sexuality, has two primary approaches: smut and titillation," she addressed the room. "But the ability to talk about it as a regular topic of conversation, [one] that is complex, theological, aesthetic, artistic, sensual, multi-layered …that's the beginning of it. [We need] to normalize it, to take it out of the dark corners. You need to deal with its irrationality, its multiplicity, and then it actually becomes this phenomenal, mysterious universe called human sexuality."
The room went wild, with the vast majority shouting "woooo!" as if they had just been awarded a lifetime supply of collagen powder. When I caught up with an attendee later in the day, she mentioned that Perel was one of the reasons she coughed up $500 for the conference admittance fee.
"She gets how hard—and insane—dating is these days," she sighed.
The ability to speak to a new generation of exhausted lovers–empathizing and investigating their woes versus slapping on a simple solution–is what propels Perel's media empire. This is an audience that craves more than the average advice of "plan a date night."
Instead, Perel talks a lot about the complexity of modern life, hearkening everything back to individual expectations. She'll say things like, "we used to divorce because we were unhappy—today we divorce because we could be happier."
Above all, says, Perel, she wants to find new ways to disseminate her information–to reach as many diverse groups as possible. She has the books, the online videos, and now the podcast. But the relationship specialist is, as she was taught by her parents, passionately pursuing her life's calling. There might be new educational platforms, webinars, or online coaches on the horizon as Perel attempts to invigorate individuals' connection with one another.
"I try to speak to people in [people's] different languages—their preference for learning," she says of her various modes of information. "I speak to them."