Ever since the launch of Twitter's Periscope in March 2015, the live video service has used hearts to let viewers to show broadcasters in real time that they like what they're seeing. Now those hearts have even more meaning: they're worth money.
Starting today, Pericope is launching three new "Super Hearts" that viewers can give broadcasters. The floating hearts pop up during a broadcast just like their existing counterparts, but–like the pinned comments of YouTube's Super Chat feature–have a financial amount tied to them.

"Hearts are Periscope's signature," said Sara Haider, director of software engineering at Pericope, at a press event previewing the new feature. "On the broadcaster side, it feels like the roar of the crowd. They know that their viewers are engaged in what they're doing and that they're loving what they're doing."
Instead of buying hearts that are worth a specific financial donation to a broadcaster, Pericope is instead using a complicated combination of coins, hearts, and stars to get the job done. You're still donating money, but unless you're a math whiz–or maybe even if you are–you'll have no idea how much you're giving.
Everything starts with the purchase of coins. Just like the digital currency you're used to in games and other apps, coins are purchased in bundles and are cheaper if you buy them in bulk. 3,500 coins are $2.99, while you can pick up 63,656 of them for $49.99.
Coins are then used to purchase "Super Hearts," three different tiers of hearts that you can use within Periscope like traditional hearts. Each heart costs a different amount of coins to buy and looks a little different when you use it during a broadcast.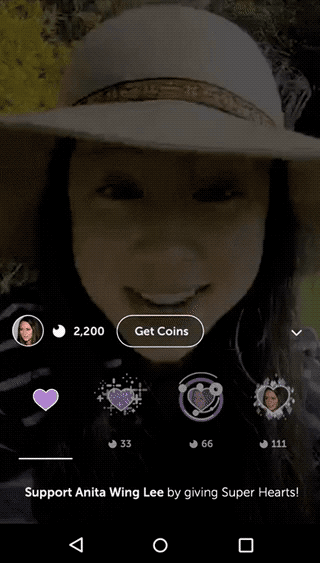 33 coins gets you an enhanced heart, larger than Pericope's traditional heart. 66 coins will get you a heart with your face on it, but subdued in color, and 111 coins will buy a heart with a full-color picture of your face and a sparkle animation around it.
The first time you use a Super Heart you'll get a shout-out in the video comments for doing so. Afterwards, comments you make will also have a flare icon on them, so broadcasters know that it's a comment from someone that has chosen to financially back them, potentially leading them to give your question or message more attention. There's also a live leaderboard showing the top Super Heart givers during a broadcast.
Hearts that broadcasters receive are converted into stars at an undisclosed rate that accumulates within a broadcaster's account. One heart does not equal one star. Instead, stars are a whole different type of currency within the app–one that broadcasters can turn into actual cash in their bank accounts.
Currency Calculations
While the whole process seems overly complicated and obscures how much money you're actually donating to a broadcaster, Haider contended that the coin/star/heart system was designed to be intuitive, since users are likely already accustomed to similar in-app purchasing setups in other apps.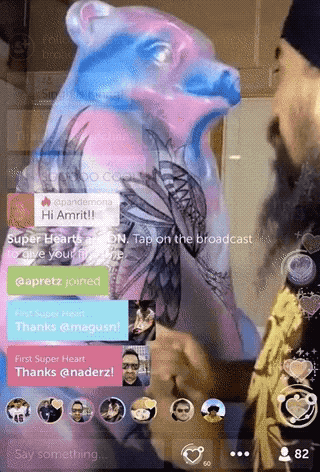 "Given that the individual value of a single heart is a fraction of a cent and the app store isn't going to take a transaction that's a fraction of a penny, we've done what a lot of other apps do, especially in the gaming space," she said. "We're following a model that we think viewers are familiar with."
Broadcasters will receive about 70% of the revenue that Periscope receives after subtracting app-store and transaction fees, the company says. While the act of giving and receiving Super Hearts is available for all Periscope users, in order to receive money, broadcasters will have to apply for the "Super Broadcaster" program. They can do that once they've accumulated 185,000 stars, which works out to about $175. If you're an exceptionally popular Pericope user that broadcasts daily, then that might happen relatively quickly. If you're not, then you might wait a long time (or forever) for that first direct deposit.
Over time, however, Pericope says that the goal is to allow everyone on the platform to be a part of the program. "What we really liked about this solution, which we really involved our community in coming up with, is that it feels native to Periscope," Haider said. "It really plays on what Periscope is already about, which is the interaction between broadcasters and viewers and that real-time love and feedback in that ecosystem."