The issue of diversity and inclusion in the advertising and marketing industry is a hot topic at this year's Cannes Lions festival, but one panel on Sunday added a twist to the issue by challenging the creative business community to not only aim for increased diversity in itself, but use its communication skills to improve the issue in broader society.
Three African-American executives took to the stage and told their individual stories of growing up amid advertising images and a media culture that too often identified them as "other," and what inspired them to become a part of this industry. Then on a giant screen behind the stage appeared a long list of young black men, killed by police over the last few years, with little or no consequences.
It was after the tragic shootings of Alton Sterling and Philando Castile, in separate incidents in different parts of the U.S. in early July 2016, that Butler, Shine, Stern & Partners executive creative director Keith Cartwright; CAA creative executive Geoff Edwards; Twitter's in-house global group creative director Jayanta Jenkins; and Amusement Park chairman/CEO/CCO Jimmy Smith came together to start The Saturday Morning Co., an organization aimed at inspiring, encouraging, and facilitating a creative response to societal problems around diversity and inclusion.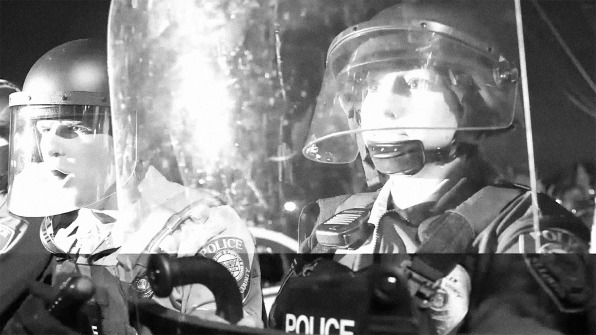 "We realized that, even though we've been friends forever, and held the positions we've held at respective agencies, we'd never ever all been together in a room," said Edwards, who was on stage with Cartwright and Jenkins. "We tried to figure out if there was something we could do to help, but through creativity. How do we get away from this feeling of helplessness and turn it into something more positive and productive?"
The panel marked an international awareness launch of the year-old initiative, to include not just the creative community in the U.S., but to broaden it globally. Cartwright introduced the group's concept of a Peace Brief, an idea that a coalition of creative people can rally around. The first one for 2017 is "The Police and Community They Serve–How Do We Reduce the Violence?" It's an open call to anyone to submit ideas and creative solutions.
Cartwright said the idea of the Peace Brief revolves around the strength of coalitions, in this case with three tiers of participation: universities, business, and individuals. "Across that, what do you do?" said Cartwright. "You do what you do. Everyone in this room has a skill, whether you work in business or are a creative. Use that and submit your ideas, and what we'll do is get it out into the world. Artists, make art. Fashion designers, create a line that speaks to the movement. Lawyers [and] activists, march [and] help pass legislation. Musicians, compose a song around the idea of our movement. Writers, write."
Perhaps the most relevant and powerful message was the call-out to brands. If anyone knows the power of brands, it's these guys. And to use that influence, through advertising and acts, can go a long way. They played video messages of support from P&G CEO David Taylor, and chief brand officer Mark Pritchard, as well as Twitter CMO Leslie Bertrand.
"Brands have power and the responsibility to shift perception," said Edwards. "To put a message out in the world that helps create new stories to help shape our culture at large."
To illustrate the point, Jenkins featured a few brands that have created messages that have broken through and become part of culture, like Nike's "Just Do It." And the classic tourism slogan for his own home state of Virginia, "Virginia is for lovers," created by The Martin Agency back in the 1960s.
"It was for a state not necessarily known for bringing people together," said Jenkins. "That line started long before social media, but it managed to make everyone, black or white, proud to be from Virginia. It started a conversation."
Diversity and inclusion in their own industry has been an ongoing issue for decades. When asked what the biggest barrier is in 2017, Cartwright said people tend to hire those who look like themselves. He said it's a perception issue, that when a person of color walks into a room, opens a door, and sits in a conference room, it often creates an unusual dynamic that gets in the way of hiring. Something HP has addressed in its recent video series on more inclusive hiring practices. "We have to get past that," said Cartwright. "It's always based in fear. Whatever that fear is, we have to find a way to push it out."
The group used the session to put the call out to the creative industry gathered at Cannes Lions in the hopes they would get involved, being a group that is uniquely equipped to affect change more so than most.
"What we do every day affects the world," said Cartwright. "You make an ad, you create something, a piece of communication, we're professionals at changing people's viewpoints and perceptions. This business is built on a particular structure to change and create a movement–sometimes it's a brand or a product, why can't it be about something bigger?"