The biggest stumbling block to widespread adoption of high-end virtual reality systems, in both the consumer and business markets, may be the relatively low-resolution screens today's headsets offer–and that tomorrow's headsets, and next year's, and even the next few year's after that, are expected to offer as well.
That's the argument from Finland's Varjo, a 19-person startup founded by veterans of companies like Nokia and Microsoft, that's coming out of stealth today. And Varjo says it has the antidote, a system capable of generating nearly 60 times the resolution of high-end consumer VR gear like the Oculus Rift and HTC Vive, that it says will be available in limited numbers later this year and broadly by 2018.
Specifically, Varjo is planning on releasing an enterprise-quality virtual- and augmented-reality headset, compatible with Valve's Steam system, which is where all Vive content is distributed. It will be capable of generating resolutions of 70 megapixels–with a catch. By incorporating onboard eye-tracking technology, the system is meant to know, with no perceptible lag, exactly where, in 360 degrees, a user is looking, and generate the high-resolution image there, and only there.
That's a well-known approach, but Varjo's implementation of it is meant to provide users with a far higher resolution than any other system available today.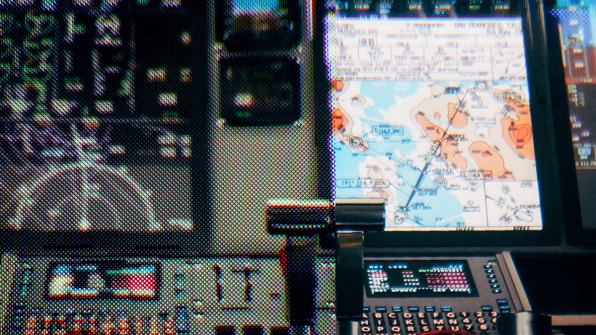 The Quest For 220 Megapixels
Earlier this year, Nvidia's general manager for VR strategy, Jason Paul, estimated it will take 20 years for VR systems to achieve enough resolution–about 220 megapixels–to match that of the human eye. Varjo claims its technology will get us closer than anyone else to that, and without waiting decades. To be sure, 70 megapixels is a far cry from 220, but when I got a demo of an early prototype, there was no doubt that Varjo's technology was delivering an extremely high resolution, much better than what a Rift–onto which the Finnish startup's technology had been blended–offers.
However, that demo did not include the eye-tracking technology, and the visible high-resolution area, solely in the middle of the screen, was fairly small, about the size of a couple of postage stamps side by side. Varjo promises that in the released version of its headset–which will cost an as-yet undetermined number of thousands of dollars–the high-res area will be substantially larger, even as it adapts to where a user is looking in real time.
Over time–likely years, the company says–Varjo also plans on releasing a consumer version of its headset at a price much more in line with the $500 to $800 that the Rift and Vive, respectively, cost. (Virtual reality is expected by some analysts to be a $38 billion industry by 2026.)
Varjo's current demo, and its marketing material, are all about clearly contrasting the visual quality of its system and that of something like a Rift. That's done by showing the difference between the two systems when looking at things like cityscapes, or the cockpit of a jet, or even just a living room with a lot of objects. On the Rift–or in screenshots provided from a Rift–things look somewhat blurry up close, or when magnified. With Varjo's technology, those same things are crystal clear.
"We've been discussing with industrial car designers, and they want to be able to see the contours of cars, with [realistic] reflections," says Varjo CEO and founder Urho Konttori of industrial VR use cases. "Now, they just see a blur instead of sharp lines."
Konttori points to similar experiences for professionals in other industries, who would like to use VR as a design tool, but who feel they can't because the visual quality isn't yet there. That's even true, he adds, on professional-quality mixed-reality systems like Microsoft's HoloLens.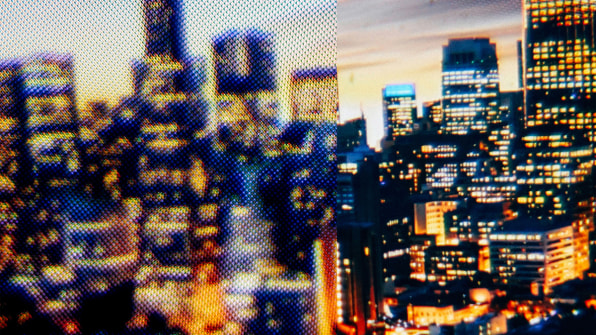 20/20 VR Vision
Varjo calls its technology, which is inspired by the human eye, "Bionic Display." The eye sees in the center of the field of view at roughly 100 pixels per degree, while we register just one pixel on the periphery, Konttori explained. For its part, Varjo attempts to mimic the way the eye works with a combination of two display systems, one a context display, and the other a micro OLED display that provides focus. The system then utilizes an optical combiner to merge the two displays.
The company's product, which it's calling "20/20," is being targeted at industries like architecture, real estate, 3D product design, simulator training, and immersive entertainment.
The 20/20 utilizes what Varjo calls video-see-through technology, which uses onboard cameras to capture, in real time, what's going on in front of the user. That makes the system ideal for augmented- and mixed-reality, as well as for VR, the company says.
Even in its current unfinished form, the technology Varjo is demonstrating is tantalizing. The problem with VR today, says Prashant Fonseka, an associate at the venture capital firm CrunchFund, is that we live in a world of 4K displays, so even high-end systems like the Rift and Vive feel outdated. Many people who have bought such systems rarely use them, he says, adding that if VR offered visual displays of the quality we've gotten used to with TVs, it could appeal to a much wider audience.
"It feels like a very unrefined experience, and still feels like a beta, and doesn't feel like something you're going to spend hours in," says Fonseka. "I think what Varjo is doing could unlock the VR market."
Fonseka is quick to note that he hasn't seen Varjo's full demo, so he can't be sure the company can deliver what it's promising. Indeed, he says that he won't truly believe it until he sees it. As a veteran of a VC firm that has funded numerous hardware companies that have been delayed in shipping, he's well aware that there are all kinds of problems that could keep the Finnish startup from fulfilling its ambitions, especially in the time frame it has discussed.
John Zacharakis, an independent product development consultant who has seen Varjo's demo, is both impressed by what the company is promising, and wary of the challenges of delivering on that promise.
"I think it can do well," says Zacharakis, "but the things they need to take into consideration are execution on the commercial side of things. As a product designer, I'm a lot more concerned about availability, viability, and supply chain."