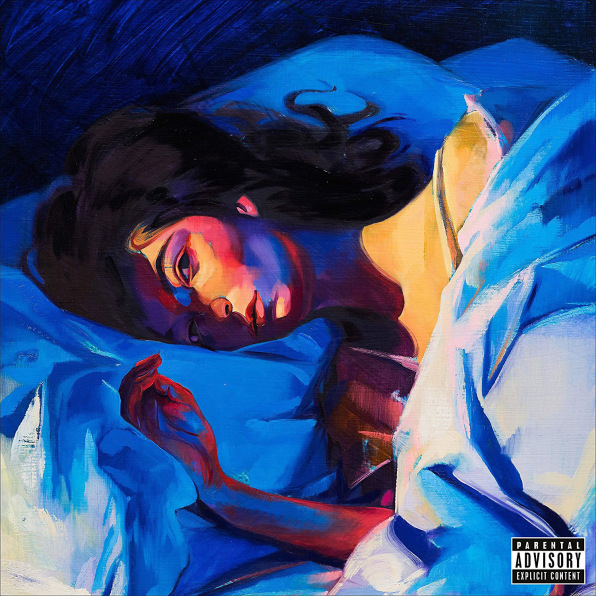 And then I heard her new album the way it was maybe meant to be heard: in a small, dark room with 44 other Lorde superfans–almost all of whom were between 18 and 23 years old–as Lorde herself explained the story and writing process behind each of Melodrama's 11 tracks. On Tuesday morning, Lorde tweeted that she wanted to do something "super intimate" for 45 of her New York City fans. Thanks to the quick emailing and generosity of a friend, I got to be one of them.
NYC… 9pm tonight i wanna do something with u. super intimate capacity — 18+ — first 45 to email melodramalistening@gmail.com

— Lorde (@lorde) June 13, 2017
At 8:30 p.m., the 45 chosen ones were shuffled into the dimly lit basement of Sing Sing Karaoke on New York City's Lower East Side, where we were given air conditioning, pizza, sliders (which Lorde referred to as "small burgers"), and soda. It was the pizza party of our dreams. As we waited for the 20-year-old singer, we chatted like drunk girls in the bathroom, floaty and giddy and generous with our compliments of Lorde and each other. The girl next to me, a self-proclaimed nervous talker, repeatedly mentioned that she was going to puke up all that delicious pizza. We passed around cupcakes, reveling in the fact that we could all say Lorde bought us dinner and not be lying.
And then Lorde appeared, in two braids, wearing a jacket with "Scorpio" emblazoned on the back. The first thing she did was light candles. And then she pulled up the album on her phone, and our giddiness fell silent as we listened to the first bars of "Green Light."
played 50 special people the album tonight in nyc. so much loooove ???? pic.twitter.com/NVoOvjCR9j

— Lorde (@lorde) June 14, 2017
When I first heard Lorde's single "Liability," which she performed on Saturday Night Live back in March, I misheard the lyric, "every perfect summer's eating me alive" as "every perfect song was eating me alive." The latter is what listening to Melodrama with Lorde in the room is like–the harshness, the gnashing of teeth, the small smile on her face as she sat, head resting on her hands and eyes to the floor as if too shy to look at us. It was like being eaten alive in the most lovely way, the joy in being devoured whole, in being known.
That has always been one of Lorde's strengths: the knowing. At one point during the night, she referred to her song "Hard Feelings/Loveless" as being a song about our generation, us young millennials–about how we fuck each other up and act like we don't care. The use of the word "we" felt so deliberate, a way of acknowledging the shared experiences of our similar ages, even across obvious differences in wealth and level of notoriety. Her first record, Pure Heroine, spoke to a specific kind of suburban lifestyle, the reality and also the romanticization of hanging around swimming pools and imagining futures that felt very far off in the distance.
cannot describe to you how it felt to be playing an album for you and to hear your stories again. two days people ✨ #JUNE16

— Lorde (@lorde) June 14, 2017
Now, the future is not so far off. And maybe that's what Melodrama is about–facing the idea that those perfect summers will end, that the perfect songs will end, that maybe they weren't so perfect after all. She gets at that notion again on "Supercut," which is about remembering only the best parts of relationships. On the very Robyn-esque number–which Lorde said was the musical sister to "Green Light" but the emotional sister to Pure Heroine track "Ribs"– she sings a line that sounds something like "In my head I do everything right." For Lorde, the what-ifs seem equally important to the reality–the way we think about how the things that happen in our lives matter, even if it differs from the truth. She is offering us a coping mechanism for when things turn sour, as if to say your first heartbreak can taste sweet.
During the night, Lorde passed around handwritten cards with her favorite, most important lines from Melodrama. Mine is a line from "Sober II (Melodrama)": "Oh, how fast the evening passes, cleaning up the champagne glasses." It has a little scribbled champagne glass in the corner.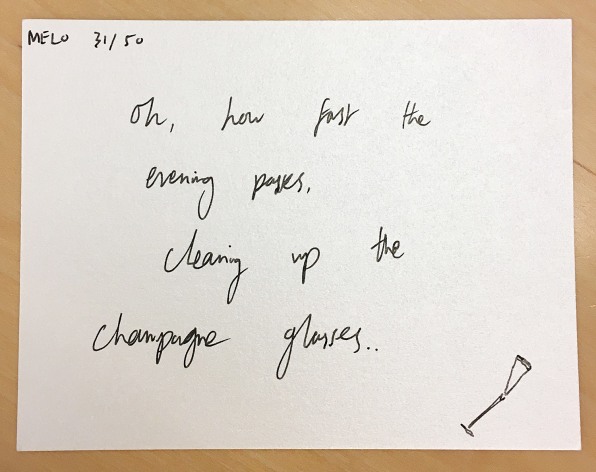 The lyric strikes me as one of the most powerful on the record. It's the lesson learned at the end of each party and at the end of each high: Savor the fizz, because sooner than you think you'll come down, and then you'll have to clean yourself up. But on Melodrama, which ends with the energetic and upbeat "Perfect Places," it feels like Lorde is saying that maybe there can be a little joy in the dish washing, too.