One of the scariest movies of 2016 wasn't a scary movie at all.
Krisha is a microbudget indie drama about an estranged aunt who wrecks the rest of her family's Thanksgiving. There's a reason the film topped BuzzFeed's list of 2016's best horror movies, however. Aside from using the horror genre's cinematic grammar, it's because the claustrophobic family dynamics on display felt both universal and deeply personal to the filmmaker. They captured something from all of us while inflicting elements of writer/director Trey Edward Shults' very own familial demons upon us. Shults' follow up, the just-released It Comes At Night, may have veered out of the suburban milieu and into full-blown horror territory, but it turns out this project is just as rooted in the personal as its predecessor.
"With Krisha, the relationship between the Trey character and Krisha is inspired by the one I had with my dad," Shults says, "and It Comes At Night was actually inspired by my dad's death."
Indeed, the stench of death figures heavily into the new film—a tight, tense, nail-biter whose every scene is fueled by desperation and dread. It Comes At Night opens with the passing of a patriarch, felled by some mysterious disease whose provenance will have viewers guessing, but whose effects are inescapable. The dead man's daughter (Carmen Ejogo), son-in-law (Joel Edgerton), and young grandson (Kelvin Harrison Jr) spend the rest of the movie attempting to survive the disease, which has apparently wrecked havoc all over civilization, in a creepy house out in the woods. They do not have an easy go of it.
Trey Edward Shults, on the other hand, has had a relatively blessed ride getting to this point in his career.
After his freshman year in college, the director spent a summer in Hawaii at his aunt Krisha's place. Since she had a thriving career acting in ads and doing voiceover spots, Krisha helped her nephew land some jobs working on the crew of some Hawaiian commercials. Eventually, he lucked his way into working with director Terrence Malick, lugging a heavy IMAX camera up the side of a volcano to help shoot footage for what would become the birth-of-the-universe scenes in Tree of Life. He had such an illuminating experience doing it too that he ended up dropping out of school and traveling around the world with Malick's director of photography, eventually landing an internship at the post-production office in Austin.
It was an unofficial film school education, which helped Shults develop his own aesthetic enough to create a short film. It was based in part on the hurricane of actual Shults family drama surrounding a cousin's holiday relapse, and it featured a juicy part for his aunt Krisha. Using long takes, slow zooms, and POV shots to immerse viewers in a troubled person's headspace, Krisha borrowed the visual language of horror movies to stunning effect.
"It wasn't an intellectual thing like, 'I'm going to make this movie on addiction and make it feel like a horror film.' It was more just a matter of how do I put you in the headspace of this character," Shults says. "I'm not stupid, I knew I was doing horror movie techniques, but it was just what felt right to me. This woman dealing with her demons, this is what feels right."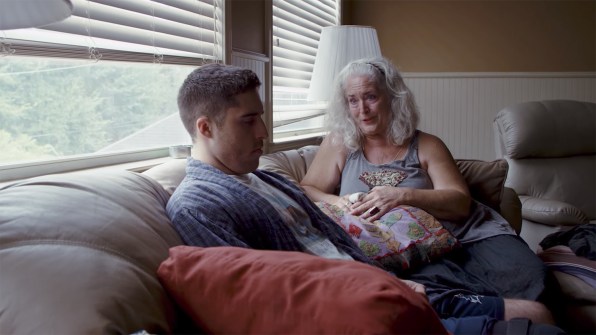 The eventual feature-length version of this film went on to win a Grand Jury Prize at SXSW in 2015, and screened at Cannes. By that point, prestige studio A24 sensed a kindred talent and reached out. The team loved Krisha, and asked Shults what else he was working on. The burgeoning filmmaker sent over the script for It Comes At Night, which he'd written in a frenzied state in between making the short film and feature-length version of Krisha. A24 was so confident in the draft, the studio made a deal with Shultz to both distribute Krisha and then produce Night. The director's pseudo-horror movie would be followed up by a straight-up horror movie next–or Shults' version of that, anyway.
Although it seems like a well-constructed plan to transition into horror, he swears it isn't. Rather, he just started off writing his second film from a deeply personal space–just like he did the first time–and it organically turned into something even darker.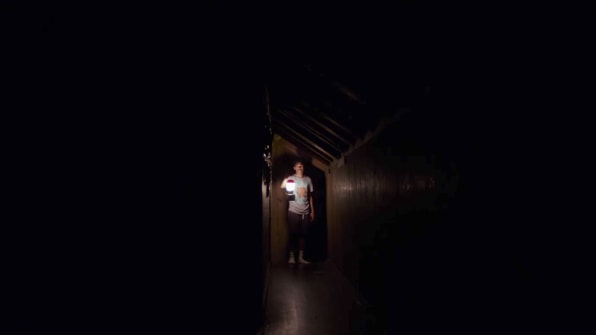 "The final script [for It Comes At Night] was just a part of my grief," Shults says. "That opening scene where Sarah is saying goodbye to her father? That's what I was saying to my dad. But right from there, it launched off into this whole fictional narrative. What it's about from then on, thematically, is what I was wrestling with at the time, because my dad on his death bed was so full of regret. The rest of the movie, it all comes down to fear, death, and regret."
The other influences on Shultz at the time are easy to spot in the finished product. He was reading books on genocide, looking at Pieter Bruegel paintings (one of which makes it into the film), and thinking about the breakdown of societal order. All this input converged and crystallized into a bleak and haunting interpretation of the future.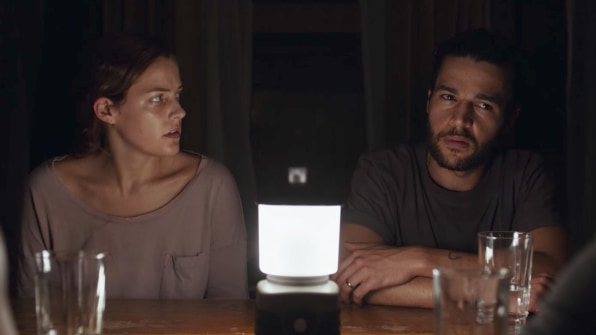 As for Shults' creative future, he won't say much about what his next film, but the chances are it will again come from a personal place. There will just be one glaring difference from his first two efforts, however.
"I'm sick of single-location movies now," he says. "I'm ready to jump out and do something different next."