During the WWDC keynote last week, Apple announced that the Apple Watch's next OS (watchOS 4) will allow the device to establish a direct Bluetooth connection to other devices such as blood glucose sensors (for people with diabetes) or smart tennis rackets (yawn).
Or surfboards. Wait. What? Actually, an Apple Watch with a direct connection to a sensor mounted on a surfboard could prove to be a game changer for some surfers.
Apple VP Kevin Lynch briefly mentioned an Apple Watch app called Sessions by a small Green Bay, Wisconsin, company called Xensr. The app works with a sensor (the $200 Xensr Air 3D) mounted on the surfboard to capture both wave data and the performance of the surfer.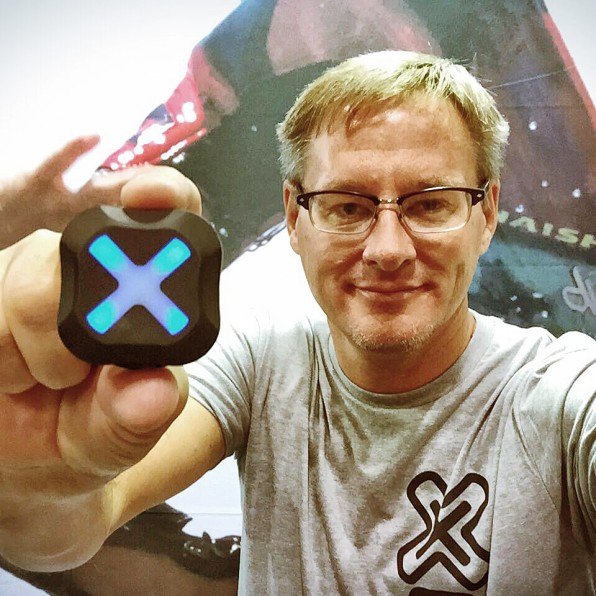 The GPS radio inside the mounted sensor device, says Xensr founder David Troup, allows it to act as a "wave buoy" that collects all kinds of data about the waves in the area, and can even help forecast future waves. The gyroscope in the device tracks all motions of the surfboard; the number, locations, and sizes of waves surfed; the height of jumps off waves; and the lengths of waves surfed.
Until now Xensr users have waited to get back to shore to check out wave and performance data on their phone screen. That's because the sensor has to sync with a phone to transfer the data. But the new direct Bluetooth support in watchOS 4 will let surfers see the data (in small bits) on their wrist while they're out on the board, paddling between waves. The data might help a surfer adjust their game in situ to catch more waves and ride them longer.
Example: A big part of the art of surfing is sensing the best time—and best location on the curve of the wave—to get up on the board. This is called the takeoff point, and picking the best ones is probably the hardest thing about surfing. The Xensr app might add some science to the art.
"It'll give me a map of all my takeoff points on all my best waves," Troup told me. That knowledge could inform the choice of takeoff point on future waves. "I may get two or three more turns on that same wave just because of the takeoff point," Troup says.
Or the app might guide a surfer to better waves. "It might tell me that I need to be a little bit further to the west of where I've been surfing," Troup says.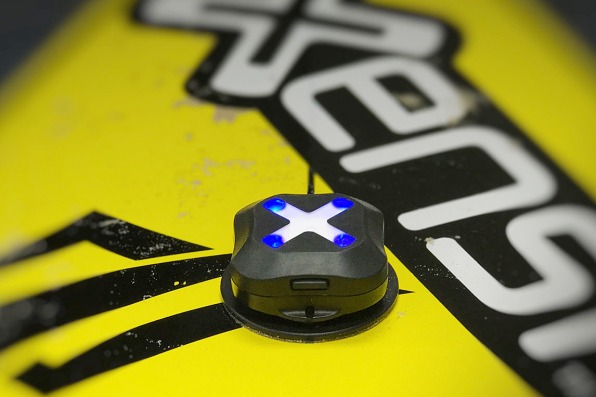 Stephen Baxter, a 37-year-old lifelong surfer who lives in Santa Cruz, California, said the Xensr app could be a useful addition to an Apple Watch user who wants to measure a surf session for fitness, just like athletes measure a run, swim, or bike ride.
Baxter says the Xensr/Watch combo can be compared with the Rip Curl Search GPS watch ($400), which shares many of the same features as the Xensr app and comes in a sturdy, purpose-built case.
Other products like the Trace sensor ($199) also mount to a surfboard and track similar information such as speed, length of ride, and turn radius. As with the Rip Curl Watch, Trace relays information to a smartphone for review after surfing.
"If you own an Apple Watch, and you're the kind of person who wants that kind of instant info, it could be useful," Baxter told me.
The biggest worry about the Xensr Apple Watch app might be the Watch itself. Surfing presents problems even for conventional watches, Baxter points out. "They often won't even tell time after exposure to salt, sun, sand, water, and wind–not to mention potential impact with surfboards, rocks, and reefs."
Assuming your Watch survives, Troup says the Session app will, in the near future, give surfers the benefit of data gathered by other surfers' Xensrs. This might be especially helpful for surfers who are trying out a spot for the first time. Xensr will also explore a social aspect of the app, which will allow surfers to talk smack among themselves about who owned the gnarliest waves on any given day.
You might expect a company like Xensr to operate out of a bungalow in Venice or Malibu, but Xensr hales from Green Bay, Wisconsin. Troup, who holds a degree in artificial intelligence, says he does his surfing (and windsurfing and kitesurfing) on Lake Michigan and Lake Superior.
The five-year-old company of seven employees has a "field team" of professional boarders in Maui who test the sensor out on the waves. "About the time we're finishing our software builds here in Wisconsin–around noon–our people in Maui are getting ready to go out surfing," Troup said. "So when they come back in for breakfast, they can give us their feedback."
Xensr is funded almost entirely by Troup, with some help from local Midwest investors. He's been talking to West Coast VCs about a fresh round of capital for the company. The West Coast VCs might be a little more appreciative of Xensr's virtues than the Midwest firms, Troup believes. He's right. Because many VC people in California are also surfers.
Xensr will release its new Sessions app this month, and Apple will begin updating Apple Watches with watchOS 4 this fall.