This past Saturday in Culver City, California, a group of four women–clad in their finest athleisurewear–sat on pillows, in a circle, as a crystal-wielding shaman analyzed their futures beneath a cloudy afternoon sky. Ten feet away, two blondes merrily chatted away as IVs dripped vitamin B-12 into their bloodstreams. And just opposite these two patients, a gaggle of ladies sipped on probiotic juices as they waited to have their "auras read" in a glamorous white dome with a camera purportedly meant to capture the electromagnetic fields surrounding the body.
Welcome to the In Goop Health conference, which could just as easily be called the Self-Care Convention. Here, 600 women convened for a full day of (healthy) eating, (toxin-free) pampering, and (guilt-free) Gwyneth Paltrow gawking (Paltrow being the celebrity founder and chief avatar for Goop.com, her oft-maligned lifestyle company).
Inside a minimalist warehouse that resembled a luxury jet hangar, guests attended sessions on topics like how to improve one's sex life and trusting their bodies' intuition. Some of the panels included celebrity speakers such as actress Cameron Diaz, designer Tory Burch, and Girls producer Jenni Konner.
The conference was at times informational and empowering, at others kooky and downright pseudoscientific–but above all, it was highly entertaining. And therein lies the secret to charging guests $500 to $1500 for a single day of admittance. Goop's inaugural gathering managed to do precisely what its popular website attempts to do: make women feel like they are control of their wellness, both physically and emotionally, in a personable, approachable, and consumer-friendly (read: marketable) way.
As the conference attendees crowded into their seats, Paltrow took the stage, her Vilshenko paisley dress just brushing the floor. "Why do we all not feel well?" she asked the audience, her skin glowing. "And what can we do about it?"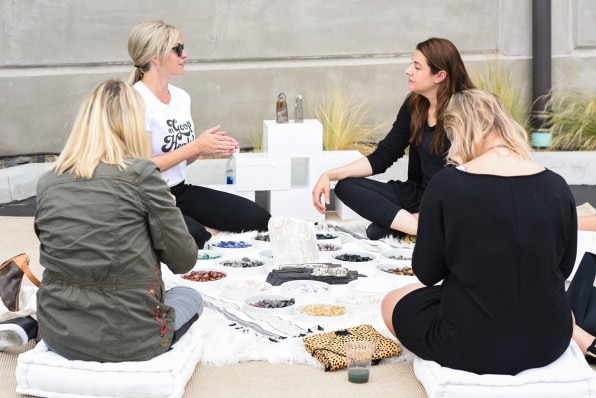 A Prescription For Curiosity
You could say Paltrow's knack for selling that sense of control was born out of her own helplessness.
"This day has come out of curiosity. We do have autonomy over our own health," stressed Paltrow, who said her journey to guru-lite status began with her late father's cancer diagnosis. She explained how this personal tragedy spurred her to examine her own daily health habits, which led her to macroprobiotic diets, yoga, "conscious uncoupling," and other highly publicized pursuits. "I'm still deeply flawed," she admitted to the crowd. "I still sometimes smoke a cigarette at a party."
Later in the day, during a panel featuring psychotherapists Dr. Phil Stutz and Barry Michaels, authors of the best-selling self-help book The Tools, Paltrow volunteered her seat to a member of the audience who was called up to the stage. The Oscar winner opted to sit on the floor in her long gown as she moderated the discussion from the sidelines.
"It makes her relatable," said one attendee of the endearing kindergarten teacher move.
The media often skewers Paltrow whenever she tries to seem relatable to the non-millionaire masses, but it actually serves as catnip to her fans–the vast majority white, educated women in their 20s, 30s, and 40s with perfectly highlighted hair and svelte, Pilates-toned bodies. These are women who look like they are in control of their lives and therefore, by extension, want to feel like they have actual control over their health. But they want it with a little hand-holding–and that signature, laundry-fresh Gwynnie touch.
For many of these women, that some of the medical information they absorb via Goop raises more than a few questions is part of the fun–"the journey," as Gwyneth might say.
During one lecture, a panel of three MDs advocated that fine-tuning our diets can improve the health of our guts and therefore vastly improve our lives. They recommended eliminating certain foods, such as certain legumes, and challenged the frequency of our meals.
"[Breakfast] is a modern invention," asserted Dr. Alejandro Junger, the cardiologist-turned-nutrition author (a strong declaration indeed, given that the word "breakfast" can be traced back to Middle English). Junger, one of Paltrow's personal doctors and a collaborator on the supplement product Goop recently brought to market, proudly operates outside the norms of modern medicine.
Fellow panelist Dr. Steven Gundry, author of The Plant Paradox–which argues that certain fruits, vegetables, nuts, and beans are harmful to the body–promised the crowd they would feel better if they wean themselves off their medicine cabinets. Swallowing just one Aleve, he declared, is like "swallowing a hand-grenade." (This is not a warning I have found on any FDA-approved bottle thus far.)
All these alternative strategies, they claim, can help us control how we look, how we feel, and how our bodies function–though Paltrow's favorite doctor chafed when I asked him if this kind of advice might overstate how much control we really have over our health.
"I don't like the word control–it brings anxiety and the seeds of failure," Junger told me following his talk. He is vague when discussing his medical philosophy, opting for the inspirational lingo with which Goop pushes its readers to embrace change. "A better approach is to see yourself on a journey in which you can improve your habits and your gut health," he offers.
Though Junger advises diet detoxes and refrigerator purges, he admits his research is not final. It seems certain elements of what he prescribes is, in essence, on a "journey." As far as he is concerned, so are the findings of research backed by mainstream scientists.
"The truth is we don't know everything, even the experts don't know everything," he explains, adding, "what was healthy two years ago we're finding out is not that healthy." He points to whole grains as an example of a food group long considered beneficial by alternative medicine practitioners but now being reexamined by that same community. "We're seeing it could destroy your gut," he claims.
So how do we trust such big assertions if his research is, as he says, still evolving?
The answer is less than clear, with Junger responding that, "baby steps are better than going crazy in trying to exert control." He says that, armed with an MD and "an open mind," he does his research in his lab, tests it on patients (as long as it possesses no danger), and that "we can only do as much as we know–and keep getting informed."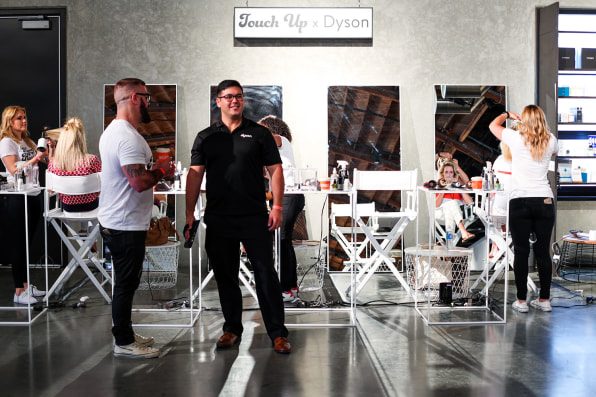 Like Goop.com, the conference was a smorgasbord for the curious, a blur of theater and wellness–and despite Junger's comments, it attracted women searching for more ways to exert control over the various aspects of their lives. Goop's whole strategy appears to be putting edgy wellness ideas out into the world and letting readers make up their own minds about them. This approach seems to have been a marketing win for Goop, even as it gets skewered for its advice in the press. "There are a lot of media companies that would die to have the kind of response that we get from our content," Paltrow told Fast Company back in 2015, referring to the blowback Goop regularly receives from journalists.
As my day at In Goop Health went on, it became clear that Goop isn't selling one strict set of guidelines; it's selling an assortment of Gwyneth-esque options, which makes complete sense from a business perspective–otherwise, how would Goop continue to grow? For example, following a discussion about fasting, audience members were led to a decadent food hall featuring over 20 vendors from L.A.'s top health restaurants and cafes. Some attendees wondered: should we, as we just learned, not eat? "But it all looks so good," giggled one guest.
Overall, conference visitors betrayed few issues with Goop's sometimes conflicting ideologies, like warning readers of nightshade vegetables in one article while another features a recipe that includes them. The average Goopphile seems to take Paltrow's advice seriously enough to consider trying it, but doesn't treat it like the bible. These women belong to an affluent sector who love (and can afford) their health information sprinkled with not just a pinch of collagen but also a hint of whimsy–or, as one panelist called it, "a sense of imagination."
"Oh, it's all in good fun," one attendee told me as she waited for a creamy matcha latte from the MatchaBar stand before a foam-rolling class by alignment specialist Lauren Roxburgh. "Sometimes Gwyneth is just being Gwyneth. It's what makes [Goop] fun to read."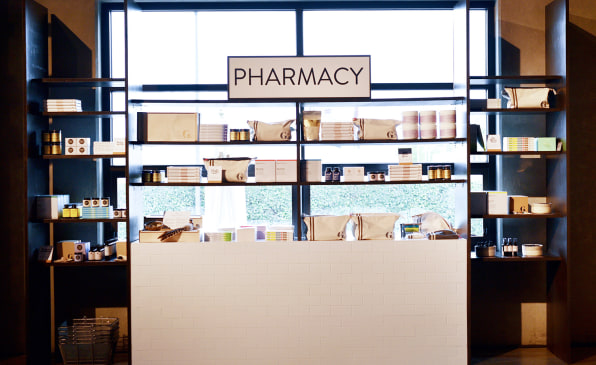 Cashing In On Experiential Health
Throughout the day, attendees partook in a wide range of services. Women flocked to high-end beauty stations, like a Dyson blowdry bar and a manicure salon by non-toxic nail polish brand TenoverTen. The food hall buzzed as ladies scarfed down berry chia pudding cups and experimented with flavors at the DIY bone broth bar. Servers magically appeared bearing bee pollen smoothies and coconut-date truffles.
They lounged on chaise chairs in the outdoor picnic area, making friends and swapping notes on meditation practices and designer sneaker shopping. While getting an organic manicure, I met a woman in her late 20s who said she had spent the last hour just taking in the parade of fashion.
"Aren't they all just wearing yoga leggings?" I asked.
"Yes," she responded, "but the best yoga leggings."
To be sure, the longest lines at In Goop Health led to the checkout counters. Goop readers might be eager to learn about the latest health fad, but their consumerist tendencies are what drive the site's ad and product revenue. Starting at 9:30 am, attendees crowded the numerous indoor shops set up at the conference, each one dedicated to a different sector. The Workout Shop sold athleisurewear and Goop apparel; the Clean Beauty Apothecary featured organic beauty serums and lotions, while the Detox Pantry was lined with food and home products. (Many of these items would later find their way into the gift bags, which were worth well over $1,000.)
At the Pharmacy shop, one could pick up Goop's alternative health suggestions, like energy-clearing sage kits ($195) and collagen powder ($40), the latter of which actually sold out by midday. Goop's vitamin supplement packs and Moon Juice's Moon Dust, described as "custom blends of adaptogenic superherbs and super-mushrooms that help combat the effects of stress" ($30), were also up for sale. I caught no one rolling their eyes at an Alexis Smart flower essence oil which claims to combat social anxiety, self-criticism, and "tendency to isolate." I can't speak to that–it just smelled really good to me–but I found many women sampling that product during conference breaks.
This is, undoubtedly, a group that likes to shop–and Goop is reaping the profits. A company rep confirmed that the company hit its stretch goal for retail sales at the conference–which was 75% more than their best day ever in one of their occasional Goop pop-up shops. This is why dozens of sponsors, as a Goop rep told me last month, readily signed up for this conference. Tory Burch Sport set up an entire athleisure shop, with Tory Burch herself attending the event to show her support.
When I caught up with Burch backstage, she told me that she is "super impressed" by the community Paltrow has built with Goop. It's a group she doesn't see fading away. "I don't think health and wellness is a trend," she explained, "it's a shift in how people are feeling and they want to belong to a community."
You May Not Relate To Gwyneth–But These Women Do
It seems that the Goop community appreciates vulnerability (or the appearance of it)–even from women who probably have it way easier in life than they do.
A panel titled "Balls in the Air," which explored how women handle the stress of busy lives, featured a number of celebrities sharing their personal issues. Supermodel Miranda Kerr, who recently married Snapchat founder Evan Spiegel, struggles to be taken seriously as a business entrepreneur while in the public eye; she shyly admitted that she only fully committed herself to her cosmetics startup, Kora Organics, after Spiegel told her to treat it "like it was her baby." Tory Burch and her husband need to schedule time together between their homes in the U.S. and France. Cameron Diaz finds it difficult to be on set, away from her family, for three months at a time.
Those are the types of complaints that often earn these wealthy women derision in the media–but the Goop audience seemed a lot more receptive. When Diaz talked about getting married later in life because no one had ever seemed like a partner to her, I spotted one audience member seated beside me tearing up. Nicole Richie said that to save her sanity, she needs to wake up an hour earlier than her family to just be alone and do absolutely nothing. "I do nothing, but I do it so hard," she said. The crowd nodded in agreement.
One by one, each panelist discussed her own struggle keeping up with what she felt society expected of her. It was all very sweet and emotional–until it wound its way back to the exact type of Goopness that keeps everyone talking about Paltrow's brand.
"Have you tried leech therapy?," exclaimed Kerr, who recently took on the bloody therapy to help her unwind.
Gwyneth, without hesitation, was game: "Next year, leech therapy," she said, muttering "and I thought I was batshit crazy."
But after a few moments' pause, she added, "I'd love to see data to back up [leech therapy]. I really am curious. I'll look into that."