They're everywhere. Serving food, eating food, using tools, holding beer bottles, holding burgers. Wherever you look in advertising, you're going to see a lot of hands. In many cases, these hands will be without a body. The magical closeup. And for this, marketers employ a most particular specialist–the hand model.
Diving hand-first into the world of hand models is a branded series from Comedy Central called Handy, that follows the adventures of hand model Erik Thomas Layne as he navigates the ups and downs of advertising. The latest episode chronicles Layne doing his thing for a Sabra Hummus ad, where we learn how one man's hand can become a woman's hand, then a child's hand, and the difference between a "dip and scoop," and a "swoosh and scoop." It's funny, ridiculous, and, ultimately, still actually a Sabra Hummus ad.
Created by writer/director Josh Miller–with production company Kids at Play–each episode is two and a half minutes, taking up an entire commercial break on the network, and features Layne working behind the scenes of a fictional ad. The branded content hook is, the show's sponsor is also the brand featured in the fictional ad. Oh, and the actor playing Layne is real-life hand model Erich Lane. Miller knows it's all very meta.
"We're a film crew filming a film crew filming a commercial for a brand that the overall show is, technically, a commercial for," says Miller, who began his career as an advertising copywriter and creative director at agencies like Cliff Freeman & Partners and Team One, before turning to directing full-time.
The series is a funny, Extras-meets-advertising look at the ridiculous world of commercials, and one awkwardly self-important hand model in particular. It's also perhaps the perfect set-up for a branded content series. The brand and product aren't just shoehorned in, but integral to the story. They're in on the joke.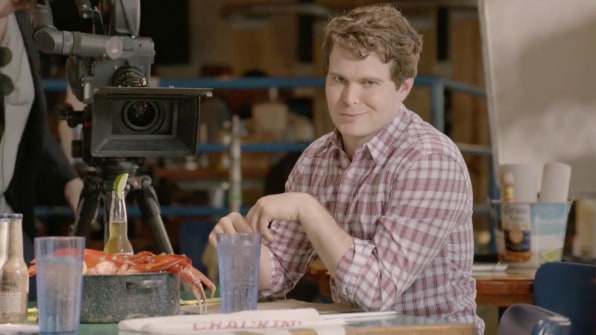 In fact, based on his past in advertising, Miller gets each brand's IRL brand strategy they'd use for a real ad as the foundation for the fake ad in any given episode. "The ads themselves aren't jokey, but it's behind the scenes where things can get ridiculous," says Miller. "We always talk about not going too broad, so the performances are really rooted in reality."
The series is based on a short film Miller made with Lane called Hand Job: Portrait of a Male Hand Model, that played film festivals including the Seattle International Film Festival, Hawaii International Film Festival, and San Francisco Indiefest. The original idea for the film hit Miller while shooting a real commercial for Fruit Vines candy in 2015 with Lane.
"If you have any experience in advertising or fashion, you know that hand models are quite particular and peculiar–they wear white gloves, they're afraid to shake your hand, they've got multimillion dollar liability clauses for their hands, they walk with their hands up surgeon-style so the blood doesn't flow down into their hands and make them too veiny," says Miller. "So I was just intrigued by that as a character."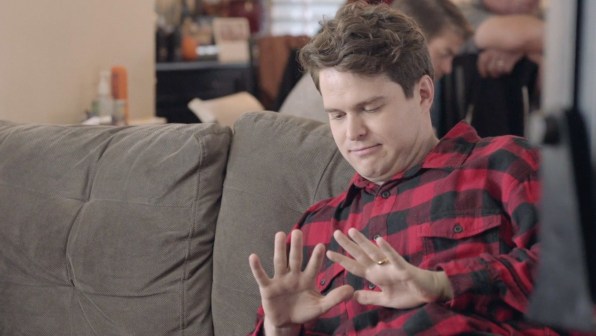 In the Fruit Vines ad, there's a scene where the hand is in a minivan trunk, and the hand model they had was too tall to fit. "So we ended up casting Erik, and the moment I knew we found the right guy was when I saw on his hand shot that he described his skin tone as 'peaches and cream.'"
Beth Trentacoste, SVP, creative director at Comedy Central parent Viacom's in-house branded content division Viacom Velocity, says when she first heard about the film Miller was creating around a hand model, she knew instantly that the idea could be developed into a great short-form branded entertainment series. "Brands and advertising are a natural part of a hand model's life, so a brand is endemic to the story," says Trentacoste. "Plus a hand model's job is to make a product look good. It's an outstanding platform for branded content that can work for so many different kinds of brands."
So far the series has featured Erik Thomas Layne's hands crack crabs for Joe's Crab Shack, propose marriage for Zales Diamonds, and swoosh and scoop for Sabra Hummus. It's only a matter of time before we can see him awkwardly overthink his handy role for a beer ad, right?