Some Uber customers think Uber is taking them for a ride–and not in a good way. According to a federal class-action lawsuit filed today, Uber is charging UberX riders based on different, less-efficient routes than the ones it's basing driver pay on, resulting in higher fares for riders. The suit relates to Uber's "upfront" pricing model, which offers drivers a guaranteed rate based on miles and minutes driven. The complaint, filed in Brooklyn federal court, notes this practice qualifies as unjust enrichment under New York general business law.
"Contrary to Uber's representations concerning the 'cost of the ride' and the "actual fare" charged to Uber X riders via the Upfront Pricing model, Uber has charged Uber X riders a fare that is $1.98 higher on average than the 'actual fare', i.e., the fare incurred by the Uber X drivers for the ride," according to the lawsuit. The complaint estimates that Uber pockets an additional $7.43 million per month from UberX drivers thanks to its upfront pricing.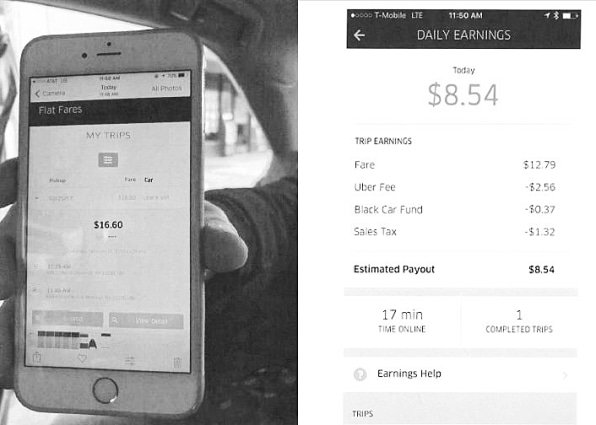 In September of last year, the Ride Share Guy blog saw a discrepancy between what drivers were being paid and riders were paying, noting that Uber was "overcharging" customers. In the months since, Uber has been pressured to answer questions about this alleged difference. It's only in the last week that details have emerged. First came the explanation that it had developed a new method of pricing for customers. Uber representatives told Bloomberg the company estimates fares based on what a rider would be willing to pay. In that report, Uber's head of product, Daniel Graf, said the company uses artificial intelligence to determine these prices. However, the lawsuit from Gayed suggests it's using elongated routes to craft its fares.
"Upon information and belief, Uber has intentionally designed the software that calculates the Upfront Price to use a longer, less efficient route than the route which Uber uses to populate the driver's Uber App, which charges the rider a higher fare and pays the driver a lower fare, when the two should be the same fare as set forth in the Technology Services Agreement," the complaint reads. A similar claim was made in April by a group of Uber drivers.
The new lawsuit is just the latest headache for the ride-hailing company, which just yesterday agreed to pay New York drivers tens of millions of dollars and admitted to underpaying them for over two years. The missed revenue came to light as Uber was preparing to launch a more transparent fare breakdown for drivers.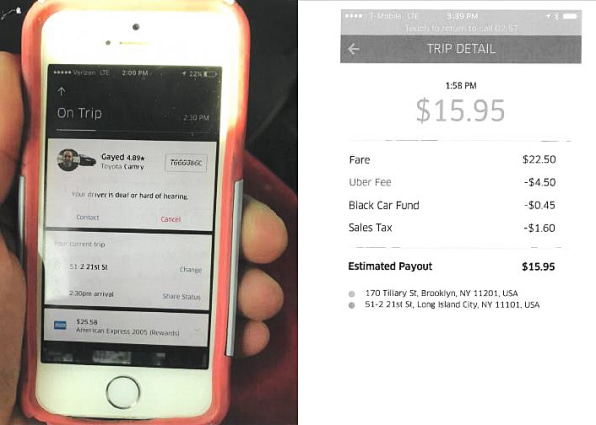 Drivers have been vocal in their anger. "Uber's theft of drivers' hard-earned wages is the latest in a long history of underhanded tactics in this industry," wrote Independent Driver's Guild founder Jim Conigliaro Jr. The organization has called for an investigation into not just Uber's fare and payment practices, but all ride-hailing applications.
For the most part, riders have not been widely engaged in legal battle with Uber. That may be in part because Uber says riders give up their right to sue by using the app. Today's class-action suit was filed by lead plaintiff Jacqueline Gayed and has at least one hundred other passengers joining the suit. They accuse Uber of knowing and failing to disclose that its upfront pricing model was charging more to riders than the fare that was being offered to drivers for the same ride.
Gayed is married to an Uber driver and was apparently able to compare fares charged to riders with drivers' payments over time. The complaint alleges she asked Uber for clarity on its pricing in May 2017 via text, to which Uber responded that pricing involved a standard base fare of a per-minute charge and a per-mile charge. According to the suit, Uber didn't tell Gayed anything about using a different route to calculate the upfront for riders than the route it was using to determine a driver's fare. She then claims she asked Uber if she could opt out of the upfront pricing scheme and the company did not allow her to do this.
Gayed is seeking damages related to rides dating back to April 2016, which is roughly when Uber first implemented upfront pricing in New York.
Fast Company reached out to Uber for comment and is awaiting response; we'll be updating this story as it develops.