"Follow the money." That Watergate-era mantra has been reinterpreted for today's politics–not as a tip for how to investigate a scandal, but as a road map for how to attack your political enemy. In recent months, activists have organized boycotts of Ivanka Trump products and O'Reilly Factor advertisers, focusing on high-visibility targets. Now some of them are also going after other sources of income for groups they oppose, by pressuring the back-end services such as as PayPal and Squarespace that process their payments or donations. A liberal organization called SumOfUs, for instance, has collected over 200,000 signatures demanding that online store provider Shopify drop Breitbart as a client–eliciting no response from Shopify.
But other sites are far more provocative than Breitbart, promoting white supremacy, black supremacy, anti-Semitism, homophobia, and Holocaust denial. They belong to organizations that the Southern Poverty Law Center (SPLC), labels "hate groups." Many rely on mainstream services to raise money.
Some of these companies espouse free speech principles that tolerate nearly all views (short of those advocating or facilitating crime). But private companies aren't bound by the First Amendment and some of them require users to agree to terms of service that strictly limit extreme and racist content, for example.
For them, it becomes a task of making judgment calls to determine whether some content has crossed the bounds. It's thankless work and it never ends. I reported on the difficulty of these situations while researching my feature "Activists Are Pushing Back Against The Tech Platforms That Quietly Empower Hate Groups." Here is a list of where some of the major e-commerce and payment providers stand on the issue and the sites they serve or have dropped.
CafePress
The online store provider's user agreement bans sites connected to SPLC hate groups, and many types of content, including "obscenities, vulgarities, and/or offensive remarks that harass, threaten, defame, or abuse others such as F*** (Ethnic Group)." Furthermore the company told us that, "CafePress uses SPLC as an internal resource to help identify hate groups that may be selling merchandise on CafePress."
CafePress dropped three SPLC-listed sites after I asked about them:
Stop Islamization of the World, which features an animated burning Quran and sold T-shirts with messages like "Islam Sucks."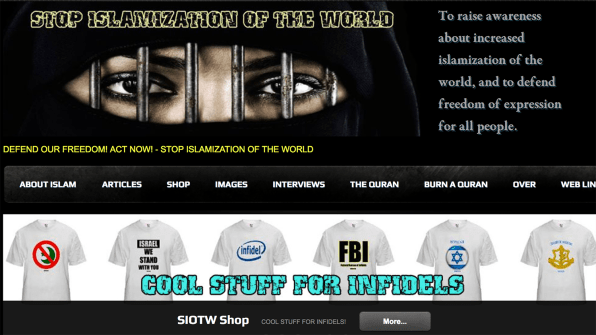 VDARE, a site that argues for the genetic and cultural superiority of whites and opposes nonwhite immigration to the U.S.
Yahushua Dual Seed Christian Identity Ministry, which claims "Many of the people we call Jews today are indeed descendants of Satan…"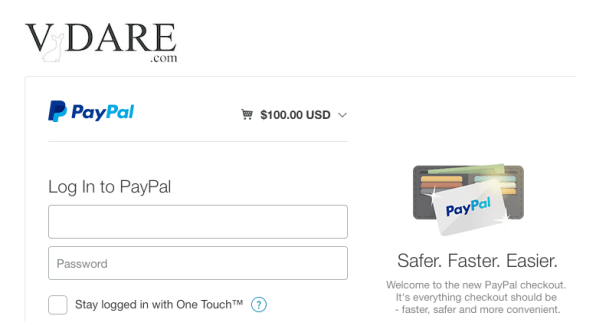 PayPal
The biggest online payments processor has a breezy Acceptable Use Policy that prohibits "promotion of hate, violence [and] racial intolerance."
Customers that might violate those policies include:
Vanguard America: "We are White, we are nationalists, and we are Fascists."

National Policy Institute (NPI): White nationalist/supremacist organization headed by Nazi-quoting, alt-right leader Richard Spencer.
Radix Journal: NPI's publication, which criticizes Jews and argues the genetic superiority of whites.
Nuwaubian Nation Of Moors : Whose jailed founder teaches that blacks are a supreme race and has called white people "the devil."
We sent a list of 12 sites, including the above ones, to PayPal, which sent a prepared statement that read in part: "We carefully review actions reported to us, and we discontinue our relationship with account holders found to violate our policies." PayPal declined to elaborate on the sites we asked about.
Shopify
The Canada-based online store's Acceptable Use Policy prohibits products or content that "condone or promote violence against people based on race, ethnicity, color, national origin, religion, age, gender, sexual orientation, disability, medical condition, or veteran status."
Customers include:
Generations, whose director, Kevin Swanson, supports Uganda's legal crackdown on gays and reminds audiences that the Bible's penalty for homosexuality is death.
Shopify declined to comment for this article.
Squarespace
The point-and-click website host also provides e-commerce services for customers. A section of its Acceptable Use Policy called "Being A Jerk," says "Don't advocate bigotry or hatred against any person or group based on their race, ethnicity, nationality, religion, gender, gender identity, sexual preference, age, or disability."
Customers include:
National Policy Institute
Radix Journal
Squarespace declined to comment for this article.
These and many other examples point to conflicting tech industry philosophies: a libertarian streak that scorns value judgments and a progressive, new-economy strain that promotes racial, gender, and sexual-orientation inclusiveness. It's not necessarily impossible to reconcile the two while valuing freedom of expression. But that becomes harder to sustain as the speech veers more and more extreme.