There are two lines at Cha Cha Matcha, a small cafe on a busy corner of NoLita in Manhattan. The first one is where you wait to buy matcha, a whipped green tea drink that is de rigeur among food-trend fetishizing millennials, in the manifold formats the cafe has on offer. (Latte, cappuccino, lemonade, splashed with coconut milk if that's your thing, for about five bucks a cup.)
The other line is a little harder to describe, but is something akin to those groups of kids at Disneyland waiting to take a picture with their favorite animated character, except a lot more fashionable and marginally better behaved. They're all waiting in front of a neon sign that hangs in back of the store, the words "Matchas Gracias" glowing in bright pink cursive. One by one they crane their hands just so, grasshopper-green drink backlit by the sign, trying to get the perfect photograph.
If you live in New York or Los Angeles or San Francisco—or, increasingly, London, Paris, and any other self-styled stylish city—you've seen similar people strike similar poses outside similarly unique restaurants, cafes, and bars over the last few years. "Influencer" is the catch-all term, a descriptor that is either highly covetable or dripping with irony, depending on who you talk to. But most of the people snapping away outside places like Cha Cha are only aspiring to that label, or maybe they're just heavy Instagrammers, like any one of us —which means they're not getting paid to shoot, filter, edit, tag, geotag, share, and like. What they represent to Cha Cha—and, really, what any customer with a smartphone and half an Instagram habit represent—is free advertising.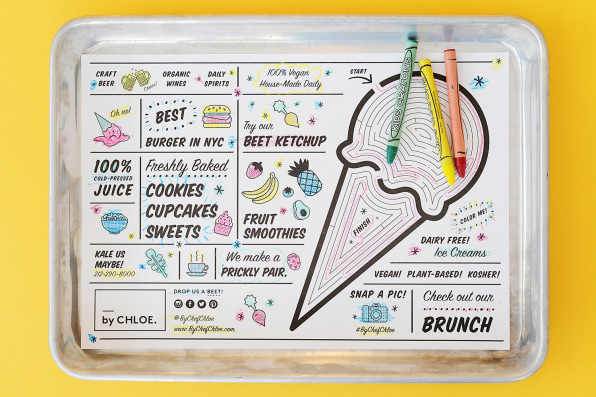 New York has one of the more desirable constellations of Instagram-friendly hangouts. You have Dimes in Chinatown, a health food cafe lifted right from Los Angeles circa 2009, specializing in $20 dust-colored grain bowls and an impossibly attractive clientele; there's the vegan comfort food specialists at the Butcher's Daughter ($16 for cauliflower "grits" at brunch), the fussy but undeniably great coffeemakers at Blue Bottle (New York-based Happy Bones only satisfies half of that criteria); and then there's Jack's Wife Freda and by Chloe, two restaurants that have become brands in their own right thanks to the guidance of designer Laureen Moyal of Paperwhite Studios.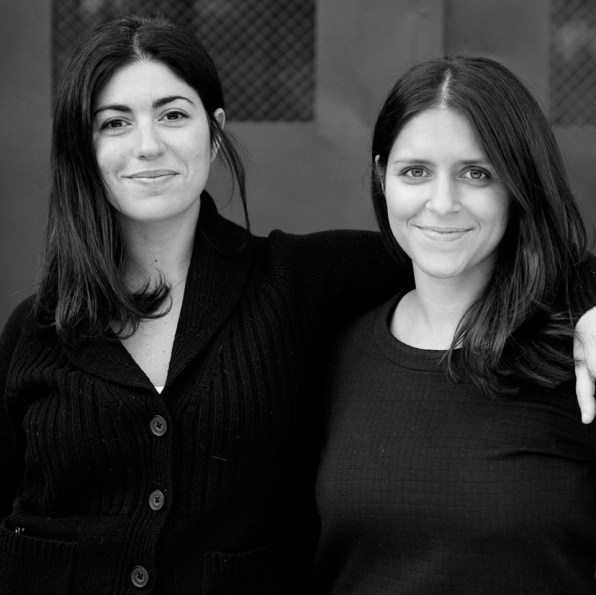 Paperwhite has become a minor celebrity in the design world, thanks to an exceptional ability to distill trends into something playfully genuine, a skill that makes its work nearly impenetrable to cynicism or millennial pink-induced fatigue; it's twee without being precious, thoughtful without being self-conscious. Part of that can be attributed to Moyal's opinions on aesthetic fads in the first place. "I don't know why trends get such a bad rap," Moyal told me via email. "Trends are part of our collective aesthetic, they are identifications of what we like in a certain time and place… I think it's very difficult not to account for them in design."
What this means is, among other things, a full-on attention to detail—those cute, cool, fascinating little details that will fit perfectly into the square of a smartphone pic. Case in point are the sugar packets Paperwhite designed for Jack's Wife Freda, now with locations in two of Manhattan's toniest neighborhoods. They come in three dusty pastels and are emblazoned with cutesy phrases like "Sugar for My Honey' and "I Love You a Latte" in a bony serif.
The packets aren't germane to the identity of the restaurant—after all, not everyone is ordering tea or coffee at the end of a meal—but they tap into the brainstem of social media-oriented design, even if Moyal says she wasn't designing the restaurant's identity with Instagram filters in mind per se. "Jack's was not designed for Instagram," she told New York back in April. "It just happens that Instagram was picking up around the same time."
It's not just the food itself: How the little design touches of a restaurant or cafe (or any stylish place really) pops on social media is no longer a passive consideration for proprietors or designers. "We're seeing that, more and more, brands are depending on social media," says Nicholas DeNitto, partner at Manufactur, the L.A.-based design and marketing firm behind Cha Cha Matcha's brand identity. And for marketing restaurants, Instagram is considered the most valuable platform—way more than Twitter and Facebook.
"Instagram is our client's biggest advertising channel," he says. "From the start we knew it was going to be a heavy part of any marketing campaign. Brands depend on social media, so when they ask us to design a brand for them they're also asking us how these things can be shared, how the elements photograph, how do they put things in a store that give people places to take photos?" Especially, it goes without saying, people with tens of thousands of followers.
An Essential Ingredient
So the sugar packets are Instagram-worthy, but how does the $4.50 cup of coffee at Jack's Wife Freda taste? Most restaurants that satisfy the influencer checklist have impeccable culinary optics. They're sourcing from the right third-wave coffee roasters, they're buying the right heritage meat from the right family-owned farms, they're name-checking the right ingredients: ramps, halloumi, n'duja. But so often they're sacrificing one taste for another, taking the old axiom that folks eat with their eyes to its bland conclusion.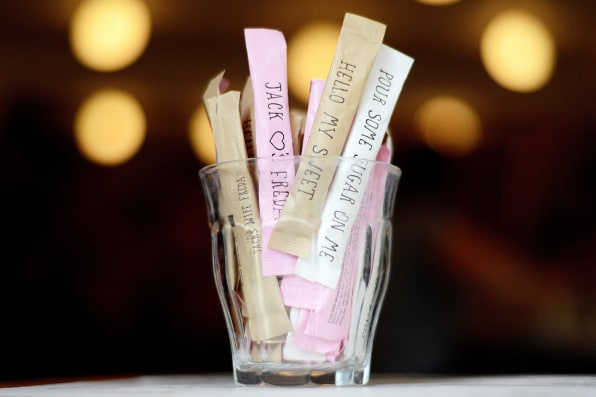 Of course that might not even matter. For a certain iPhone-wielding section of society, proof of purchase is the only thing that matters. (I'm reminded of a particularly surreal shot from the Instagram account of La Sirena, Mario Batali's newest restaurant, in which several bloggers are angling their arms and places their hands just so to get the right shot of a particularly photogenic dessert. Call it "Millennial Gothic.") Restaurant owners now understand that if they play their cards right, their customers will not only pay for a meal but beam their plates to hundreds or thousands of followers.
At some point, "Every dish, if you're doing the right thing, gets thrown up on Instagram," Michael Chernow, co-owner of NYC-based the Meatball Shop told the Tasting Table in February. And restaurants aren't just telling their customers what hashtags to use. In June, the London "NYC-inspired" mini-chain Dirty Bones announced it would even help diners get that perfect shot: its new Soho branch will offer customers a kit on request that includes "a portable LED light, multi-device charger, clip-on wide-angle lens, tripod, and a selfie stick." In Boston, a second branch of chef Chris Coombs' steakhouse, Boston Chops, is set to open later this year with an "Instagrammers' table," featuring special lighting for taking pictures of food.
---
Related: How Instagram Changed—Before It Had To
---
The concept isn't novel—what is a T-shirt with a swoosh on it but free advertising for Nike?—but the idea that taste-making is now ostensibly in the hands of the masses and at the click of a button has created a shift in how the hospitality and other industries think about marketing, design and experiences. Consider a new cruise aimed at millennials (people over 45 not permitted) that will, it promises, run along the "Instagram and Snapchat-worthy rivers of Europe." Even brands like Glossier (makeup) and Casper (mattresses) are social media natives, wisely using their ad spend to get cosigns by influencers like the Jenners and Kardashians instead of throwing money at traditional web or television advertising.
Facebook-owned Instagram isn't oblivious to the bustling business opportunity here. The next step "is a way for Instagram to monetize the food space—for instance, a reservations system, a la OpenTable, to which users can click through after viewing a restaurant's image," writes Boston Globe food critic Devra First, paraphrasing Barbara Bickart, associate professor of marketing at Boston University's Questrom School of Business. Instagram doesn't comment on future plans, First notes, "but dollars to camera-ready doughnuts something like this has been discussed."
Of course, how sustainable the influencer economy is–and the sort of design choices it's encouraging–remains to be seen. (Literally.) "There are brands out there whose entire presence is built on the back of free advertising from people," says Alex Atkins, the lifestyle blogger behind Mr. Essentialist. "It'll be interesting to see how they do in the future because it's all about triggering people to 'double-tap'," he says. "I know what my audience's cues are, but I want [these] to be relevant for 10 or 15 years, not 10 or 15 months."
Moyal is more circumspect about the role that social media is playing in her design. "We're not designing anything new or additional," she says. "We're just being aware of the experience from beginning to end, and Instagram often ends up being the end."
Not everyone in the business of trendy dining is enamored with the idea of free advertising. David Chang, proprietor of the ever-expanding Momofuku universe, banned photography in the 12-seat Momofuku Ko back in 2008—two years before Instagram launched—followed by Brooklyn Fare owner Moe Issa in 2013. (3 Michelin star outposts Le Bernadin, Per Se, and The Fat Duck discourage flash photography but, according to the New York Times, enforcement is uneven.)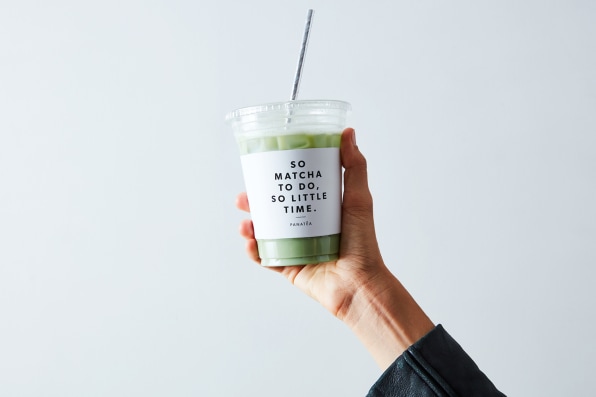 Of course, the high end of the market can still survive on traditional veins of advertising—the starred reviews in major newspapers; the fawning chef profiles in national magazines. But for restaurants that are trying to separate themselves in a crowded and expensive market, creating dishes, experiences, and physical spaces that are tailored for the way people share on social media can be something of an equalizer. (Of course, for those restaurateurs who want nothing to do with any of that, the Instagram trend risks leaving them at a disadvantage.)
DeNitto at Manufactur says the valuable magic sauce of Instagram marketing is the way it conveys authenticity, or an appearance thereof. "Small brands have a challenge in that they need customers to create genuine content for them," he said, "Most of our staff are digital natives and they can smell inauthenticity a mile away."
Playing With Fyre
Whether or not life among the digital natives is more authentic is open to considerable debate. This spring's infamous Fyre Festival may be a good indicator that the pendulum has swung a bit too far in favor of digital style over physical substance, that we are beginning to conflate the heavily filtered social media feeds of celebrities and, let's be honest, professional charlatans with reality. Fyre—what its founders promised would be an hyper-chic "Coachella in the Caribbean"—was sold almost exclusively on its social media presence; the founder's fundraising deck was awash in the follower counts of the celebrities enlisted to rev up the hype machine. (The celebrity ambassadors were called Fyre Starters, natch.)
When the festival went up in, ahem, flames, those same influencers scrubbed their accounts of any material that acted as de facto advertising and the young, well-heeled young people that jetted down to the Bahamas with dreams of sharing champagne bottles with Bella Hadid and Emily Ratajkowski were treated to bread sandwiches and a half-finished, washed-out campground. This April, the U.S. Federal Trade Commission sent letters to over 90 Instagram and social media influencers reminding them that failing to disclose whether there is a "material connection" between "an endorser and an advertiser" could violate the FTC Act if their posts are considered "deceptive."
Billy McFarland, the brains behind the entire Fyre Festival operation, was arrested for wire fraud in June and faces a maximum sentence of 20 years behind bars. He allegedly altered a brokerage statement to make it look like he had a $2.5 million position in a given stock when in reality he owned just under $1,500 worth of shares. Like so many other wannabe influencers, McFarland wedged every ounce of luxury he could into a smartphone screen while, just outside the frame, a more prosaic reality lurked.
---
Related: The Anti-Fyre Fest
---
The apparitions of a very Instagrammy and very poorly planned festival shouldn't be confused with the aspirations of young businesses catering to social media with, say, luminescent thimbles of beet ketchup or perfectly composed plates of avocado toast. We have always had restaurants that embody the taste and aesthetics of a time, and customers would not be such evangelists for those places without a quality product to eat or drink or "experience."
Increasingly, though, these experiences are becoming tied up in and formed by the influencer economy. It's hard to resist: High follower counts aside, there is something distinctly egalitarian and open about this paradigm. It isn't like the traditional advertising economy, where aspirations are set one notch below unattainable, and where scale is limited by marketing budgets. It's more like advertising by way of democracy–a heavily-filtered, stylishly-orchestrated democracy that looks good on camera, and hopefully tastes good too.
---
T.M. Brown is an urban planner and freelance journalist living in New York. You can follow him on Twitter @TM_Brown.