The first thing you notice on entering Story, a retail concept store in Manhattan's trendy Chelsea arts district, is that it's full of fake grass. The stuff even accents the plywood tables, which are laid out with carefully curated items including $8 tarragon lip balm, Jonathan Adler copper finished candles, Public Supply notebooks, a sous vide machine, myriad cookbooks from Food52, and a beach cooler with a blending attachment and frisbee holder.
This space is updated to accomodate a new theme or partner every few months, and starting this week it's a collaboration with the discount online retailer Jet.com, which Walmart acquired for $3.3 billion last year. But despite what some reports may have led you to believe–CNBC called it a "temporary brick-and-mortar grocery location," Mashable touted it as an "artisanal grocery," and Business Insider claimed it's "now selling some of its products IRL"–this is not anywhere near an attempt by Jet to start selling at retail. You can't even buy the groceries.
It is, however, a marketing stunt that offers insight into the way Jet is thinking about competing with Amazon Fresh through its deliver-to your-door grocery service.
Mixed into those delightful tables full of knickknacks are glass and ceramic containers brimming with fruits and vegetables: mini zucchinis, sunset colored grape tomatoes, avocados, red onions, and some small slightly blemished lemons. Each one wore a circular sticker bearing Jet's logo: a "j" with a second tittle mirroring the dot atop Jet's lowercase j that forms a sort of half-smiling face.
"We put those on there," an attendant at the store explained to me. She also said the merchandise in the store isn't sold on Jet, but it turns out that you can indeed buy all of this food and many of the products from Jet and have it delivered to your door.
But you cannot buy it in the store (the attendant did, however, encourage me to take whatever I wanted, and I promptly pocketed an avocado). Other than that, Jet's presence in the store is minimal, mostly represented by a mural in the back of the store composed of purple Jet boxes and a silver fridge full of fresh produce organized by color.
Jet's presence here is a far cry from Amazon's data-driven bookstore reinvention, where books are curated according to popularity and displayed face front. Neither is it reminiscent of Amazon's drive-through grocery pickup locations. Rather, the Story partnership is curated around a set of events. Local lettuce goddess Gotham Greens, which sells its leafy vegetables on Jet, is hosting a trunk show. Bobbi Brown and Refinery 29 are giving a talk about fresh food as a tool for beauty inside and out (no doubt coconut oil will make an appearance). Mario Batali will divulge secret recipes (and you can buy orange crocs with his signature molded into the shoe's strap at Story). The ingredients discussed at all these events can be retrieved online through Jet.com.
But you still can't buy them at the Story shop. And that's because Jet has no interest in physical retail. "We are part of the world's largest retailer from a brick and mortar stand point," says Jet president Liza Landsman. "I don't see any reason why we would build stand-alone Jet retail stores."
Right now, Jet's goal is to increase loyalty and attract new customers. Sitting in this cross section of camera-slung tourists and well-to-do Manhattanites Jet hopes to help passerby and Story frequenters to discover new recipes, cool brands, a $50 gold farfalle-shaped keychain, and perhaps its grocery delivery service.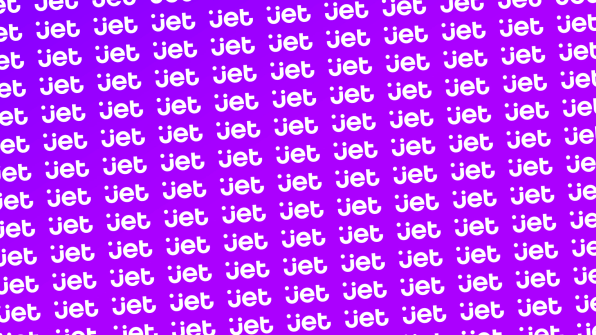 This installation is part of a wider trend among e-commerce brands that are dabbling in glass-front stores. They are, at root, very fancy billboards. Everlane has a showroom and "retail experiment" where you can look at new collections and try them on, but you can't take them home–you'll have to order online and have your purchases shipped. Away opened a boutique in New York that sells both its collection of travel gear as well as complementary products from other brands. Cuyana has three locations and only one is actually designated as a store (it has a pop-up in Boston and a showroom in San Francisco).
The two players with the largest spread of stores, Warby Parker and Bonobos, don't actually let you take merchandise home. That's because these locations, which are unlikely to grow to the size of traditional retail outlets like Gap Inc. with its 3,700 global storefronts, are touch points. They are opportunities for consumers to discover and interact with product that ordinarily is untouchable without a purchase.
Jet's lightly branded store and supplemental talks and demonstrations is an extension of this same idea; it's a mechanism for getting its existing customer base to associate fresh produce with its online store, rather than just toilet paper and shampoo. I'm not convinced that this marketing pitch will pay off in the form of new customers, but you can decide for yourself: The events taking place at Story for the duration of Jet's stay will either be live-streamed or posted on Jet's site.
So even if foot traffic on 10th avenue is slow, or Story's events fail to connect real-life patrons with Jet's online market, eternal online content might just convince someone in some other city far, far away to buy up ingredients for a soothing coconut oil mask.
Correction: An earlier version of this story referred to Jet.com's collaboration with Story as a pop-up shop and "would-be storefront," which is not entirely accurate, and failed to note that Jet.com sells some of the products as well as the food. The story has been updated to reflect these changes.