At the end of a typical day, bakeries have so much extra bread that even food banks can't use all of it. Here's another way to keep it out of landfills: make it into beer.
Toast Ale–a pale ale made with roughly one slice of surplus bread per bottle–first launched in London in 2016. The beer saves loaves (in its first 15 months, the project recycled 3.6 tons of bread) and raises money for Feedback, a nonprofit that fights food waste. The organization is now brewing another version of the beer in New York City.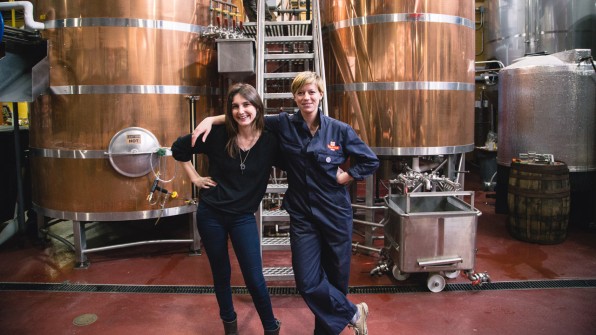 "I was obsessed with bread, specifically, because it's the one thing that even soup kitchens and food pantries have to turn away," says Madi Holtzman, a graduate student at NYU studying the food system who met Feedback's founder, Tristam Stuart, at one of Feedback's food waste events in New York. After they talked about bread–Holtzman was working on a bread waste pudding at the time–she eventually ended up working with the organization to bring the beer to the U.S.
The beer was inspired by an ancient Babylonian recipe that uses bread as an ingredient, which Stuart discovered while visiting a Belgian brewery. It's a process that is also sometimes used by home brewers. In New York, the biggest challenge was finding a microbrewery that could work on the project. Because of high rent, most craft breweries in the city are so small that they can't take on additional production.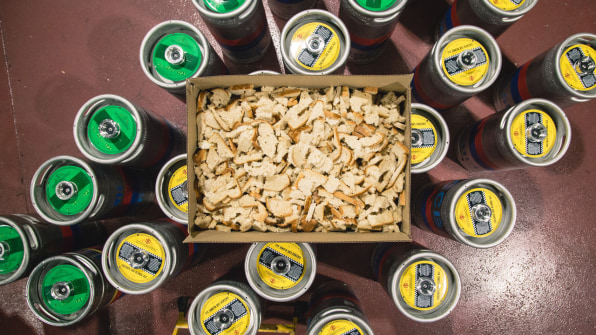 "By foot and train, I spent most of the summer [of 2016] trekking to breweries and talking to them," says Holtzman. "It wasn't because of lack of interest that most of them were not able to work with us–it was a literal lack of capacity."
Chelsea Craft Brewing Company eventually agreed to work on the beer and brewed a pilot batch in March. The process is a little different than usual. "The biggest issue that the brewers have is that it's got a lot of gluten in it," says Pat Greene, director of brewing operations at the brewery. "That's a scary thing in the first process of brewing… you have to be very careful because you could get a 'stuck mash.'" To keep the gluten from binding together, small pieces of the bread are mixed with rice hulls, alternated with malt, and then hops are added. "The process went smooth as silk," he says. "Not a hitch at all."
The resulting beer is an American pale ale, a little more malty and hoppy than the U.K. version of Toast Ale, with a little more alcohol. The bread replaces about 30% of the malted barley that would typically be used in brewing. Because it's part of the base malt that creates alcohol, the bread itself doesn't really impact flavor; that comes from the hops.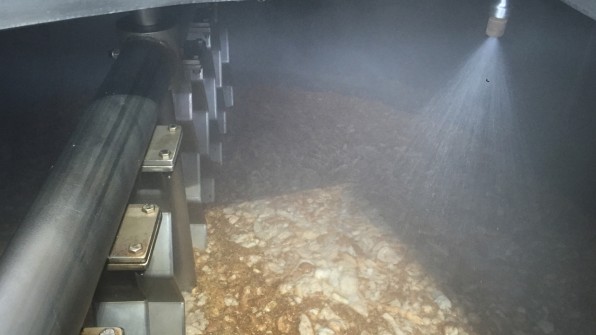 Holtzman says that it tastes like a typical craft pale ale, though she definitely tastes some bread. "It's got some citrus notes, a caramel undertone, and there is definitely a warm, malty, baked bread kind of character," she says. "Honestly, it's just a really well-balanced pale ale that's been a crowd-pleaser with the samples that we've given out. Which is obviously super important, because we wouldn't have a business if the product wasn't good."
Because the donated bread replaces other ingredients, the beer is slightly less expensive to produce than a comparable pale ale. The process also shrinks the environmental footprint of the beer. "There's a lot of value in providing an input that is not a virgin raw material because grain for breweries is super land-intensive and water intensive," Holtzman says.
Feedback is currently running an Indiegogo campaign to raise funds to produce and distribute its first 100 barrels of beer. After that initial batch, which will be sold at Whole Foods beginning on the weekend of July 4th, the organization expects the project to be self-sustaining. The beer will also be on tap at Chelsea Craft Brewing Company.
Feedback hopes to work with other nonprofits around the world to brew their own local versions of the beer (the recipe is also available open-source).
Ultimately, the nonprofit also wants bakeries to throw out less bread, though that is a challenge. Flour is cheap, and for a bakery, it can be more cost-effective to bake extra bread in case there's a last-minute order–even if those orders are rare. Retail bakeries also want shelves to look well-stocked all day long, and even a small bakery can end up with several huge bags of extra bread by the end of a day. "I think it will be a very long time before surplus in the baking industry ceases to be the norm," she says. In the meantime, cheers.