In the mountains near Pikeville, Kentucky, two coal mines may soon become the state's largest solar farm.
"In this part of the country, we've gone through a downturn," says Ryan Johns, development executive for Berkley Energy Group, which owns the strip mines. "So we looked at other ways that we could use our properties to keep producing energy."
After a conversation with former state auditor Adam Edelen, who heads a consulting practice for entrepreneurs, Johns began to consider investing in renewable energy. "He asked, 'Would you be open to doing renewables?' and I said, 'If it'll help us make money and put people back to work, we're for that.'"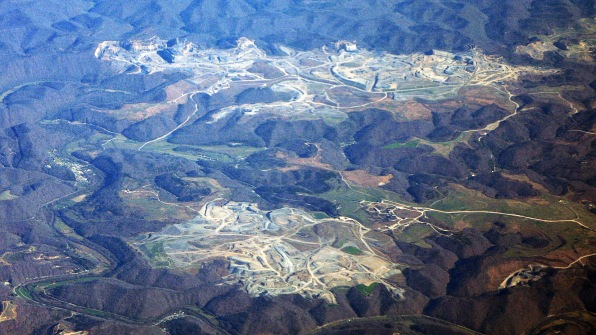 EDF Renewable Energy, a company that develops wind and solar projects, is currently leading engineering studies to plan the potential solar farm. It would be the first built on a strip mine, which could make construction more challenging than usual.
"We know we know the first couple inches are gravel, and we expect the next couple of feet are going to be small rock," says Doug Copeland, who works on project development for EDF. "The geotechnical investigation is really the key to all of this, and preparing for a construction process that will be a little bit different from building in the California desert or on a piece of farmland."
On one site, all of the available coal has already been extracted. On the other, the coal will likely be mined out within 12 to 18 months. As the jobs on that site disappear, other coal mining jobs are scarce. Mining employment in Kentucky has dropped from more than 14,000 jobs in 2008 to 3,833 in 2016. The solar development would provide both new construction work and ongoing jobs. (BitSource, another innovative company in Pikeville, trains former coal miners to code).
Some of those jobs could begin as soon as the current coal mining stops. "On this active mine that's there now, there's going to be guys who are staying employed on that reclamation work, in essence preparing for the solar project," says Copeland.
The engineers are working to make the project as large as possible–potentially 100 megawatts, or 10 times larger than the current largest solar farm in Kentucky. "It's on us to make sure that we design a project that has the maximum output for the lowest cost so that we can continue to make solar competitive in this region," says Copeland. "We do believe it will."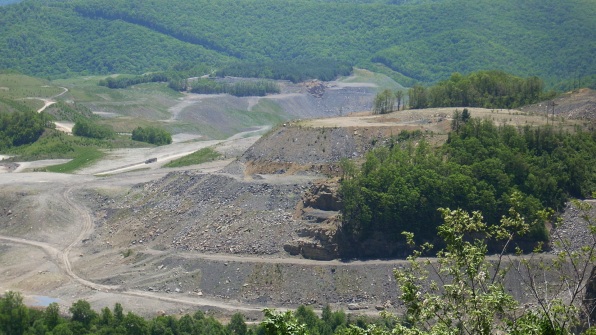 When coal strip mines–which are developed through "mountaintop removal," or clearcutting a mountaintop, removing topsoil, and using explosives to blast away rock and expose coal–fall into disuse, the reclamation process required under the Surface Mining Control and Reclamation Act of 1977 involves attempting to rebuild the contours of the mountaintop that was excavated for the mine. Restoring the original forests, however, may be difficult or impossible. One study, which compared the process of mountaintop removal to a volcanic eruption in terms of land change, says that most reclaimed strip mines grow grasses or shrubs rather than trees. A solar farm might make more sense than trying to restore the original environment.
The plans for the new solar farm still aren't final, as feasibility studies continue and the permitting process still has to be completed. But it's something that could potentially also happen on other former strip mines. "When you really look at this project–and this is something that has never really been tried before–if and when we are successful with this, we believe that we will be is that then this will extend to other areas and to other areas in our region," says Johns. "It can definitely be a game changer for our area."
In 2011, one Kentucky-based solar developer calculated that if all surface coal mines in the state were covered with solar panels, it could supply 10% of the energy needs of the entire country. The new project would tie into a regional grid that serves mid-Atlantic states. At 100 megawatts, it could power approximately 16,400 homes.
For Berkley Energy Group, which traditionally considered itself a coal company, solar makes sense as part of the future of the business.
"Our CEO started realizing several years ago that we needed to diversify more and to look at things we started seeing a decline coming in coal," says Johns. "We look at ourselves as more an 'all of the above' approach to energy. We are not just a coal company…We've had a major change in our area with coal and you know you can either not believe what's going on and just kind of put your head in the sand or you can sit back and complain about it, or you can try to do something about it. We're trying to be as forward-thinking as we can."