Five years ago, Chanson Cooley gave up her job as a high-level executive assistant at talent agency Wilhelmina to become a massage therapist. On her way out, she tapped into the concierge services she had become friendly with and also hooked up with a booking agent. It was a good start, but she soon discovered that some potential clients wanted more than just a massage. 
"Very early on I was kind of exposed to people wanting afternoon delights, which I wasn't going to partake in," she tells Fast Company. Concerned about her safety, she immediately decided to limit the kinds of clients she worked with to just women and the occasional couple. She also started sticking to trusted referrals. Over the years, as her business blossomed, Cooley continued to use a booking agent, who handled scheduling and payments for her, but that led to its own problems. "I wasn't getting any new clients and she was taking 30%," says Cooley, referring to her agent.
This issue of booking agents taking too much money from independent contractors isn't a new or particularly unusual problem. But it's one that is being exacerbated by a rash of on-demand platforms promising everything from last-minute massages to same-day house cleaning. In an era of widespread entrepreneurship, there are plenty of middlemen that will gladly connect you with more work—services like Handy, Zeel, and Glamsquad, to name a few—but they will also take a fat slice of your earnings. For workers trying to survive in the freelance economy, it can be a Faustian bargain. 
"These people feel commoditized and marginalized by a lot of these on-demand platforms that take exorbitant fees and actually don't want them to have relationships with their clients," says Scott Belsky, founder of a new platform called Prefer, which seeks to be the antidote to exploitative intermediaries. 
Prefer officially launches in New York today, flush with 600 active service professionals. The platform taps into a person's address book and lets them recommend service providers to friends. Rather than connecting people to a giant matrix of anybodies, Prefer enables small networks of friends to selectively trade credentials for their favorite yoga instructors, handy-people, or home cleaners. So far 1,800 people have joined.
Prefer supports messaging and, for service providers, booking and transaction processing. In exchange for these services, it charges a 3% fee on credit card settlements to merchants and an additional 2% fee on any appointments made with new clients found on the platform.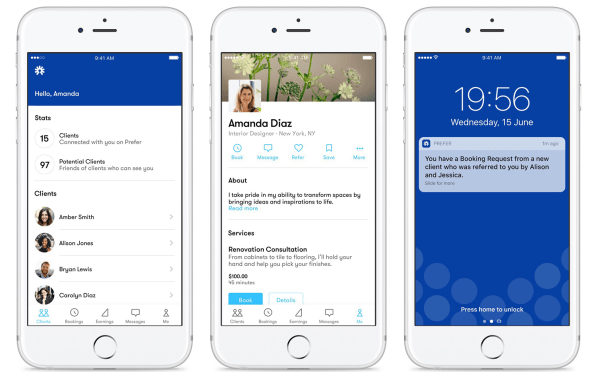 Dacia Jarrett, who runs a small cleaning service, says the arrangement is "way better" than something like Handy. She joined the on-demand cleaning platform a few years ago when she was getting started as an independent cleaner. Jarrett says she was lured by the company's $20 per hour wage promise, but she found that after handling her own taxes and covering the expense of materials, she wasn't making enough to support herself.
"Handy is basically a company hiring staff, saying they're independent contractors, and they decide how much you make," she says. "With Prefer, you're in a network where it realizes and respects your company and it's not based on what they think you should be paid."
It's All About Who You Know
Belsky is no stranger to on-demand economies. He also founded Behance, a network for creative professionals, which sold to Adobe in 2012 for $150 million. Prefer is a different kind of idea, but it will have competition. In many ways, it's similar to the feature set that Facebook is seeking to roll out—a sort of replication of word-of-mouth testimonials. The social network with its scads of friendships wants to be able to help people connect to merchants big and small. In the last year it's rolled out a recommendation tool that maps out suggestions from friends in your news feed. And at its F8 conference this year, Facebook Messenger announced new ways to discover business bots with which consumers can place orders or book appointments.
"Facebook would be probably our biggest competitor, because that's where it happens today," says Belsky. "But right now it's not optimized for that." While Facebook has lots of users and myriad business pages, people are unlikely to be connected to all the service providers they use. "You're probably not friends with your accountant on Facebook," he says.
To make Prefer effective for linking customers with businesses, he's built what he calls a "referral graph" based on a user's address book, where people are connected to both the services they use and their friends.
Facebook has other problems, too, says Jarrett. Ads are the primary way she finds new clients using the platform, but it hasn't been particularly effective for her. "They would call," she says of prospective clients. "But it may not lead to a booking and then sometimes, when they do call, they're looking for a job." The same is true of Thumbtack, she says. By contrast, she's gotten eight or nine new clients since becoming active with Prefer earlier this year.   
Benchmark Capital led Prefer's seed round, though the company declined to say how much was raised.
Belsky plans to expand to other locations, but says he needs geographic density within a market for the recommendations to work. In the meantime, he's building a playbook for their next rollout. In addition to growing to new cities, he wants to build out more tools for managing clients and even more options for business owners to recommend other service providers. But his big hope is that this product will work across different income brackets and locales. "A lot of single parents who work have people who come into their home who are neighbors that cook for their children or babysit," says Belsky. "Those are also people in their address book who sell their time."