When James Anderson arrived in Tel Aviv, Israel, in October 2014, the city was in the midst of an immigration crisis. Tens of thousands of Africans, having fled the poverty and conflict of their native countries, now resided in the southern neighborhood of Neve Sha'anan. In less than a decade, the area's population had grown fourfold, resulting in overcrowding, unemployment, and cultural rifts between some members of the migrant community and native Israelis. "It was the opposite of vibrant city life," Anderson, Bloomberg Philanthropies' head of government innovation programs, says tactfully, recalling a flea market set up inside a former bus depot as a particular bright spot of the trip.
---
Related: See The 100 Most Creative People In Business 2017
---
City officials had ramped up trash collection and were maintaining the overloaded sewage system, but these kinds of measures only treated the symptoms. A couple of months later, Anderson invited Tel Aviv mayor Ron Huldai to join the new "i-team" program he had launched in 2012: Bloomberg Philanthropies would fund and coach a cross-disciplinary innovation squad (project manager, analysts, designer, etc.) for three years to help local officials address systemic issues.
Today, that once-depressing bus terminal has a kindergarten on one floor, a city-backed business accelerator on the next, and an international food market in the parking lot. Various Neve Sha'anan community groups share a Facebook page, where officials and service groups post information in multiple languages about how to register for school or what emerging sports, chess, and music programs are available to, say, Eritrean or Sudanese transplants. The i-team keeps detailed records of all of these efforts, so that other cities can learn from them.
As global leadership has fractured–and people migrate more and more to urban centers–mayors have arguably become the most high-impact players in government. Their frontline efforts in civic engagement, social service, environmental action, and economic development have never been more central to our future. What Anderson and his crew at Bloomberg Philanthropies are doing is creating an ecosystem to help mayors become "much more agile, creative, and in partnership mode [with other mayors]," Anderson explains.
Today, most local governments are aware of only 3% of the various interventions being applied around the world, according to Citymart, a public-solutions procurement firm. (Eco-friendly, traffic-decongesting bike-sharing programs, for instance, have virtually no downsides, yet have been adopted in fewer than 30% of the world's largest cities.) Anderson's goal is to "Bloombergize" urban development, as he puts it, empowering municipalities to create models that others might later adopt. "Cities should not have to reinvent the wheel time and time again," he says. "I am obsessed with the notion that [cities and mayors] can serve as distribution networks for ideas that work."
Since joining Bloomberg Philanthropies in 2010, Anderson has devised and led ambitious programs that have channeled more than $215 million to urban projects reaching 290 cities across 25 countries. They include the Mayors Challenge, which awards cash prizes to metro areas with the most forward-looking and potentially replicable plans to improve city life, and What Works Cities, which provides smaller cities with data-driven ways to improve services and planning. These efforts pay ongoing dividends around the world. In December, Stockholm began implementing its 2014 Mayors Challenge-winning project, which uses plant waste to reduce carbon emissions and produce alternative energy. Mysore, India, and Parma, Italy, are planning to incorporate the Stockholm model this year. Meanwhile, Aspen, Colorado, has implemented Santa Monica, California's Wellbeing Index, a tool for measuring citizens' quality of life that won in 2013.
"One of the things that I learned from Mike Bloomberg is that borrowing ideas is a badge of honor," says Anderson, a onetime activist with the Gay, Lesbian and Straight Education Network who spent eight years working alongside the former mayor of New York City, first as a senior adviser in the homeless division and then as communications director. During that time, the Bloomberg administration was actively searching for solutions that other mayors had successfully pioneered elsewhere, including conditional cash transfers, bike lanes, and bus rapid transit. The concept for New York's successful community-action hotline, for instance, was based on a project that originated in Baltimore; New York improved it by mapping the complaints received to reveal the underlying issues–and then systematically addressing them. On the flip side, when other mayors asked about copying one of Anderson's own programs, called CoolRoofs–covering rooftops with reflective white paint, which lowered building cooling costs and carbon emissions–he founded a nonprofit called Cities of Service so everyone could share their precise blueprints and lessons. It's now part of Bloomberg Philanthropies.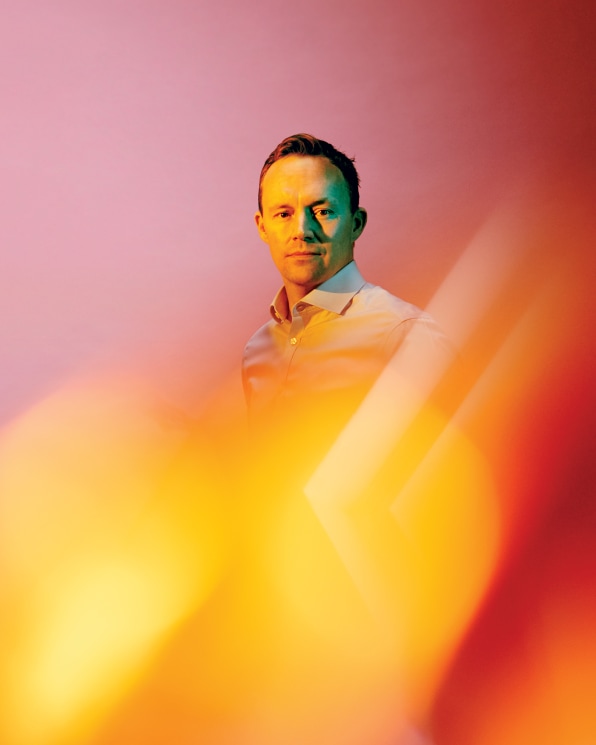 Anderson continues to use data to guide problem-solving efforts, but he also recognizes that numbers alone cannot cure all of the uncomfortable realities of running a city: Mayors must admit it's on them to find the answer. "Cities can basically do anything except declare war and sign treaties, and that gives you a whole lot of room to rip and run," says New Orleans mayor Mitch Landrieu, whose i-team has managed to dramatically reduce the city's murder rate and has sped up the process for getting permits and business licenses.
"Jim is a great interrogator," says Louisville, Kentucky, mayor Greg Fischer. "One, I think he is a lifelong learner. But, two, he's heard a lot of BS in his days." Fischer, through Bloomberg's What Works Cities program, has been able to apply new methodologies that have led to a boost in parking-violation collections, the repurposing of vacant lots, and more animal shelter adoptions.
Anderson, who has at times held private, closed-door meetings with mayors to answer their most basic questions, is now investing further in their potential. In July, his organization will launch the Bloomberg Harvard City Leadership Initiative, a sort of mayoral MBA program for top city officials that will offer free virtual classes and executive coaching sessions developed in tandem with Harvard Business School and its Kennedy School of Government. Jorrit de Jong, who leads Harvard's government innovation studies and will oversee the program, says that modern city planning without data analysis is like driving a car blindfolded. "It's really important that the mayor gets it," de Jong says.
Last fall, Anderson returned to Tel Aviv to attend a pitch session for community projects designed by people living in Neve Sha'anan. An art center had been cleared out for the hackathon-style event, and the city's i-team director, Itai Eiges, and other officials were on hand to award microgrants. "I think things are changing there, but it will take time," Eiges says.
Not long after, a delegation from Tel Aviv visited Seattle to ga­ther information about economic-stimulus opportunities: Tel Aviv learned how homegrown powerhouses like Amazon, Boeing, and Starbucks are scaling successfully, while Seattle received tips about nurturing a thriving startup culture. Tel Aviv mayor Huldai has also joined nine other mayors in a joint initiative by Bloomberg and the Aspen Institute to explore how the driverless-car revolution can be harnessed to improve citizens' lives. The work these leaders are doing will go toward solving their own issues–and others' as well. After all, Anderson says, "every elected official needs to produce results."