Back in January, Full Frontal host Sam Bee announced she would host her version of the annual White House Correspondents' Dinner, which she conceptualized as a balm of sorts to the paralyzing uncertainty following a highly unconventional election that put a highly unconventional candidate in office.
The buzz around the Not the White House Correspondents' Dinner snowballed with news outlets pulling out of the regular Correspondents' Dinner and President Trump himself stating that he would hold a rally in Pennsylvania in lieu of attending. While Bee has said the Not the White House Correspondents' Dinner is by no means meant to overshadow the original, it's hard to imagine how it wouldn't.
The Not the White House Correspondents' Dinner packed 2,500 attendees in Washington, D.C.'s DAR Constitution Hall. In true Full Frontal fashion, Bee's barbs were unmerciful and the evening's targets ranging from CNN Worldwide president Jeff Zucker to Rupert Murdoch and Fox News, and obviously Trump:
"[The media] basically get paid to stand in a cage while a geriatric orangutan and his pet mob scream at you. It's like a reverse zoo."
"We are living in a golden age of journalism. Unfortunately, that's partly due to a golden president who's rumored to enjoy golden showers."
"It just goes to show you that a giant pussy can get elected president as long as he doesn't have one."
But the event never strayed far from its goal of raising funds for the Committee to Protect Journalists and trumpeting the need for quality journalism.
"We came here to Washington, D.C., to celebrate the free press," Bee said her in opening monologue. "There are hundreds of journalists here, from the failing New York Times; to the failing, pile-of-garbage BuzzFeed; to the failing 'what the fuck is ProPublica it sounds Mexican.'"
Bee did exactly what she does best: pelting her audience with rapid-fire truths wrapped in pointed humor that, as her correspondents can attest to, has managed to cut through party barriers.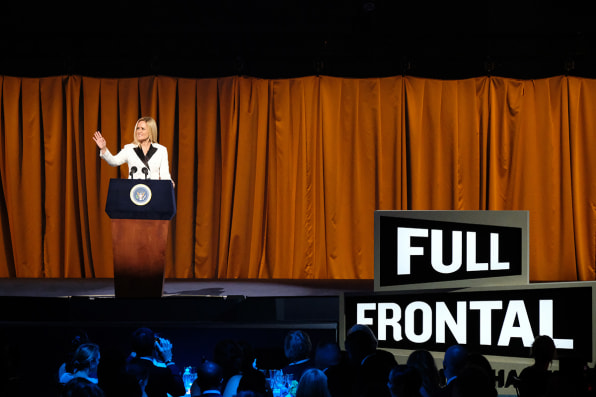 "I've had people say, 'I hate [Full Frontal] but I'll talk to you,'" says correspondent Mike Rubens. "Obviously, we've focused a lot more on Trump, but when we can, we try to take shots at everyone–we try to cover different perspectives."
"I think Sam is really likable," says correspondent and coproducer Allana Harkin. "Even though she might be saying something that's really harsh, you're like, 'goddammit, I still like this a lot.'"
The most impactful moments of the Not the White House Correspondents' Dinner came from Bee and her team's very active imaginations that dreamed up alternative worlds where Bee roasted Presidents Woodrow Wilson, Ronald Regan, and Bill Clinton; and delivered an impassioned monologue in present day where "Hillary Clinton [was] sworn in as president, the Patriots lost the Super Bowl, Lemonade won album of the year, and every print of La La Land spontaneously combusted."
However, the highlight of the night easily came from surprise guest Will Ferrell, who took the stage as his famous caricature of former President George W. Bush. Ferrell brilliantly contrasted what seemed like unheard vitriol that people had for Bush at the time with the utter chaos Trump has brought about.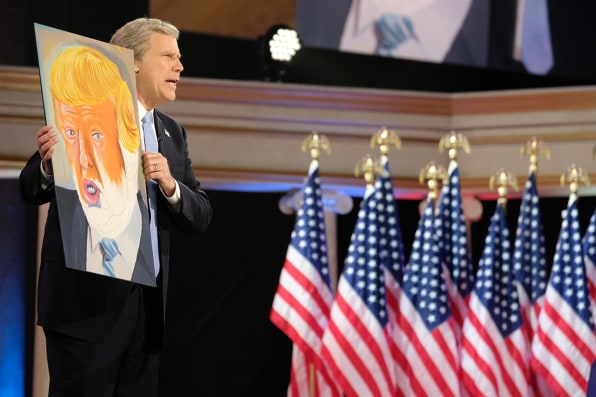 "History's proved to be kinder to me than many of you thought it would. I was considered the worst president of all time–that has changed," Ferrell said as Bush. "I needed eight years, a catastrophic flood, a war built on a lie, an economic disaster–the new guy needed 100 days. He's now widely considered the worst president of all time–I come in second. I'm fine by that–no one remembers second place."
Read Ferrell's best burns here.
Like Full Frontal has proven since its premiere a year ago, Not the White House Correspondents' Dinner felt not only necessary but urgent. And, as Bee pointed out, she and her team can't do their jobs without publications big and small that are dedicated to facts–no alternatives necessary.
"I think this is a show a lot of people were waiting for," says correspondent Ashley Nicole Black. "I remember when I first got the job, so many women came up to me like, 'I've been waiting for Sam to get her own show.'"
"The thing that Sam loves, and this is why correspondents exists on the show, is that she wants people to get out on the street," Harkin continues. "She wants people to talk to people. It's really important to her that we engage with the public, find out how they feel. And right now people have a lot of feels."
Not the White House Correspondents' Dinner will air as a one-hour special on TBS at 10 p.m. (ET/PT), with an additional broadcast on Twitter at 11 p.m. ET.