A few years ago, I managed to receive 1,000 emails between boarding a plane in San Francisco and landing in New Orleans five hours later. Maybe 40 of those 1,000 were emails that I needed to respond to, but given the overwhelming volume in my inbox, a lot of them ended up going unanswered. I'm not the only one with that problem. 2.6 billion people send over 200 billion emails every single day. Filters help organize things a bit, but now a new email app is bringing in the big guns to tackle the problem: artificial intelligence.
Called Astro, the app essentially offers many of the same features as previous aspiring inbox-zero apps. You can snooze messages you see so they surface at your convenience, mute particular senders, and set a priority inbox that surfaces those emails from VIP senders that otherwise might end up buried amid Bed Bath & Beyond coupons. What makes Astro different is how it creates that priority inbox.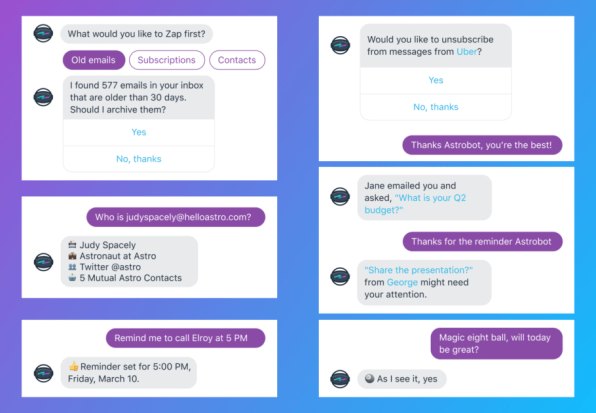 Just like other programs, you can designate people you'd like to prioritize. Astro takes care of that automatically by putting a few people in there based on whom you're chatting with on a regular basis. For instance, the algorithm might notice that I'm chatting with a new person a lot about planning a friend's upcoming birthday party and prioritize their emails. If I forget to respond to an email discussing cake flavors or party decorations, Astro can also pay attention to that, and a few days later send me a chat message suggesting I follow up.
Rather than assume you're one of those rare individuals who's proactive with your settings, Astro handles all of its organization using a bot that makes suggestions to help you reach the bottom of your inbox faster. Sort of like a traditional chat conversation, the bot shows up by the side of your inbox on desktop and is located behind a button in the mobile app. And it's pretty useful.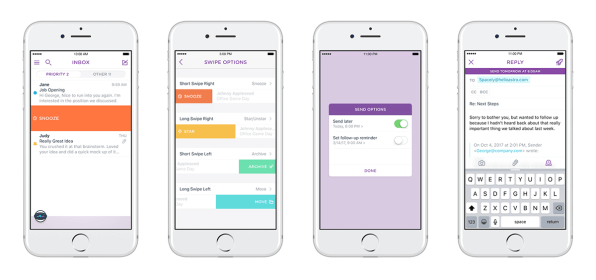 For instance, it noticed that I no longer open emails from Fry's, something I subscribed to back when I was in the market for a new television, and sent me a chat message suggesting that it unsubscribe me from the list and archive all the messages I've received from the company. Last week someone emailed me trying to set a meeting time, and Monday morning I received an email suggesting I respond to the message, even specifically noting the question: "What time is good for you?" Each thing individually is pretty minimal, but together, you're able to streamline your inbox by answering just a few questions.
In addition to organizing, Astro can also do things like let you know that someone has opened an email you sent them, or schedule emails you write late at night to be sent during working hours so they don't go MIA.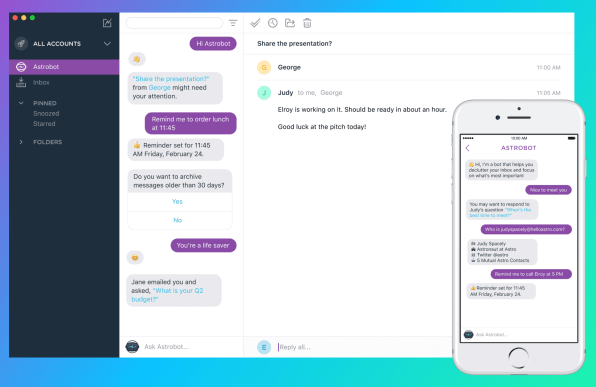 And it's only just the beginning for Astro's founders. Their goal is to ultimately bring the service to more platforms. It's been in beta for Mac and iOS for the past month, and today the company is launching on Android, with support for Android Wear and Kindle Fire. It also hopes to launch an Alexa app in the near future to bring voice into the mix as well.
The service currently supports Gmail and Office 365 accounts, and you can add as many accounts as you'd like to the same unified inbox to keep everything organized at once. You can sign up to take the beta for a spin yourself on the company's website.