However many degrees removed from reality Girlboss is, Amoruso's come-up is surely an exception to the typically narcissistic proclamation of, "someone should really make a TV show about my life!" Amoruso went from dumpster diving and stealing to creating a wildly popular eBay store selling vintage clothes, which she later spun into the fully-fledged business Nasty Gal and her best-selling memoir #GIRLBOSS. Netflix was aiming to channel all of that into an equally successful series with Amoruso as one of the executive producers.
However, the ironic thing is, what makes Girlboss interesting has little to do with why we know Amoruso at all, i.e. creating Nasty Gal.
Let's just rip the Band-Aid off: Girlboss is a chore to watch at times. The caricature of Amoruso, played by Britt Robertson, bounces between having exhaustingly sassy pluck and a woeful disregard for common sense business acumen. It's almost as if you're rooting for her to fail. Of course, there exists the story arc of Sophia learning to grow up through the frequent missteps any entrepreneur may have in growing a business. But where Girlboss fails to drum up any interest there, it's brilliant in its methods of storytelling, namely in episode 10.
Girlboss isn't precious with linear or conventional structures. There's an episode told through ellipses of time, counting down to a very important delivery Sophia has to make. And part of the finale builds to a scene where sporadic editing of a conversation between two characters so accurately illustrates the complexities of being in and falling out of love. But the standout episode by far is "Vintage Fashion Forum," where online messaging is personified to hilarious and devastating ends.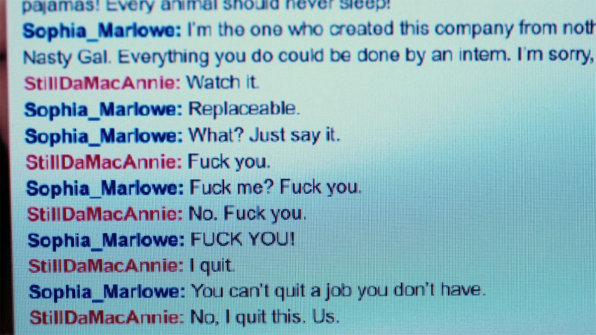 Sophia's eBay store Nasty Gal Vintage is at the peak of its popularity with her loyal following and at the peak of resentment with a group of vintage clothing sellers who have taken to starting a forum to air out their grievances of how Sophia is making a mockery of their trade and siphoning their profits. In what could've have been told through montages of computer screens displaying rapid-fire typing of vitriolic comments, the internet forum drama takes human form in a roundtable discussion.
There's the relentless self-promoter dropping links to their own site, the proverbial shouter who refuses to learn how to use the caps-lock key, and there's even a cameo from an internet troll who storms the forum to alert everyone how ugly they are. Episode 10's approach to bringing digital aspects to life is refreshingly inventive and, as proved toward the end of the episode, malleable tone. The comedy of errors in the forum is only an opening act to the the climax of the episode that is a one-on-one fight between Sophia and her best friend Annie.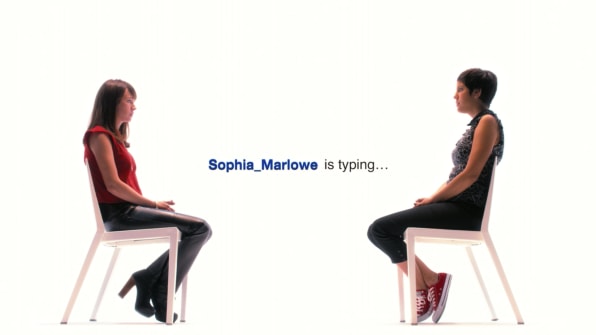 After making it known that she would like to work full-time with Sophia on building her company and being rebuffed because, as Sophia says, "Nasty Gal is my thing" the two square off online which is represented as them sitting across from each other in a stark white room saying what they're typing. What this scene depicts so well is how flat text on a screen can bely true emotions. The "digital" version of Sophia is coldly resolute in her perception that Nasty Gal is hers and hers alone while Sophia IRL is a quaking and crying wreck at the thought of losing her best friend.
It's a surprisingly powerful scene that falls in line with the rich emotional texture Girlboss is actually capable of. Both Robertson and the show itself are at their best when dealing with the intricacies of relationships across family, friends, and significant others, as well as how those storylines are told. Perhaps the main plot of Nasty Gal's inception felt weaker in comparison to its tangential events because it's only just half of the company's story. The show ends with Sophia opening Nasty Gal's own website after being kicked off of eBay, and within just a few hours, she completely sells out her stock. If season one's intent was to set the stage for Nasty Gal's ascent in online retail, season two could redeem itself, in regards to making business interesting, by focusing on Amoruso eventually stepping down as CEO and Nasty Gal's descent into Chapter 11 bankruptcy.