Free Fire, the crime comedy/thriller directed by British filmmaker Ben Wheatley and starring Brie Larson, Armie Hammer, Cillian Murphy, and Sharlto Copley, was born out of a very particular document that Wheatley unearthed back in the '90s. While researching an idea for a script he wanted to write, he discovered an FBI transcript documenting what occurred during a shootout in Miami, and the idea was hatched.
"The transcript was a blow-by-blow account of this incident, and it read like a short story," Wheatley recalls. "It was really incredible–they were saying what weapons were used, where they were shot, how long it went on, what happened when each person fired and who they were firing at, and it went on for a long time. It was really horrible and painful and messy, not clean or clinical in the way that you see in Hollywood movies. And these are highly-trained people, but it's still a tragic situation, in very close quarters. And I thought, 'There's something in this,' and I couldn't figure out what it was for a long time, and it just sat in the back of my head for a long time, ruminating."
Wheatley went on to make a series of other films, raising his profile and establishing a unique style with the horror-comedy Sightseers, the period psychological horror A Field In England, and the J.G. Ballard-adapted dystopian sci-fi thriller High Rise before returning to the idea. As he did, it combined with another subject that Wheatley had been researching–the troubles in Northern Ireland, especially as they played out in the 1970's. He latched onto a story about guerrilla fighters buying weapons in the U.S. to take back to Ireland to use in the struggle and realized that he had the potential for something special if he combined the two.
There is no shortage of crime thrillers, and many of the films in the genre use some variation of stock characters–gangsters or low-level criminals that you buy off the rack, in movies that range from transcendent and award-winning to trashy late-night fare. Wheatley didn't want his characters to feel like their backstories were just lifted off of The Godfather, so he brought the idea of a closed-environment, real-time shootout together with his research about Northern Irish fighters, recognized the opportunity to pay homage to the '70s crime films that inspired him, and created Free Fire.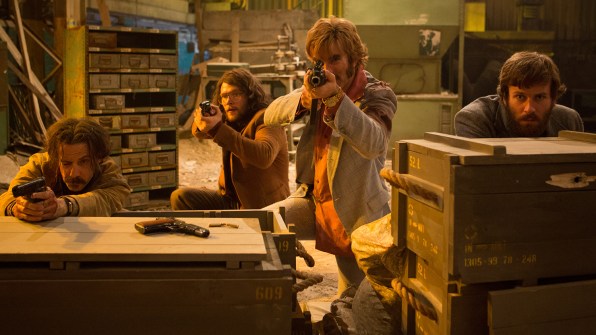 "That appealed to me, as well, because it's kind of what I'm doing," the England-born filmmaker says. "I'm someone who's coming over from a different culture, coming into this culture and making a film about it. And I wanted to go back to that '70s feeling of when action was a bit more personal and on a bit smaller scale. It's still effective emotionally, but the scale that we've got now is just everything blowing up all the time–and I just wasn't feeling that as much as I used to be."
Wheatley cites experiences he had watching two unlikely movies–the James Bond installment Skyfall and the first Austin Powers–as films that helped him realize what he was looking for in this kind of story. He gushes about the scene in Austin Powers in which, after a henchman is run over by a steamroller, the action breaks and we cut to the henchman's family, who mourns his death.
"It's really sad, and you go, 'Oh my God, this is what's happening in all of these movies all the time. I think about in Skyfall, when the helicopter goes to the mansion and James Bond blows the helicopter up–well, where's that helicopter from? That's coming from Glasgow. It's a commercial hire from Glasgow. That's the closest airport to that Skyfall mansion. That guy is just doing a job, and he's just got burned to death. It's not like an International School of Evil helicopter pilot. He's just some guy," Wheatley laughs. "And that's a thing in our entertainment. 'Are you not entertained?' So many people are getting slaughtered in these things, and you want to know who they are, these poor slobs."
That's something that Wheatley explores in great detail in Free Fire. The cast helps–Armie Hammer gives a confident, poised, movie-star turn as the arms dealer Ord, while Brie Larson (who joined the project before she won an Academy Award for Room) offers a capable facilitator in the role of the intermediary, Justine. Murphy, Copley, Michael Smiley, Jack Reynor and Babou Ceesay, as the parties who are on each side of the transaction, ably fill their roles–but it's Sam Riley and Enzo Cilenti, who play the hired muscle that the Irish fighters bring to the transaction, who set the film's plot in motion.
In most other films, we wouldn't spend much time with the dimwitted muscle at an arms deal gone bad, but Wheatley's as fascinated by the characters in the background as he is in the stars in front, and the result is a film where every bullet matters. Free Fire is violent, and funny, and absurd–there's an element of early Tarantino to it, where style and '70s aesthetics combine with brutality and humor to create something unique–but each time a shot is fired in the film, we become acutely aware that it's going to land somewhere, and that when it does, the world of the film we're watching is going to change. A character who could run is going to stumble with a limp; a character who swaggered is going to clutch at a wound for the next forty minutes. Shooting in real-time makes all of those stakes high, and it's something that Wheatley is keen to drive home for the audience.
"A lot of films have become one guy mowing down an army of faceless characters. You know you're in trouble when your hero starts fighting guys in balaclavas or gas masks or something, because you know they're just going to be recycling stuntmen again and again and again," Wheatley says. "This is a weird film in that it's a symmetrical war film, where you've got both sides, you know both sides, and there's no black hats or white hats in this. And so you take it personally when they're hurt–as you should do. You have empathy. You feel sad about it at the same time you're enjoying the action. So what do you like about it? Why do you enjoy this stuff? And that's a question for me, when I enjoy action movies, and when I'm thrilled by them because, at the same time, they're kind of appalling."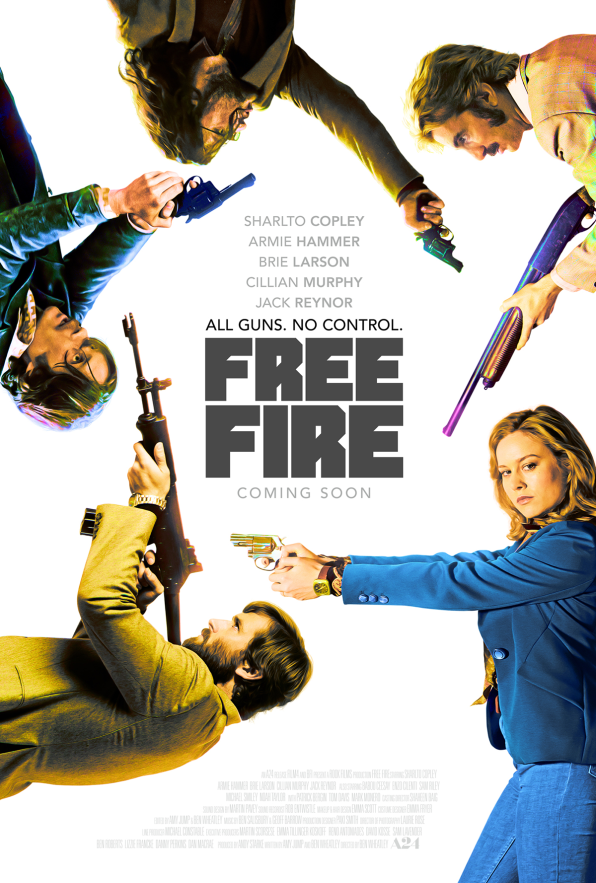 To that end, Free Fire avoids the other easy trap of action movies–not only do we get to know the characters that normally spend these movies in the background, but the characters played by actors we've seen star as heroes in bigger movies in the past aren't untouchable here the way that they might be in their previous work. And Wheatley, who's extremely interested in the consequences of the sort of violence we see in movies, recognizes the way that his film zigs where you expect it to zag–and what it means to be making an action movie where every bullet counts.
"The film really should have been Armie Hammer falling in love with Brie Larson as they went on all sorts of capers all over Massachusetts," Wheatley laughs. "But it never escapes the first scene of the film, and the film is broken by characters who should really be extras. They shouldn't have any emotional moments in this film. They're the people who just get shot."