He was surprised when his mostly improvised pilot won Best Comedy and Critics Award at the New York Television Festival, and when a network eventually bought it. What was most surprising of all, though, is what happened next: Tim Baltz spent the next four years not quite making the show.
"We got served up a cold, hard Hollywood lesson," he says, evenly, about the experience.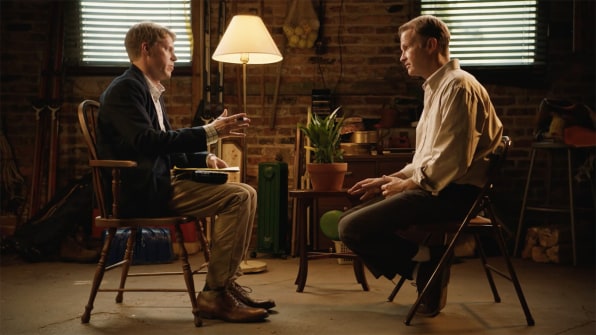 Things didn't end up going so bad for Baltz in the end. His show, the striving psychologist sitcom, Shrink, recently premiered on streaming service Seeso to rave reviews. The series only saw the light of day, however, after a hurry-up-and-wait marathon with the now-defunct network, Pivot, which gradually cut it loose. But the extended stint in development hell taught Shrink's co-creator and star both the value of vigilance, and of not putting all your creative eggs in one basket.
Shrink is the story of Baltz's Dr. David Tracy, who graduates from medical school but does not end up with the surgical residency he'd been headed toward. Instead, saddled with half a million dollars in debt and no prospects, David ends up on a quirky quest to conduct 1,920 hours of clinical therapy in his garage to avoid defaulting on loans. The premise was borne from Baltz and his fellow Chicago improviser, Ted Tremper, looking to do an unscripted web series with improv friends. Baltz played the downtrodden but optimistic shrink-in-training, and friends like 30 Rock's John Lutz and SNL's Aidy Bryant took turns as his desperate patients.
"This type of show is a weird thing to unlock because you have to have the right structure for it," Baltz says. "The improv has to naturally allow for plot and narrative–but with improv, you're not really supposed to worry about plot."
Tremper suggested the Dirtbag Frasier idea and Baltz, an avowed fan of therapy, glommed onto it immediately. They made a dozen short episodes in 2011 and were so excited about how they turned out that they decided to shoot a pilot. On a budget of about $200, they recorded a prototype of Shrink and submitted it to the New York Television Festival. Doing so meant incorporating more story elements along with the garage-set improv sessions. Back in Chicago, Baltz had written several plays for The Annoyance Theater, but this was his first attempt at TV writing. It was a hit. He and Tremper left with multiple awards and a meeting with producer Patrick Daly (August: Osage County).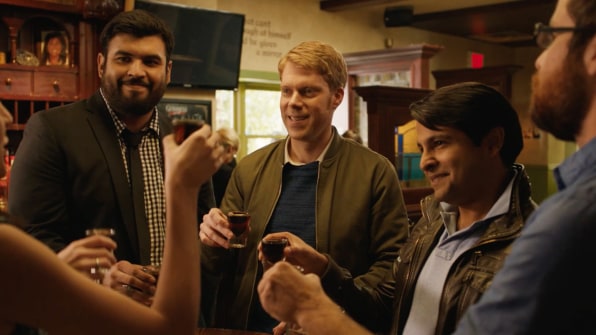 The next six months were a crash course in storytelling. Baltz, Tremper, and Daly worked closely together on developing a pilot to shop around at networks. Some writers create a show bible before their series gets picked up. (Paul Feig's massive document describing the world of Freaks and Geeks is industry legend.) Baltz and Tremper developed an eight-page outline, along with another couple pages worth of potential episodes that could be in the first season. In May of 2013, they pitched all over LA, getting to second-level meetings at FX and IFC before Pivot eventually bought the show. It was a landmark moment for the pair–their official christening as television creators. And then for the next two and a half years, nothing happened.
Baltz and Tremper both moved to L.A. the following January and began what turned out to be a glacially paced wait for the greenlight to get to work. They bided their time acting in bit parts and making short films, respectively, until finally, near the end of 2014, they were given the go-ahead to start writing Shrink.
If this network blessing, and the tennis match of notes that followed, seemed encouraging, Pivot's announcing the show on its development slate for the upfronts made it seem sacrosanct. As of spring 2015, they wanted 10 episodes. However, each time the question turned to when these episodes would actually begin pre-production, the answer always seemed to be "two weeks."
"I went on vacation," Baltz recalls, "and at the time I kept thinking I might have to come back at a moment's notice to start."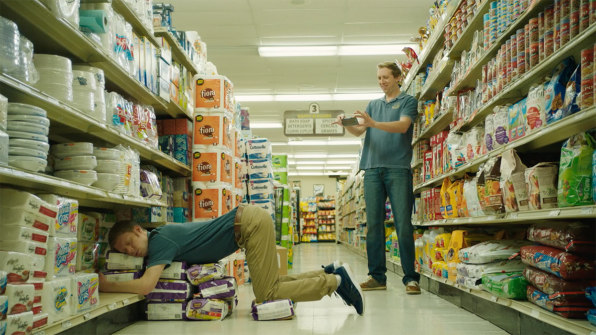 Behind the scenes, things were tumultuous at Pivot. The network hired a new director of scripted programming soon after acquiring the show, and then around the time of the upfronts, CEO Kelsey Balance left Pivot, along with another executive from the scripted division. The pair behind the show soon read the writing on the wall, and both got longer gigs–Baltz booking an acting role on Seeso's real estate parody, Bajillion Dollar Propertie$, and Tremper becoming a field producer for The Daily Show.
Toward the end of 2015, Pivot finally delivered the anticlimactic news: Shrink was not going to happen.
Fortunately for Baltz and Tremper, the Pivot executives let them keep the show and pitch it elsewhere. Even more fortunately, Kelsey Balance, formerly of Pivot, was now the head of programming at Seeso, and looking to expand the nascent digital network's offerings. When word got around that the guy who played "Glen" on the streaming service's show, Bajillion Dollar Properties, had a whole show of his own ready to go, Baltz had an opportunity to pitch once more. In March of 2016, Seeso ordered eight episodes to begin production immediately.
"After this had been in our head for years, it was so much fun and such a relief to finally sit down in a proper writers room, look at everything, brainstorm ideas, and put the show together," Baltz says.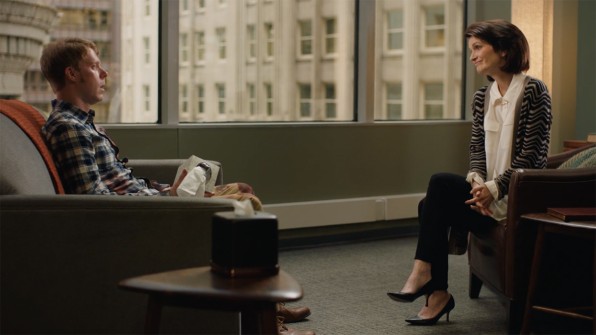 It was a tortuous path to carry Shrink out of creative purgatory, but it ended with the show premiering earlier this year to positive reviews. Perhaps it wouldn't have been the same show if it had premiered years earlier when it was originally expected. If Baltz had it all to do over again, however, he would only do one thing differently.
"If someone had told me 'It's gonna take you four years to make this,'" he says, "to be honest, I'd probably have started working on another show. You have to have a lot of spinning plates because you never know which one is gonna pop up and get served."