Late last month, after Congress rolled back Obama-era FCC protections meant to stop ISPs from harvesting our data without permission, consumers quickly hustled to find other ways to protect their privacy. New data reveals that many of those consumers turned to virtual private network (VPN) software, which effectively extends a protected network over a public network like the internet.
"We saw a noticeable increase [in downloads] around the time Congress was considering the bill until the time Trump signed it," says Caleb Chen of London Trust Media, which sells the Private Internet Access VPN.
The Obama-era rules—which had yet to take effect—would have required ISPs like Verizon and Comcast to notify and offer an opt-out to subscribers before harvesting their personal and browsing data. In rolling back the rules, Congress had yielded to a lobbying blitz by the telecom and cable industries. Now, ISPs, which have been pining to expand into the business of selling personal and browsing data to data brokers and ad targeters, can collect such data without fear of reprisal from consumers or the FCC.
For consumers, the best line of defense is to install VPN software on their web-connected devices. And that's exactly what's happening: According to data from Google Trends and App Annie, interest in VPN apps spiked significantly in late March as the privacy protections were repealed. Chen said his company saw an uptick in downloads of between 50% and 100% around this time.
Similarly, NordVPN reports "a 200% spike in user inquiries in the U.S. since Congress approved new ISP rights."
According to Google Trends, searches for "VPN" and variations like "best free VPN" maxed out on Google's 0-100 scale March 29, the day following the House's vote to repeal the broadband privacy rules (which virtually assuring passage of the measure). Trump signed the measure April 4.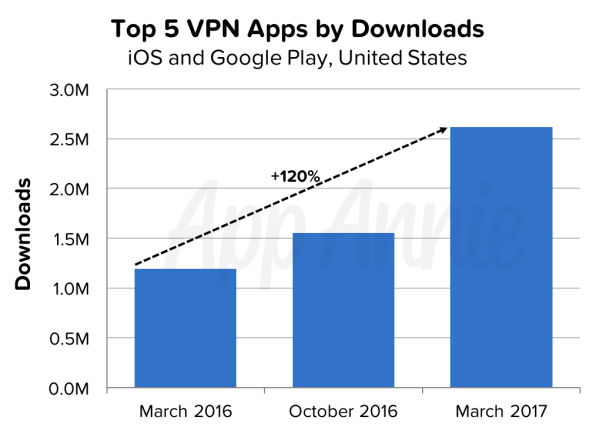 Meanwhile, revenues of the top 5 iOS and top 5 Google Play VPN apps combined shot up 20% during the seven days from March 23 to March 29, compared to the seven days prior, according to App Annie. Many more downloaded free VPN apps.

App Annie points out that VPN app downloads have been on the rise over the past year, but demand for the apps began increasing more rapidly around the time of Donald Trump's surprise election victory in November. Top 5 VPN app downloads grew by 30% from March 2016 to October 2016, then grew by 70% from October 2016 to March 2017.
Netizens have been increasingly concerned about identity theft in recent years, which might explain the steady rise in the first three quarters of the year. But the uptick around election time may suggest a fear of government data surveillance, or fear of privacy erosion resulting from deregulation by an unabashedly pro-business administration.
Now that the ISPs have won a major victory with the broadband privacy rules repeal, they will likely move quickly to monetize the data they vacuum up from consumers. They'll also likely try to win more expansive rights to subscriber data, or rights to collect more kinds of sensitive (and lucrative) data.
"The next steps that ISPs might take to undermine internet user privacy are worrying, so we want to stress that people need to use tools to protect themselves," said NordVPN chief marketing officer Marty Kamden in an emailed statement to Fast Company. "If someone wants to swing the door wide open on your private life, make sure you have a key and a lock for that door."
VPN software can go a long way toward rendering your personal and browsing data invisible to an ISP. The software encrypts your browsing data (the sites you visit, visit times, your location, personal or preference information, etc.) so that the ISP can't decipher it. VPN software also makes your data appear to have originated at some location other than your local IP address.
When selecting a VPN software, experts say, it's wise to lean toward ones that cost money and that don't keep logs of your browsing data. VPNs that don't make their bacon on subscriptions sometimes do so by packaging and selling browsing data to third parties. Remember the old adage: "If you're not paying for the product, you're the product."