Jenna Lyons is leaving J.Crew after 26 years at the label that she transformed into a fashion powerhouse through a combination of creative vision and personal style.
Before Lyons's tenure, serving the last nine years as the company's president, J.Crew was just another preppy East Coast outfitter—along the lines of Ralph Lauren or Brooks Brothers—known for popped collars and chinos in Nantucket red. Lyons brought her own personal flair to the brand, putting a spin on classic looks. (We took a close look at how she transformed J.Crew into a cult brand in a 2013 cover story.) She mixed military jackets with black shift dresses, paired prim dress shirts with ripped jeans, and added unexpected tulle and sequins to everything from shorts to shoes. She never spurned the brand's heritage, but by putting traditional garments in new contexts, she made them relevant to modern, urban consumers.
And the crowds went wild. Lyons brought J.Crew to Fashion Week, helping it evolve from an apparel manufacturer to a serious player in the fashion world, with a distinct point of view. The brand's fans included Michelle Obama, who famously wore a J.Crew piece during the 2008 inauguration and on a state visit to the U.K. Even Anna Wintour gave Lyons's vision her blessing. Online, a spate of blogs sprung up devoted to J.Crew fans.
All of this had a definite impact on the bottom line: Between 2003 and 2013, the company's annual revenue tripled to $2.2 billion. This rate of growth was particularly impressive because it happened during the recession, when most brands were losing ground.
And none of that success happened by accident: Lyons helped position J.Crew as an "affordable luxury" brand, a model that many of today's successful startups–including Everlane and Cuyana–have adopted.
In 2011, Lyons spearheaded the "J.Crew goes to Italy" campaign, showing consumers how the company made products in Italian mills and shoe workshops, but was able to sell these well-crafted products at affordable price points. At $140 for a pair of shoes and $120 for a crisp shirt, luxury shoppers felt they were getting a bargain and aspirational shoppers felt that they could stretch their budgets to buy one of these coveted items. In many ways, this was the forebear to the "direct-to-consumer" model–a buzzword in the fashion industry today that refers to selling high-quality products at affordable price points since there are no middlemen in the supply chain.
J.Crew inspired an entire generation of fashion entrepreneurs just entering the market. Take Amanda Carye, the founder of a shoe startup called Idoni that makes shoes in Italy and sells them to American consumers online. "J.Crew suddenly made Italian luxury affordable and accessible to Americans," said Carye, when I spoke to her earlier this year.
Scott Gabrielson, founder of Oliver Cabell, a bag startup that makes products in Italy, echoed her sentiments. "J.Crew was technically a direct-to-consumer brand," he said. "Even though it didn't position itself that way."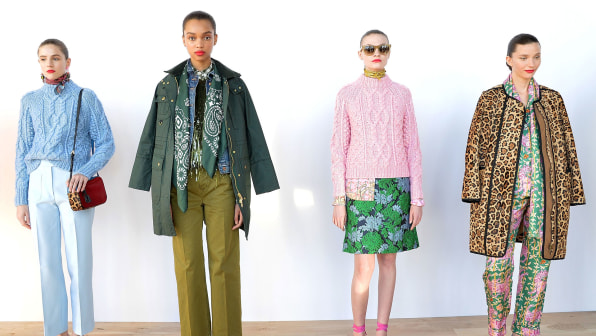 Then, starting in 2014, J.Crew began to lose steam. CEO Mickey Drexler made the case that the brand was struggling with a "challenging traffic environment," referring to the slowdown across the industry in retail traffic. While it's true that fewer consumers are choosing to shop at malls, the brand also had several fashion missteps. There was a sense across the fashion industry that Lyons had taken her eclectic sensibilities too far. Branding experts and fashion writers started mocking J.Crew for its outlandish patterns. The Gloss, a blog, pointed out that the brand had taken its mixing of prints, its over-saturation of sequins, and penchant for tribal patterns over the top. "My mom didn't buy me a Bedazzler so I'd pay $500 for this shit," Meghan Keane wrote about a blouse covered in shiny crystals.
There were also pricing problems. In 2015, a loyal J.Crew customer called Eliza Cohen wrote an open letter to the brand, expressing her disappointment about how it had become exorbitantly expensive. Far from being an affordable luxury, the brand was selling cashmere sweaters for $1,250 and $900 for sequin-covered pants. What's worse: there were signs that the brand was cutting corners on quality. Shoes that were once cobbled together in Italy were now being made in Brazil.
Meanwhile, the flock of aforementioned startups were rising up, offering better quality products and cheaper prices. Brands like Everlane had effectively beat J.Crew at its own game, offering the customer high-quality products–even showing them the factories where they were made, much like J.Crew once did–and charging fair prices. As of March this year, J.Crew's sales continued to go into free-fall, with sales plummeting by 14% in the first quarter of this year. It's unclear whether these problems prompted Lyons's departure.
Lyons will forever be known for her fabulous, original personal style, which shaped J.Crew for nearly a decade. But her real legacy is how she tapped into a latent demand for high-quality, well-designed products at reasonable prices, and found a way to deliver this to the consumer.