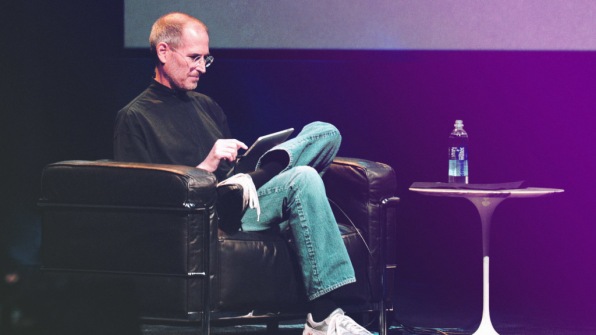 When asked how it felt to step into Steve Jobs's shoes after his death in 2011, Apple's CEO Tim Cook got emotional in an interview with the Washington Post, saying no one could replace one of the biggest icons of American business:
To me, Steve's not replaceable. By anyone. [Voice softens] He was an original of a species. I never viewed that was my role. I think it would have been a treacherous thing if I would have tried to do it. When I first took the job as CEO, I actually thought that Steve would be here for a long time. Because he was going to be chairman, work a bit less after he came back up the health curve. So I went into it with one thought, and then weeks later — six weeks later, whatever — It was very quickly. [The day he died] was sort of the worst day ever. I just — I had really convinced myself. I know this sounds probably bizarre at this point, but I had convinced myself that he would bounce, because he always did.
But Cook knowing he wasn't stepping in to mimic Jobs' leadership style or role at Apple is why people love Cook just as much as Jobs, Eddy Cue told Fast Company:
The thing I love about Tim, and the key to his success, is that he's stayed true to himself, and never tried to be Steve. There are some qualities that he has that are better than Steve's, and Steve had some qualities that are better than Tim's. But he stayed true to what he is, and it's the best thing . He's made a lot of areas better and the areas where he's not sure, he's surrounded himself with people who do.
[Photo: Flickr user matt buchanan]