Update 6.35 pm: NYPD officers grabbed the climber through an open window. According to Facebook, 228,700 people were watching the live feed. Law enforcement told ABC News that he was a "self-promoter," with no political or terrorist intent.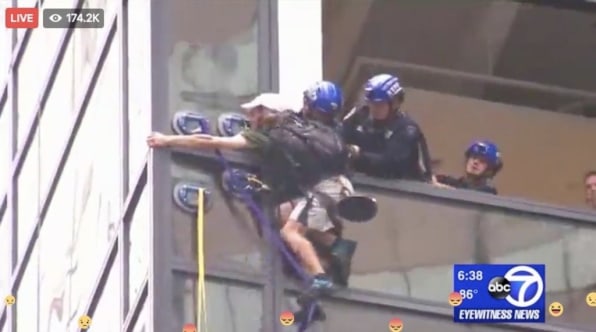 Although the man–said to be named Steve–could be captured, or give up, at any moment, he's still trying to climb the tower, as seen in this Facebook Live Video from ABCNY7. 
More from #trumptower pic.twitter.com/bxJtApP2wW

— effortlessly kanye (@actuallycannon) August 10, 2016
Law enforcement officers have broken a window and at approximately 5.30 attempted to coax the man to come inside–they've placed a blanket over the broken glass. But he shimmied to the left to avoid them and continued his ascent.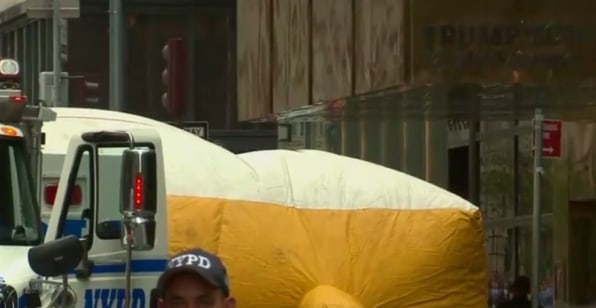 According to an ABCNY7 reporter who's speaking on the video, authorities have installed a large inflatable mattress at ground level below, and a second on the building's garden level–or fourth floor–in case he falls or jumps.  
#trumptower #spiderman pic.twitter.com/nc0TGXVKsP

— effortlessly kanye (@actuallycannon) August 10, 2016
Update 5:40 pm: The man has now managed to climb above the broken window, suggesting he has no intention of surrendering.
Update 5:50 pm: Reporters on ABCNY7 say they've learned that the man is named Steve, and is from Virginia. They say he dropped a laptop after he first began climbing, and also was showing a notebook with some sort of message on it to people inside the building.
Update 6:00 pm: Another set of rescuers, helmeted NYPD officers, have appeared on one of the building's window-cleaner platforms, but about 10 feet from the climber, and around the corner of the building. 
Update 6:20 pm: More NYPD officers have removed large panes of glass from a floor above the climber, who is now moving to the edge closer to the window cleaner platform. 
Meanwhile, a alleged video message from "Steve" has emerged on YouTube, in which he says he is trying to get Mr. Trump's attention and that he hopes that viewers will vote for the candidate: