The new assistant is called "Macy's On Call" and comes in the form of a mobile web app users can access on their smartphone. The assistant, which is powered by IBM's Watson AI, allows shoppers in specific Macy's stores to input natural language questions regarding the store's product assortment, services, and facilities and get customized responses, according to a company press release. The Watson-powered assistant, in other words, can field queries shoppers would normally need to flag down a man Macy's employee for. In a prepared statement, David Kenny, general manager of IBM Watson said:
"Bringing Watson into a retail store setting presents an opportunity to engage with the consumer on a variety of levels. This particular use case takes Watson beyond helping consumers evaluate purchasing decisions, and influences another, equally important aspect of the in-store experience – ease of use in locating products, facilities and services."
Right now "Macy's On Call" is being tested in 10 locations, including stores in Bethesda, Miami, Portland, and Atlanta.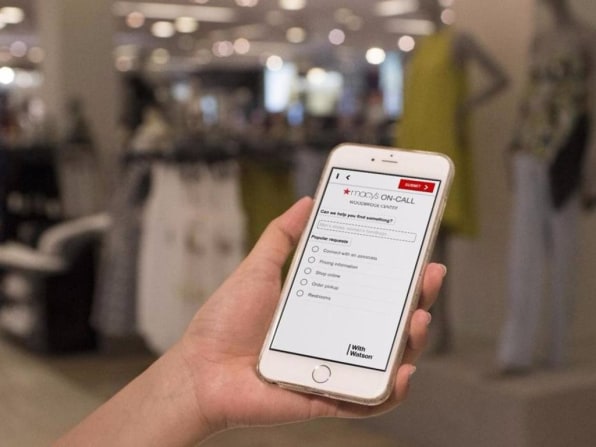 [Image: Macy's]